HURRICANE MATTHEW WHIPPING BAHAMAS NOW
INCIDENT SUMMARY
Hurricane Matthew is now whipping up some intensive and dangerous winds that are throwing debris around and snapping trees into two according to those reporting as of almost one hour ago (0940 hours EDT).
The Hurricane is said to be on the path to hitting Florida some time day going up the Coast.  At 0800 hours EDT, a weather advisory was issued.  The Hurricane is moving NW at 12 mph with max sustained winds at 125 mph.
Over 1 Million people have been evacuated from South Carolina alone.
Reports of almost 20 deaths in Haiti are attributed to this Storm.
GENERAL INFORMATION
911 EMERGENCIES ONLY
Remember, for emergencies please dial 911. For non-emergencies, dial 305.673.7901. (FL)
AIRPORT OPERATIONS
Broward County Aviation Department will suspend operations at the Fort Lauderdale International Airport Thursday at 10:30 am.  (FL)
AIR TRAVEL
Lynden Pindling International Airport (LPIA) will close @ 1100 hours on 10/5/2016. http://nassaulpia.com/airport-notifications/ (Bahamas)
Flights Cancelled:  Currently, 341 arrivals & 305 departures are canceled at MIA, which is about 90% of our daily flight schedule. (Miami FL airport)
ALERTS
Sign-up for Alerts and Notifications.  http://www.ctalert.gov/ctalert/site/default.asp (CT)
Governors declared State of Emergency. (FL, GA, SC NC)
Sandbags:  Sandbags available to Melbourne residents starting at 10 a.m. Club52/Greyhound Park, 1100 N. Wickham Rd. (Melbourne, FL)
"Florida Gov. Rick Scott asks President Obama for emergency declaration ahead of Hurricane Matthew." (FL)
CLOSURES
All Ports to inbound vessel traffic.  Operators have ceased all container operations.  Traffic, schools, universities, road closures for Miami Dade County.  http://www.miamidade.gov/emergency/ (FL)
Kennedy Space Center in Houston (TX)
EOC STATUS
Miami Dade County EOC is now at a Level 2 Activation. (FL)
EVACUATIONS
Miami Dade County. Mayor orders evacuations of all mobile home parks.   St. Augustine.  unprecedented! Mandatory evacuation for ALL historic City of St. Augustine, America's oldest city. – Twitter user (FL)
Approximately 250,000 people have evacuated from Coastal towns. The Governor ordered more than a 1 Million people to leave their homes, businesses and area for safety. (GA)
Pet friendly emergency shelters are open only to domestic pets. No livestock will be admitted. It is recommended to safely mark animals and leave them in pastures. (Lake County, Florida)
State of Emergency:  During the state of emergency, residents can refill prescriptions early. (Pinellas County, Florida)
Ocean County (FL) Shelters: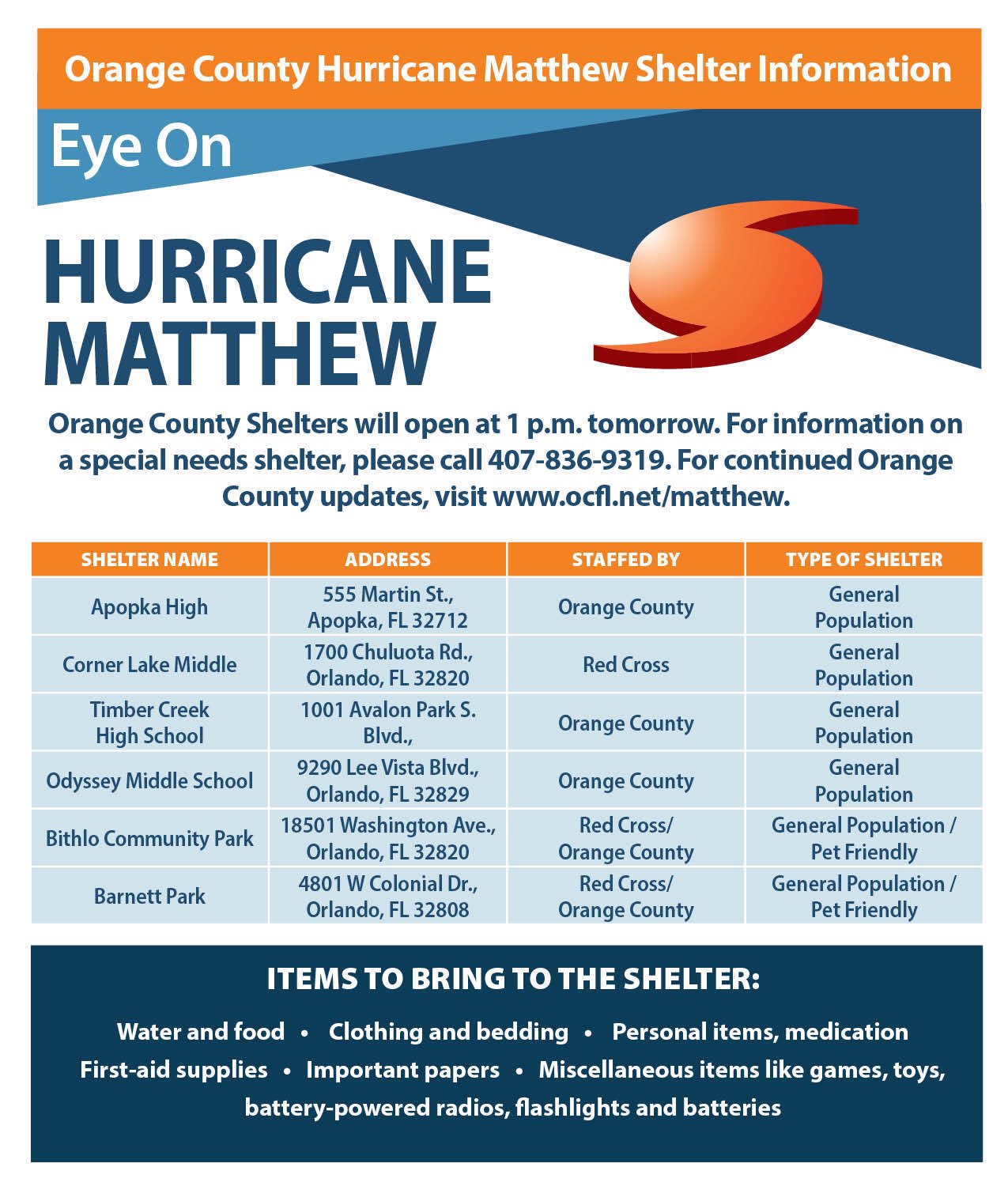 Pet Evacuation Tips:  (Dogs/Cats/Other Animals)   Don't forget to include your pets in your preparedness plans.  Please take them with you or have someone come and pick them up.
Pet Identification:  (For Horses – in case they escape)  Identify your #horse during #HurricaneMatthew. Braid an engraved dog tag into the mane. Use a breakaway halter so it is easier to catch.
FOLLOW OFFICIALS
"Follow your local officials, watch the weather, do not take any chances…know your evacuation plan" – Florida Gov. Scott. (FL)
HURRICANE QUESTIONS
The Citizen Information Center  (Pinellas County Emergency Management) will open today from 9 a.m.-9 p.m. Citizens may call (727) 464-4333 with #HurricaneMatthew questions. (FL)
RESOURCES
American Red Cross:  To open 100+ shelters in a various areas ahead of the Storm.  Read this link for preparation tips, apps and other important information.  http://www.redcross.org/news/press-release/Hurricane-Matthew-Devastates-Haiti-Red-Cross-Gets-Ready-for-Massive-Relief-Operation-along-East-Coast
Humane Society:  Tips on how to prep your Family member in your Evacuation Plan.  http://www.hsvb.org/emergency.html #PetEvacuation #HumaneSociety #PetLove
FEMA App:  Download the App to find shelters, upload disaster photos to help first responders and receive safety reminders.  https://www.fema.gov/mobile-app
Hurricane Tracker App:  Download the Hurricane Tracker App" ( Twitter @hurrtrackerapp )   "https://twitter.com/hurrtrackerapp/status/783498566056701952?lang=en
Law Enforcement:  Some of the men/women on duty during deadly Hurricane.  Here are some of the faces with the Palm Beach County Sheriff's Office (FL).
National Guard:   Army & National Guard are setting up shelters/resources in their communities.
OCHA:  Humanatarium aid non-profit organization states There have been 1.3 Million people evaucated in Cuba, Dominican Republic, Haiti and Jamaica.  There are 350,000 that need assistance, 15,623 people have been displaced and 152 open shelters.  A more thorough damaged assessment will be done tomorrow.  http://www.unocha.org/hurricane-matthew
Solid Waste Resources:  (Miami Dade County, FL)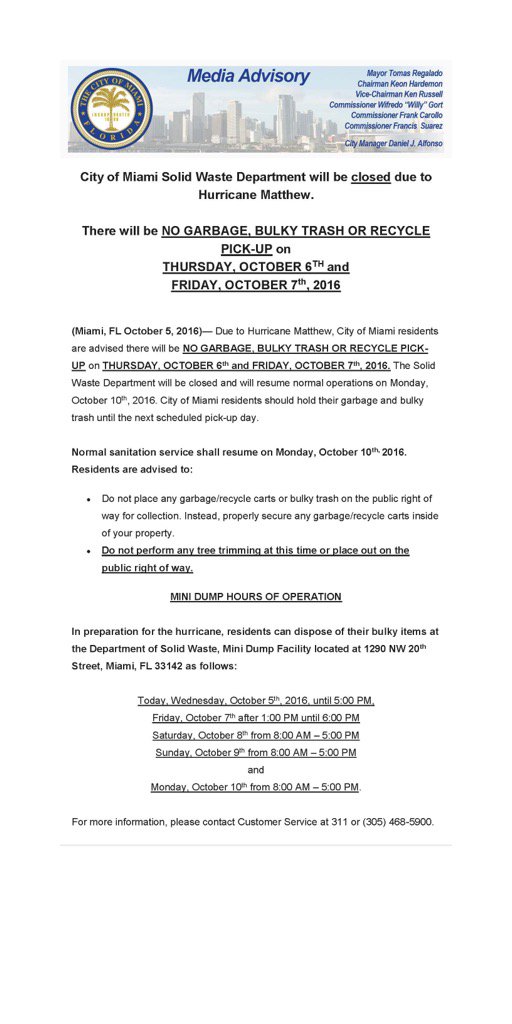 UNICEF:   How you can Help –> https://www.unicefusa.org/donate/support-hurricane-matthew-relief-efforts/30966?utm_campaign=2016_misc&utm_medium=social&utm_source=20161003_SMGuide-unicefusa&utm_content=na&ms=social_soc_2016_misc_20161003_SMGuide-unicefusa&initialms=social_soc_2016_misc_20161003_SMGuide-unicefusa #UNICEF #Giving
U.S. Navy:  Deploying ships to help with relief aid.  http://www.stripes.com/news/navy-deploys-ships-to-aid-in-hurricane-matthew-relief-1.432380
PRESSERS
POTUS:  We've got response teams and supplies ready. This is going to be a serious storm". (FL)
Ocean County Mayor's Office.  Thurs. 10/6 @ 10:30 a.m. @OrangeCoFL (Twitter) will provide a briefing on emergency management efforts, weather, shelter, transportation, sandbags. (FL)
American Red Cross: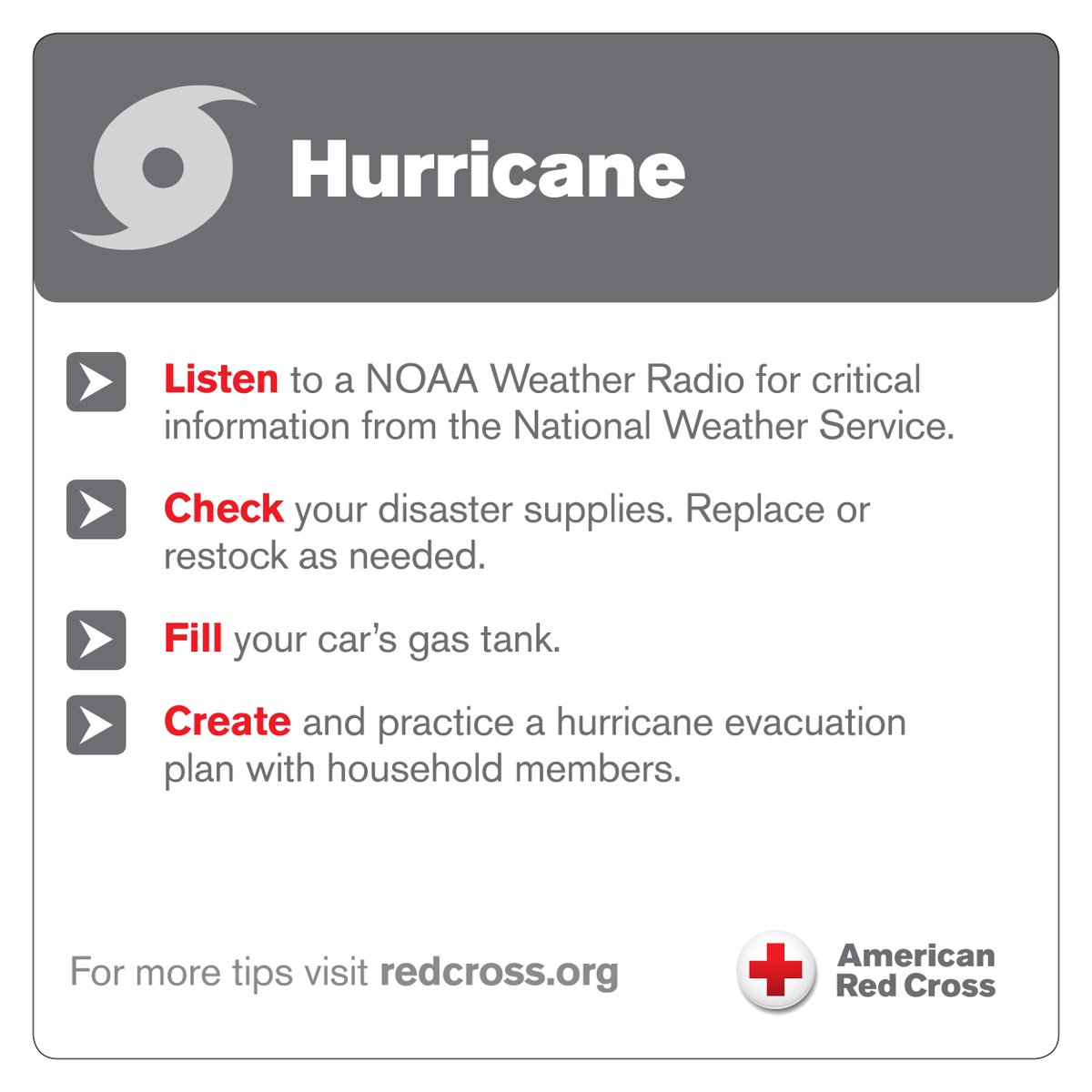 WEATHER ALERTS, FORECASTS
As of 2300 hours EDT, the eye of #HurricaneMatthew is moving near central Bahamas.  It is expected to intensify as it continues heading towards Florida.
Tropical Storm Nicole:  as of 2300 hours this evening, TS Nicole is said to being close to reaching Hurricane strength.  It is currently South of Bermuda and NNE of San Juan Puerto Rico.  Its max sustained winds have clocked in at 70 mph with max central pressure at 995mb.
General Info
Travel Alert:    "U.S. Embassies in Haiti, Jamaica and the Bahamas are closed, and most airports in those countries are now closed as well." (via U.S. State Travel Department)
U.S. Flights:  Airlines begin waiving change fees for U.S. flights.  http://www.usatoday.com/story/travel/flights/todayinthesky/2016/10/04/matthew-airlines-waive-fees-caribbean-us-next/91512058/
via Social Media Channels
Death Toll:  Media sources are reporting 17 deaths in Haiti alone.
EU Support:  The #EUCivPro has been activated to help #Haiti tackle the effects of #HurricaneMatthew I urge participating states to offer assistance. – Christos Stylianides, EU
Fire Apparatus:  Miami Beach Fire storing some of their spare fire apparatus and trucks in the Miami Marlins (Baseball) garage. Moved in just before the storm arrives.
(c) 2016 The #NWFireBlog