Canton, Texas (Van Zandt County)
Disaster Incident Summary | Sources are saying that there were at least 5 tornadoes that touched down in Van Zandt County, hitting Canton the hardest.  One tornado destroyed I-20 Jeep Dodge dealership tosses its cars into the air and leaving a path of its aftermath.
Other parts of Texas were also hit hard like Fruitvale, TX and others.  We are working on getting additional reports on these towns and cities.
Damage Assessments | The NWS Fort Worth team is out today surveying the damage and will have a preliminary damage rating on Sunday.
"4 Confirmed Tornadoes: Latest preliminary map of likely tracks and other damage. Our storm survey will take days!" – NWS Ft. Worth
"Emergency Management reporting homes destroyed near Emory with injuries."
"Emergency management reports multiple homes with major damage around Highway 69 and FM779 from earlier tornado."
"I-20 east of Canton TX. Dozens of cars flipped; severe damage."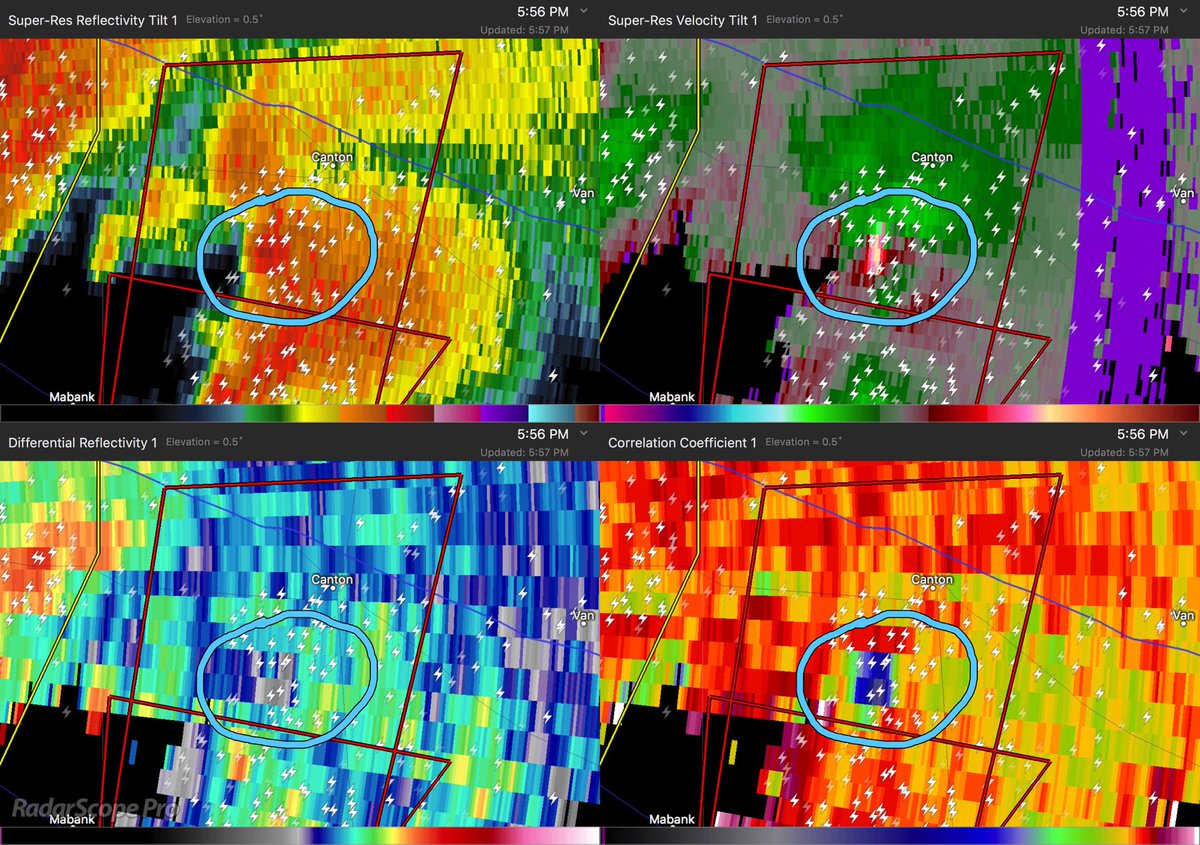 (Image above is from last night's Tornado activities – Courtesy:  Internet)
Life Impacts | 5 deaths.  50 injuries.
INCIDENT COOPERATORS
Shelters | American Red Cross, First Methodist Church Life Center, USAR, ITDRC,  NWS Ft. Worth, TX Task Force 2 (DFW), Dallas Fire with 1 Type III US&R Team 2, Texas Game Wardens (including search and rescue and K-9 teams),
LOOKING THROUGH THE EYES OF SOCIAL MEDIA
Here are some of the postings from Spotters, Weather sources and others talking about the Tornadoes and what they were seeing.
Storm Chasers | Weather 
"Observed damage on TX Hwy 64, including one vehicle tossed approx 200 ft off the road. 1 confirmed fatality in that vehicle."
"Emergency management report plywood falling from the sky near FM 779 and US69 near Golden. Folks – that debris is from ~25 miles away." 1853 CDT
"Tornado 5 miles south of Canton has debris signature up to 13,000 feet. This is a MAJOR TORNADO heading right into Canton!" 1756 CDT
"Very strong tornado now 2-3 miles west of Tundra, 5 miles south of Canton – moving north at 30 MPH. Life-Threatening Situation!" 1755 CDT
"Significant Tornado 4 miles southwest of Tundra, moving north at 30 MPH toward Canton. Wrapped in rain and may be strong! " 1752 CDT
" Confirmed Tornado Moving toward Tundra and Canton!" 1749 CDT
"Circulation near Canton has weakened while one approaching Eustace quite strong. Both remain capable of producing tornadoes." 1719 CDT
"5 miles E of CANTON, TX @ 22:12 UTC Funnel>-Cone funnel half way to ground."
" Possible tornado very near Highway 19 and Highway 64 just southeast of Canton. Very strong rotation indicated by radar." 1707 CDT
"Damage from Canton, TX tornado is extensive. We are actively searching for people in the wreckage just south of town."
"These are V E R Y powerful high-end tornadoes."
"Significant tornado-caused damage southwest of Canton, TX"
"This is not what you want to see at night, radar confirmed tornado just NW of Cameron, OK. Debris signature evident."
"Blizzard in Texas on April 30….How rare is this for Texas?"
" Search and Rescue continues in Canton and other communities."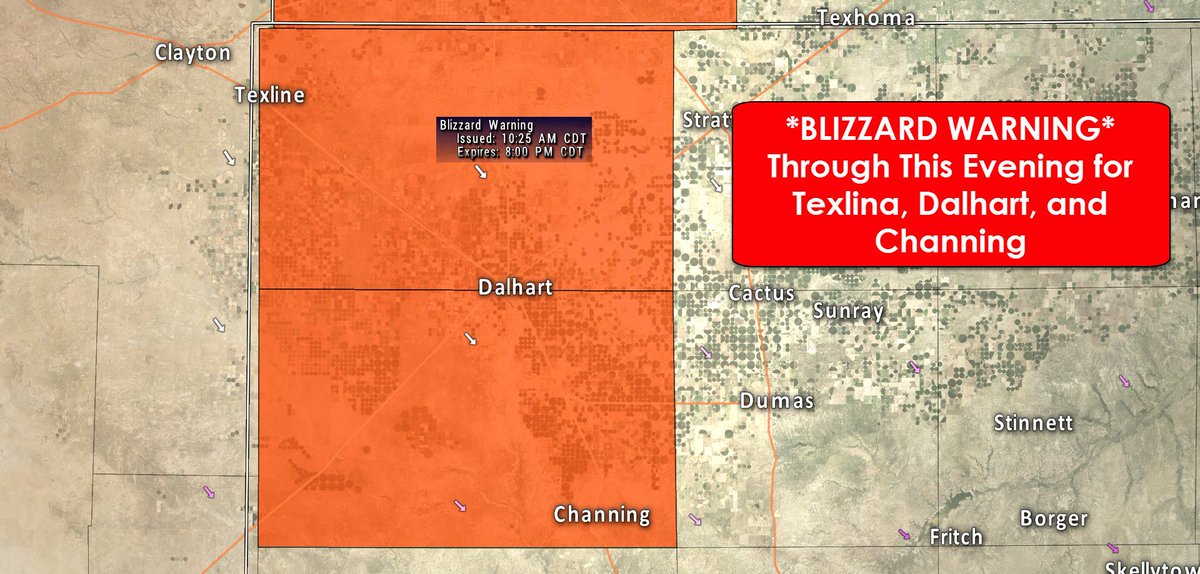 Residents
"Second tornado warning here in Canton TX. Taking cover with my boys. Hunkering down in the hallway way."
"Tornado ripped through a Farm in Canton, TX trapping a pony in the debris. Owners frantically saved their baby!"
Eyewitnesses
"From 45 (5pm central) minutes ago near Canton, TX. Probable tornado touchdown due to damage spotted."
"Just observed rain-wrapped tornado just E of Canton, TX. Lots of trees down, one barn had minor damage so far."
"Wedge Tornado causes widespread damage in NE Texas south of Canton."
"4:45 pm we crammed into bathroom shelter as first of many tornadoes went over us in Canton Tx. We were at the Trade Days."
"Snowing sideways in Amarillo!! Yes it's still April 29th!"
Media Coverage
"Damage at St. John the Evangelist Catholic Church in Emory. No injuries, but there were people in parish hall when tornado hit."
GOVERNMENTAL 
"Texas Task Force 2 has been sent to help the Canton & Van Zandt areas respond to weather." – Texas Gov. Greg Abbott
EVACUEES
Red Cross Shelter(s)
First Methodist Church Life Center, 600 S Buffalo, Canton, TX.
Mobile Feeding Station(s)
Tech Assistance
The ITDRC is on site identifying and assisting unmet tech needs in the community.
TX Resources
TX Disaster Recovery Group page created by the Texas Storm Chasers communities  to offer help to each other after natural disasters in Texas. Examples include returning lost/lofted personal items to victims, offering volunteer assistance, etc.  https://www.facebook.com/groups/121556905065713/   Requires approved membership but is a Public Group.
Lost & Found Pets (Including Injured)

(c) 2017 The NW Fire Blog