NEAR BIG BEAR, CALIFORNIA
INCIDENT SUMMARY –
A 2nd alarm wildfire is raging just North of Highway 38 and North Shore Drive in Holcomb Valley, which is East of Big Bear Lake in California.
The wildfire began on Monday, June 19, 2017, around 1700 hours from an unknown cause.
Fire has increased to 450-500 acres with extreme fire behavior with a fast rate of spread.  There is a 0% containment status.
CLOSURE
The Pacific Crest Trail has been closed West of Highway 18.
RESOURCES
Resources are responding from Big Bear FD, Big Bear Sheriff Office, CAL Fire – BDU and San Bernardino National Forest.   7 Air Tankers, 6 helicopters, 1 AA and 1 VLAT on order.
Additional resources are being called in for mutual aid (@1714 PDT).
Incident Command Post (ICP) is located at Baldwin Lake.
FIRE WEATHER
Current weather conditions (as of 1720 PDT) are  86*F, sunny, winds are 5 mph from the SE with gusts up to 23 mph.
Heat Advisory in effect until Wednesday, 9:00 PM PDT. ( Source: U.S. National Weather Service )
* High Temperatures…95-106.
* Impacts…Those working or spending time outdoors, the
elderly, children, and those unaccustomed to excessive heat
will be most susceptible to dangerous heat illness.
* Outlook…Lower temperatures are expected Thursday and Friday,
then slight increase in temperatures this weekend.
PRECAUTIONARY/PREPAREDNESS ACTIONS…
A Heat Advisory means that a period of hot temperatures is
expected which will create a situation in which heat illnesses
are possible. Drink plenty of fluids…stay in an air-
conditioned room…stay out of the sun…and check up on
relatives and neighbors.
OBSERVATIONS
The fire can been seen from Victor Valley and from the Big Bear Golf Course.  Some have reported seeing black smoke from Gold Mountain, North of Big Bear Valley toward Baldwin Lake.
EVACUATIONS
Evacuations are being prepared or may be in effect for those near the Big Bear dump and for residents in the Baldwin Lake area.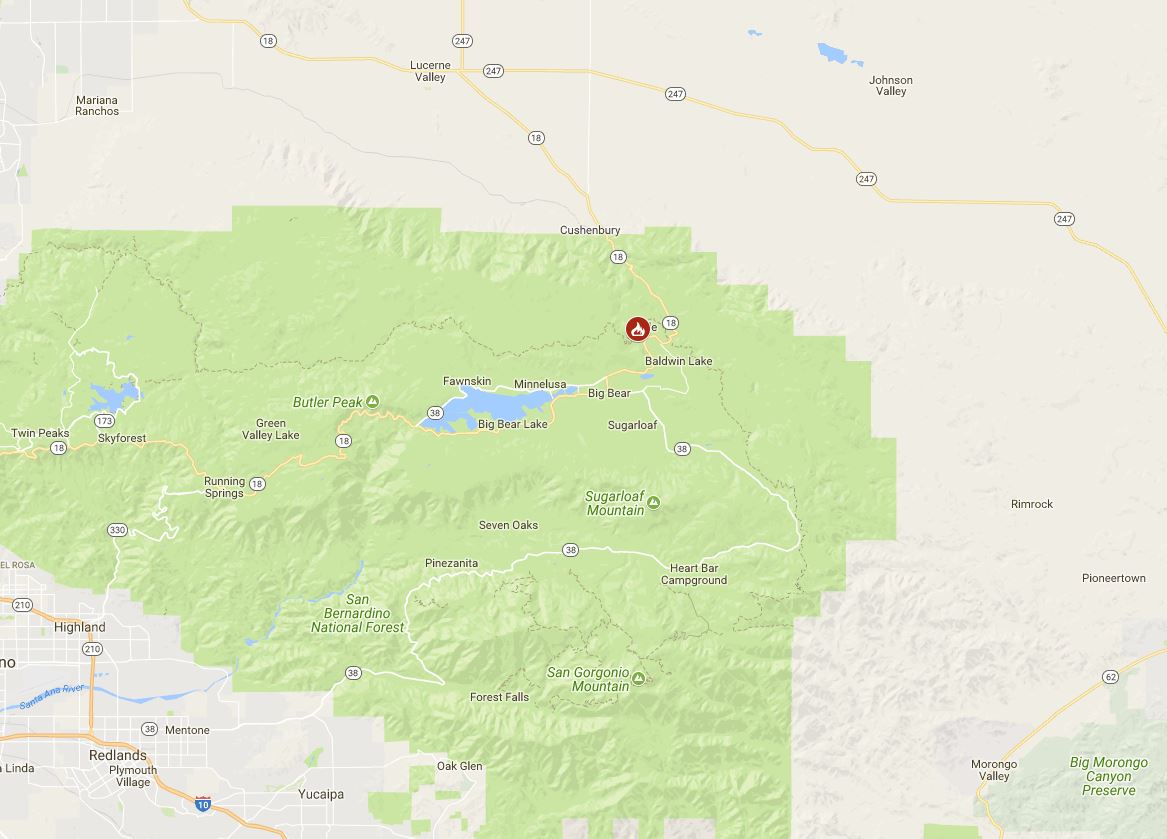 HAZARDS 
FIRE IC has been notified of dynamite in a local Holcomb Valley mine located in the San Bernardino Mountains which is about 5 miles North of Big Bear Lake. Years ago, the Holcomb Valley area was deemed the site of the most gold mines in Southern California.  FIRE IC will notify firefighters to stay away from this area.
Social Media – We are reporting this fire as #BigBearFire but there are other media outlets using #BigBearFire as well.
Shoutouts to – USA, UK, Canada, India, Vietnam, Brazil, Tanzamia, Hungary, Spain, Lithuania, Denmark, Bangladesk, Ireland and Nigeria. Thank you for reading our Blog today.
(c) 2017 The NW Fire Blog