We  will be reporting on communities needs, alerts, other communication on the COVD19 virus.  We will post other helpful links that may help you as a 1st responder, impacted patient/family member, general public, government official and any other topics by State.
###
HUMANITARIAN GROUPS
Salvation Army
The Salvation Army is looking for monetary donations, in addition to non-perishable items such as: baby food, supplies, hygiene products, cleaning and santizing items, paper products. Check with your local Salvation Army site to learn what's needed.  Details can be viewed on their website:  https://www.salvationarmyusa.org/usn/covid19/.
Have lots of time on your hands and you are busy cleaning out your garage, room(s) or the whole house? It is okay to drop off to your nearest location but the Salvation Army asks that you not dump and run during the pandemic.  (Source:  Salvation Army)
ARIZONA
Hospitals Brace for Surge
Hospitals in the State are urgently seeking out an additional 8,000 hospital beds to meet the Governor's April 24th deadline and be prepared for a surge of anticipated high numbers of COVID patients. They are looking at creative ways to turn hotels, churches, sports fields into hospitals. (Source: CEDR Digital Corps)
Free Virtual Health Care Visits
101 Dignity health locations in Arizona.  Check this website for a free virtual care visit. https://locations.dignityhealth.org/
CALIFORNIA
Free Virtual Health Care Visits
Free Virtual Care visits for those who have mild COVID19 symptoms through Dignity Health.
We're here for you during this challenging time of increased coronavirus cases. One of the best ways to protect yourself and your loved ones is to stay at home. To encourage this social distancing as well as continue to support your health and well-being, we're offering free virtual care visits. If you or a family member have mild COVID-19 symptoms such as low-grade fever, cough, or difficulty breathing, you can speak with a healthcare provider on your phone or device for free. Here are your options for accessing a virtual visit:
Once you register, enter the code COVID19 to waive the fees and proceed to your FREE visit.
Please note, we have been receiving a high volume of requests at this time. We apologize for longer than usual wait times. (Source:  Dignity Health)
Virtual Town Hall Meeting
Coronavirus Virtual Town Hall Meeting. Tuesday, 3/31/2020. 7-8pm Livestreaming via the NorCalPublicMedia.org , TV KRCB Channel 22 and siulcast on La Mejor, KJOR 104.1 FM, in Spanish. Submit your questions prior to the broadcast to viewer@norcalpublicmedia.org  (Source: County of Sonoma)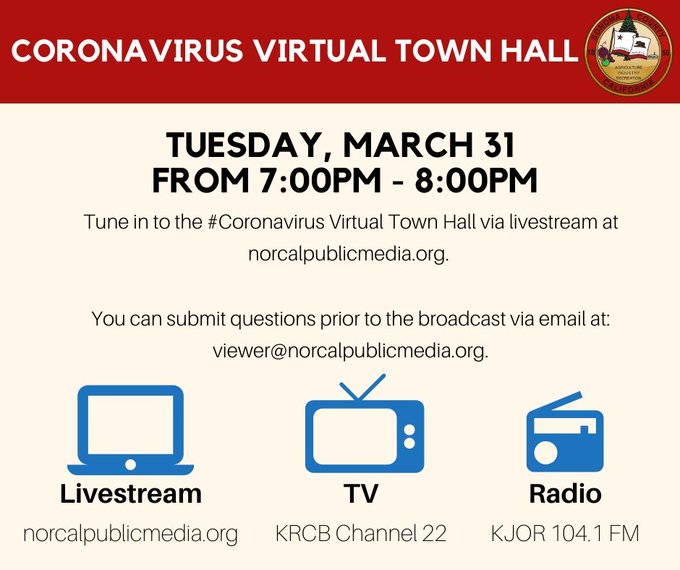 COLORADO
Health Partners Helping the Food Industry
El Paso County Public Health and the Community Health Partnership are thinking outside of the box to help businesses with donations/sale of excess food and goods to the help the coomunity during this virus outbreak.
Visit their story here: https://www.koaa.com/news/covering-colorado/el-paso-county-encourages-restaurants-food-stores-to-donate-sell-excess-food-to-service-organizations (Source: Local News Media)
MASSACHUSSETTS
Major Disaster Declaration Granted
Governor Charlie Baker requested federal disaster assistance from the Federal Government and they heard today from the White House and FEMA issuing the proclamation.
https://www.mass.gov/news/baker-polito-administration-announces-federal-disaster-declaration-for-covid-19-response  (Source:  CEDR Digital Corps/MASS Gov Charlie Baker)
NEVADA
Free Virtual Doctor Visits
Dignity Health is offering free virtual visits with a doctor. Check this website how you can visit their site and if it is more severe where to go for assistance. https://locations.dignityhealth.org/ (Source: Dignity Health)
NEW JERSEY
Red Cross Needs Your Help!
Donating Blood | Red Cross New Jersey (@NJRedCross) is asking those who can donate blood, to do so. They are at an all-time critical low. (Source:  RedCross)
TEXAS
Medicaid and SNAP Programs Renewed
The TX Health & Human Services have received additional funding from the Federal Government to automatically renew Medicaid and the SNAP (Supplemental Nutrition Assistance Program) for an indefinite period. No  need to call to renew.
What To Flush, That is the Question
Sanitary issues are starting to become an issue for those sheltering-in-place for the City's Solid Waste services, as people are flushing things that should not be sent down the toilet, like disposable disapers, baby wipes, facial wipes, rags, cleaning or polish wipes, kitty litter, paper towels or any other items.  Food cooking oil and grease, food scraps, shortening, lard, butter, margarine are just a few items that should not be flushed.  These items should be tossed in the trash instead. (Source: City of Irving)
VERMONT
Burlington Homeless
The City is setting up RVs to house the homeless population at the North Beach Campground during the virus outbreak. (Source: News Media https://www.burlingtonfreepress.com/story/news/2020/03/26/burlingtons-homeless-population-has-new-home-north-beach-campers-wake-covid-19-rvs-anew/2918238001/)
WASHINGTON STATE
PPE Arrives in Snohomish County
County receives 9 pallets of PPE and will be distributed shortly. Thanks VPOTUS from sending them from the National Stockpile. (Source: Snohomish County government).
(c) 2020 NW Fire Blog – Updated 3/28/2020 – 1905 hours PST