Burlington, Washington
Incident Summary
An active shooter scene played out at the Cascade Mall in Burlington, Washington, just before 7pm (PDT), when a single shooter described as a Hispanic male wearing grey.  He was reportedly entering the Macy's store shooting at multiple people including mortally wounding 4 people.  A 5th person, a male was airlifted to Harborview Medical Center in Seattle.
As of this morning, WSP Trooper & PIO Sgt. Mark Francis stated the 5th victim of last night's shooting passed away today.
Motive
There is no known motive.
Suspect Description
Police are still searching for this suspect (Photo courtesy of Skagit Co DEM)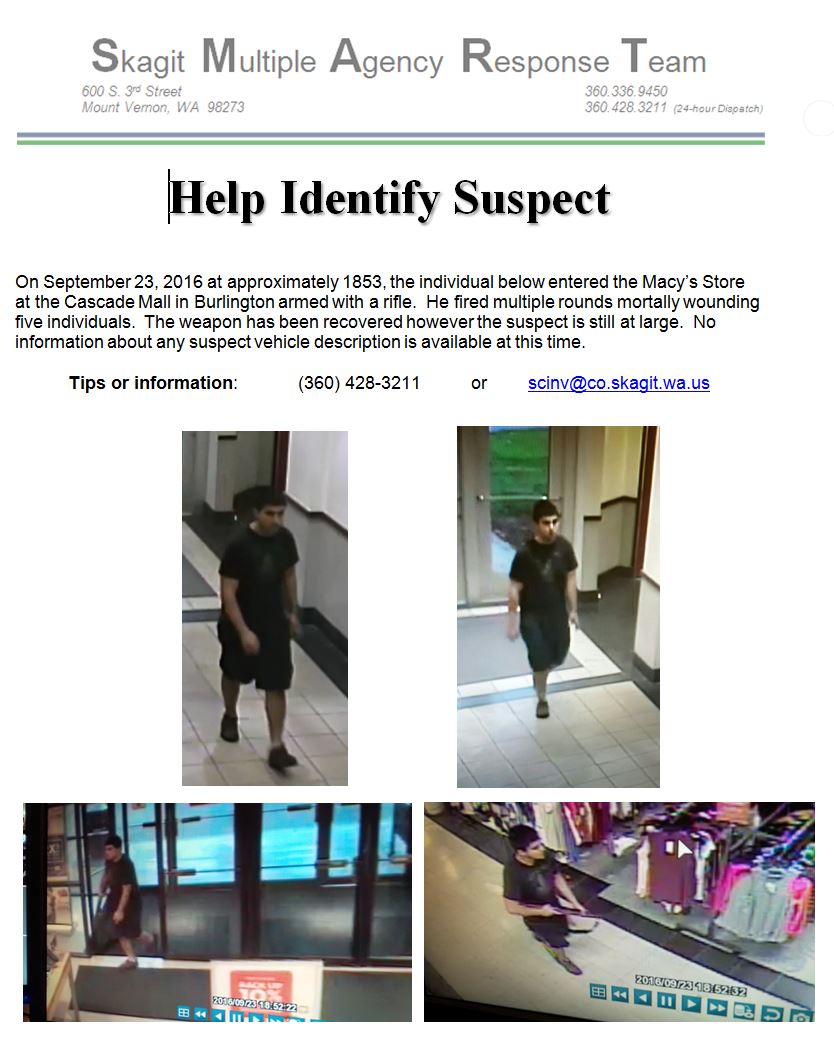 Public Safety Response
Over 26 Agencies and with several from various Counties that include: Snohomish, King, Island and Whatcom Counties including some from Federal agencies.  Police Officers helped escorted employees and customers out of the mall.  Survivors were evacuated to a local Church.
Multiple Police Agencies responded to the scene searched the over 400,000 square building were not aware that the shooting suspect had fled the mall before they arrived.
The Skagit Multiagency Response Team (SMART) compromised of Mt. Vernon PD and WSP has taken over investigation of this incident that includes 25 Investigators.  They are actively investigating the case.  Their currently role is to reconstructed the scene, they are photographing, videotaping, evidence being collected, and processing the whole scene.
Medical Examiner's Office
The ME will not be releasing names of the victims until an autopsy has been completed.  (This is a relief to us as we know families are reeling from their deaths)
Decompressing
Because this has been a long and difficult incident, we hope those are getting the positive support for decompressing for this event. There are many who can help from professionals, i.e. Counselors, organizations (we recommend Safe Call Now for First Responders and their Families) and Chaplains.
Please reach out confidentially if this is starting to affect you.
What to DO During An Active Shooter Incident
Disclaimer:  Graphic. May require an adult supervision if a minor.
(c) 2016 The #NWFireBlog