So many areas across the State of California are getting hit hard by rain and snow seen like never before in the last decade.  It is causing whirlwind flooding, avalanches, mud and landslides.
Here is a recap of what is transpiring in California at this moment. Information has been gleaned from Social Media users, governments and media.
INCIDENT COOPERATORS
Incident Cooperators are agencies that work together on one or more incidents as "partners".  This is a compiled list of those said to be attached, to be deployed or assigned or have recently assisted with various incidents. Note: As we compile information, Incident Cooperators will be added as we receive them.
 Alameda Co Sheriffs Office
American Red Cross
Five Cities FD
LAcoFD
LAFD Swiftwater Team
NWS Los Angeles
Orange County Skywarn – Weather Spotter have been activated at the request of the @NWSSanDiego .
PG&E
San Diego Fire Department
San Diego Firefighters, lifeguards and rescue teams attending operational briefings in preparation for next storm.
Ventura County OES
Ventura County EOC has been activated at 6:00 AM today for the January storm watch. NWS has issued an Urban and Small Stream Flood Advisory for Ventura County from 7:30 AM until 1:30 PM.
PUBLIC SERVICE ANNOUNCEMENTS
Gusty winds expected today. Be alert near fallen trees/branches. Report downed lines to 911. (PG&E)
When we say "Turn Around, Don't Drown" this is why! Doesn't take much water (just 6 inches) to cause you to lose control of your car. (LA EMD)
CURRENT CONDITIONS BY AREA
Alpine Meadows
Near Lake Tahoe. Avalanche conditions are extreme. Chains required.
Anaheim
Flash flood and high wind warning issued. (Anaheim FD)
Arroyo Grande
Responding to multiple reports of power lines down. Please stay indoors if possible. (Five Cities FD)
Atascadero
101 north on ramp closed at San Anselmo.
Bay Area
Pinto Lake flooding across Green Valley Road. (Santa Cruz government)
Cells (showers) beginning to initiate off the #CenCal coast. Expect thunderstorms for the #BayArea this afternoon. (NWS Bay Area)
A High Surf Advisory remains in effect until Tuesday morning. Please stay off of rocks and jetties and keep your eyes on the ocean. (NWS Bay Area)
Camarillo
  SR34/5th St closed. (Caltrans Dist 7)
Carson
The #110Fwy is underwater! Both sides shut down.
Davis
Hail is currently falling (Freelance Photographer)
Donner Summit
I-80 over Donner Summit. High winds & heavy snowfall, snowdrifts on the roadway. (Caltrans District 3)
Duarte
Evacuation Shelter open at Duarte City Center, 1600 Huntington Drive, Duarte, CA 91010. (Red Cross)
Garden Grove
E5 o/s large bldg in danger of flooding, evacuations in progress & requesting public works w/ sandbags. 12821 Knott St. (Fire Media)
Gold Run 
East of Gold Run to Nevada State border, chains are required.
Laguna Beach
The #castorm coming down hard at Camel Pt and Coast Hwy. (Laguna Beach PD)
Los Angeles
Beginning to see flow in our local streams and creeks. Never drive through flowing water. Turn Around Don't Drown! (NWS Los Angeles)
Topanga Cnyn N of Chatsworth St flooded. NBound traffic entering SBound lanes. (LAFD Valley Bureau CERT)
710 freeway completely flooded at Pacific Coast Highway. (NWS Los Angeles)
The entrance to the Point Dume Beach parking lot is closed due to flooding. (LA County Department of Beaches and Harbors)
To report malfunctioning traffic signals call 311. Do not call 911. (LAFD Cert)
Los Angeles County
LAFD swift water rescue team at Ballona creek looking for homeless encampments, trying to them to pack up. (Media)
3 Firehawk helicopters staffed with specialized swiftwater rescue teams onboard. They are staged around @CountyofLA for response. (LAcoFD)
Los Feliz
Gutters are an overflowing. (Government agency)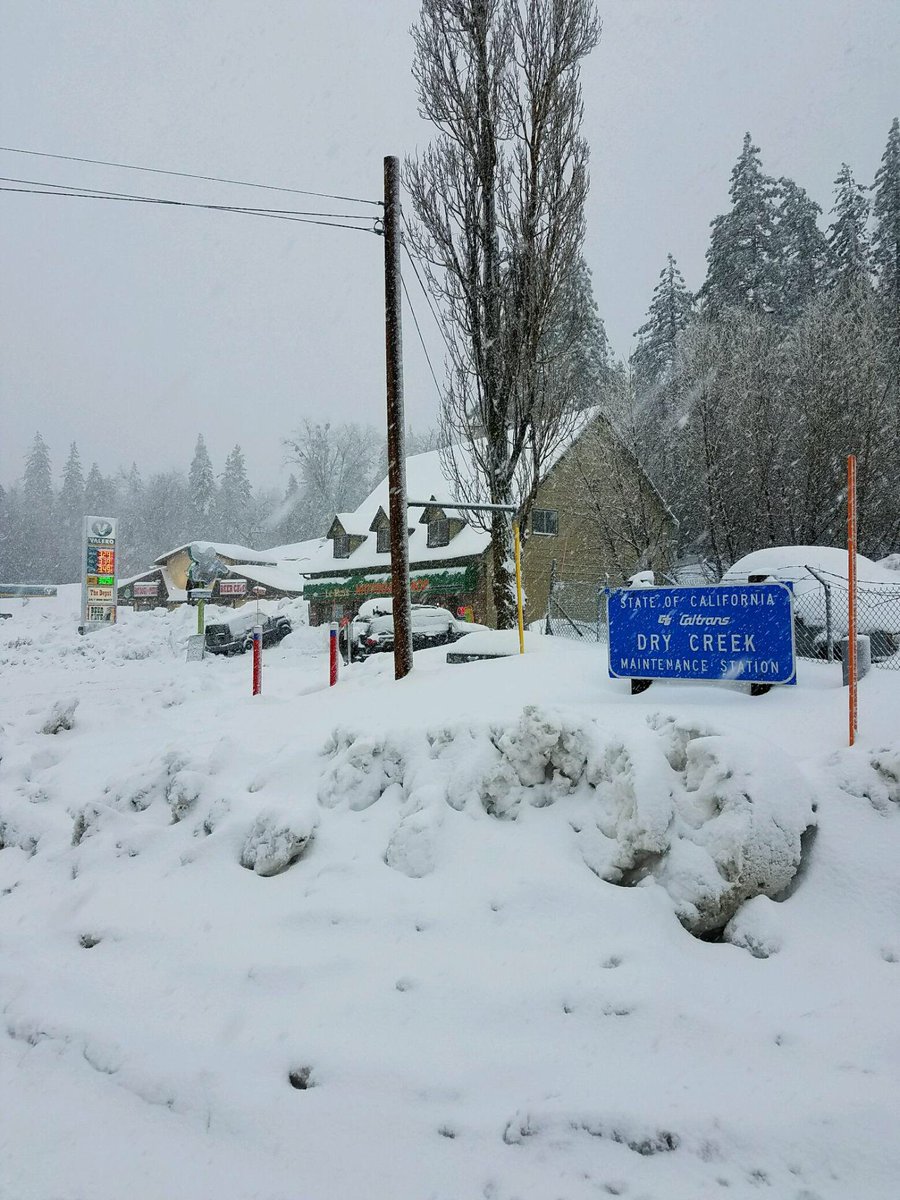 Montecito
Avoid Sycamore Canyon at Coyote in Montecito. (Pic showed downed trees everyone) reported by (Media)
Mt. Baldy
Mt Baldy Road has been closed at Ice House Canyon due to impassable conditions. (Mt. Baldy FD)
Orcutt
Tree comes crashing down onto mobile home. Residents evacuated in time. No reported injuries.
Pacific Coast Highway
Highway completely shutdown due to flooding. (Photo Credit:  Caltrans)
Palomares
Niles Canyon closed due to rock and mudslide 1/4 mile east of Palomares.
Police: submerged solo vehicle accident into Niles Canyon/ Alameda Creek.
Palos Verdes Peninsula
Periods of heavy rain around the Palos Verdes Peninsula to west L.A. now. Look out for some flooded streets in the area. (Media)
Redondo Beach
Surf has cut through sand right up to bike path in Redondo Beach.
Riverside County
SR-71 SB to SR-91 EB connector closed due to flooding, unknown duration. (Caltrans District 8)
Running Springs
Heavy snow in Running Springs – 6 inches in 45 minutes! (Caltrans District 8)
SLO County
Water has taken over the playground along the Bob Jones Trail.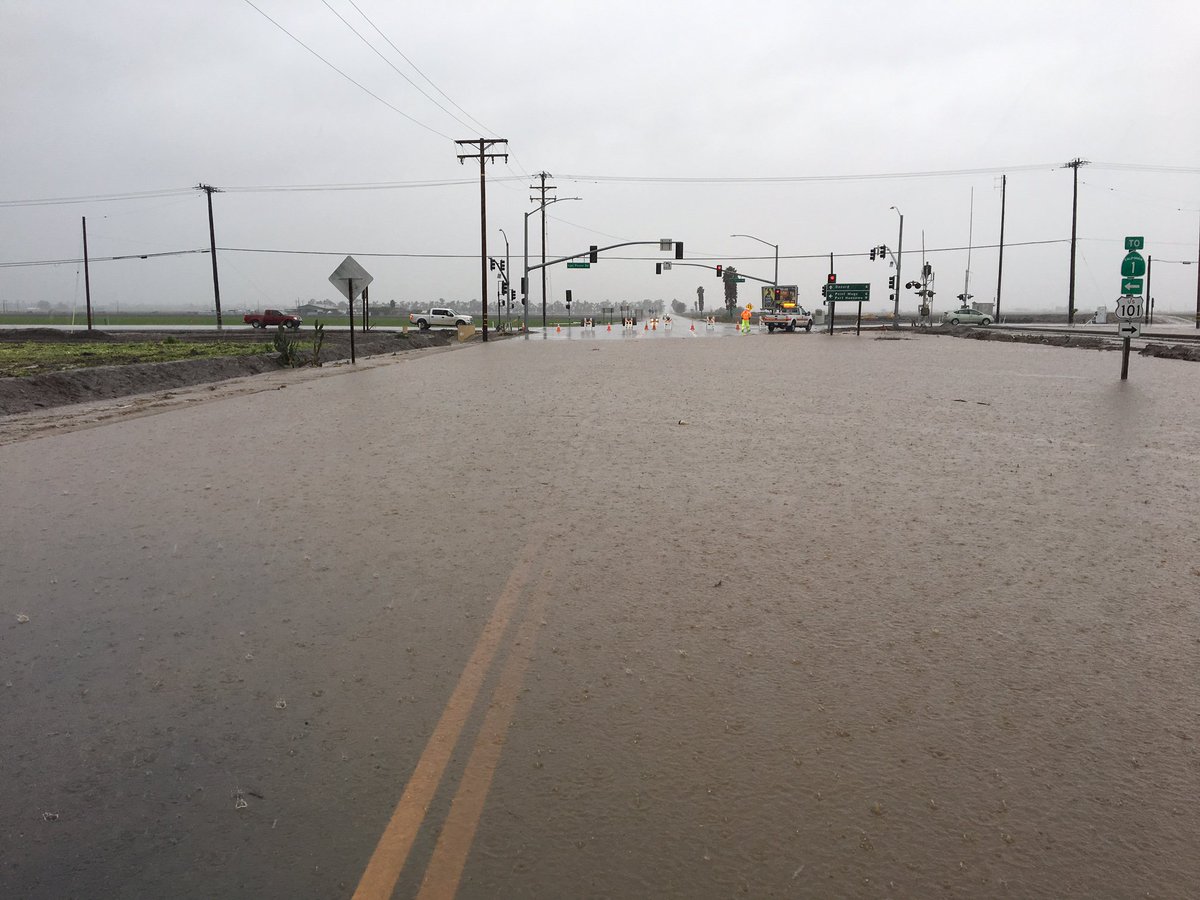 San Clarita
Evacuation Shelter opened at Canyon High School 19300 Nadal Street, San Clarita, CA 91351. (Red Cross)
Santa Barbara
Street closed at Loma Alta @ Cornell, Santa Barbara. Homes reported as okay in this area. (Media)
Santa Barbara County
High wind warning remains in place through 7 p.m. with a concern for downed trees and power lines.
Santa Clara
Flash Flood Warning for Southeastern Santa Clara and Northwestern San Benito County until 1830 hours tonight.
Santa Clara County
Glenwood Drive, a Hwy 17 bypass , collapsed, impassible.
Santa Monica Mountains
Due to heavy rains, we are closing Solstice Canyon and Paramount Ranch.
Signal Hill
Avoid Walnut Ave/33rd St and California between Willow St and Spring St due to flooding. (Signal Hill PD)
Stockton
Down tree blocking street in 2700 blk Bonnie Ln. (Stockton PD)
Thousand Oaks
Cascading waterfalls from Santa Monica Mtns. not seen in years. (Media)
Potrero Crk @ Foxfield hasn't seen water in abt 7 years! (Media)
Ventura County
Text VCALERT to 313131 to receive emergency notifications in Ventura County. Visit www.vcalert.org for more information. (Ventura County OES)
Firefighters from station 50 assisted 4 children with mom and dad who got stranded in a flooded intersection on Pleasant Vly Rd. (VCFD)
Yolo Bypass
"Everything's submerged, higher than I've seen it since I was a kid." (Photojournalist)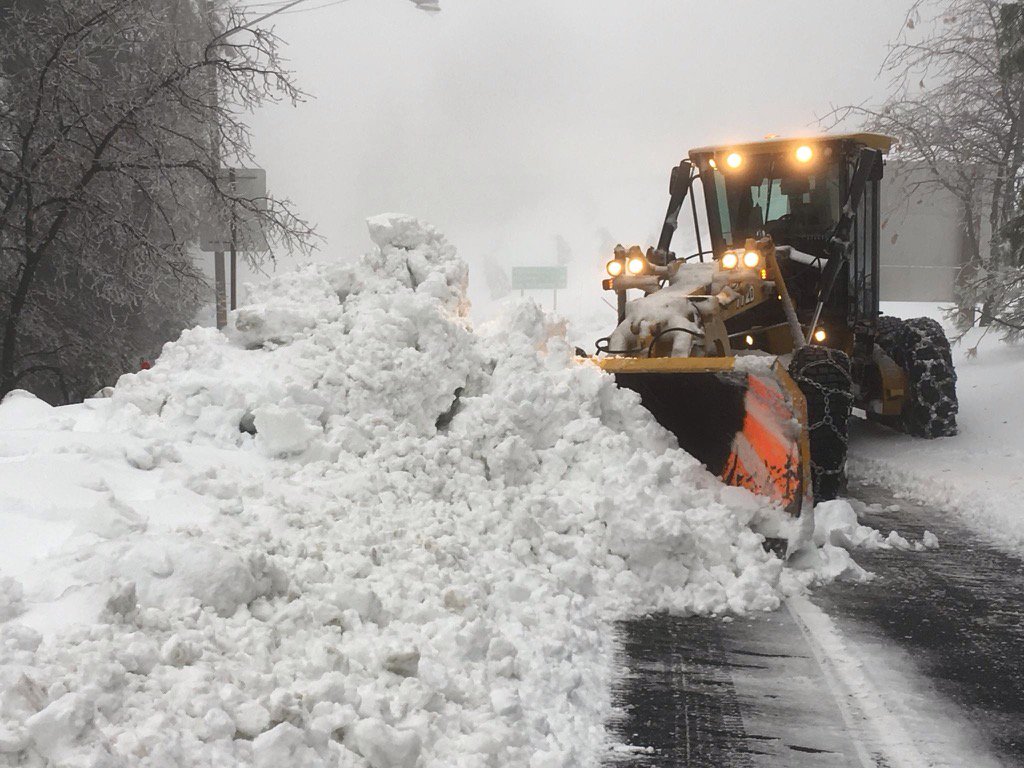 SOCIAL MEDIA
Hashtags Used
#LArain, #CASTORM, #CA, #mudslide, #cawx, #I80, #Sierra
Weather Humor
"Maybe this insane amount of rain SoCal is getting is just God crying over the current state of America." — This is the best one so far and we love it!
"Noah and his Ark just went down my street."
"Remind your kids not to play in flooded yards. Floodwater contains things like garbage, sewage and bacteria." (Media) – Great reminder. – Ed.
"There are two kinds of drivers in LA when it's raining… those driving 10 MPH and those doing 90 MPH. There is no in between." – Slow down ppl. – Ed.
'Santa Monica Boulevard? More like Santa Monica Canal."
(c) 2017 The #NWFireBlog – Updated 1530 PST