KITTITAS COUNTY, WASHINGTON STATE
Incident Summary
A truck carrying large bales of hay caught fire on Saturday, July 1, 2017, at 1400 hours PDT, causing a brush fire.
Location
The location of the incident is on I-90 westbound at mile post 125, approximately 15 miles East of Ellensburg, Washington.   This is near the Ryegrass Rest Area. The brush fire is on the shoulder, moving East.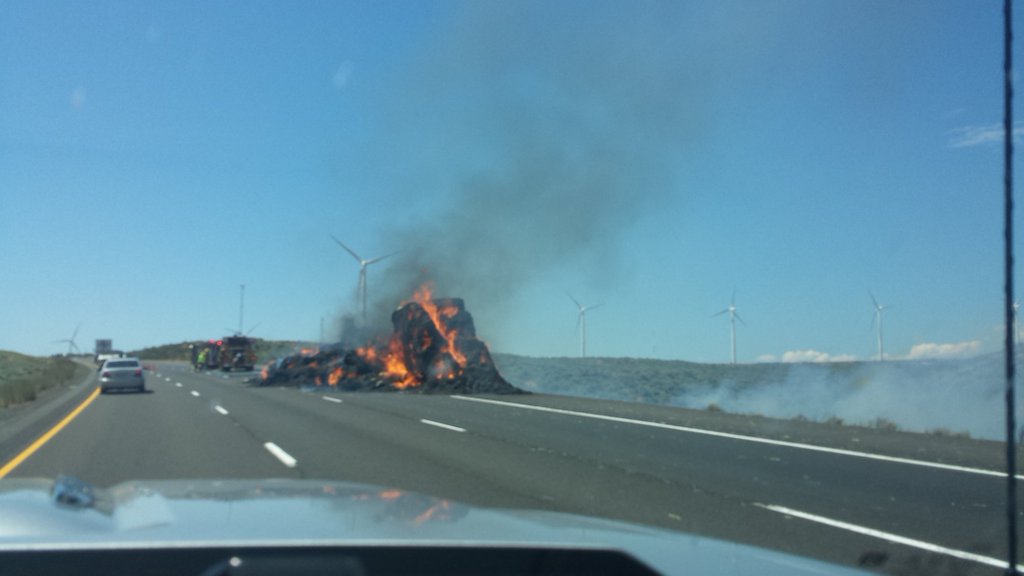 Size Up
3 acres. 0% containment.
Resources
WA DNR 2 helicopters (from Ellensburg) and 4 engines. 1 dozer and local fire districts are on-scene.
Closures
Due to poor visibility on WB I-90, all lanes have been shutdown.  Traffic is being diverted to the Old Vantage Highway.  There is no ETA on when the roadway will be reopened.
Fire Weather
The current weather is 86*F temp, 29% RH, Winds are NW 23 mph and there is a 10 mile-visibility.
(c) 2017 The NW Fire Blog – updated 1630 Hours PDT