BELLEVUE, Washington State —  Firefighters were called to an early morning residential structure fire in Newport Shores on Cascade Key , located north of Newcastle Beach Park.
The fire occurred around 0600 hours PDT on Sunday, May 3, 2020.
Active fire was reported on the rear side, extending from the front  to the garage and possibly into the attic of the home.
Photo Credit | Bellevue Fire Department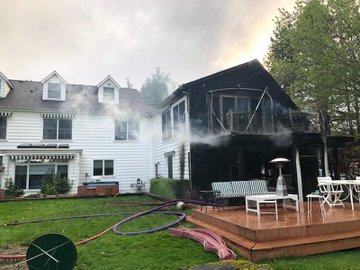 Fire was quickly brought under control, a short time thereafter.
A primary and secondary search of the structure found no victims inside the fire building.
Fire crews were able to successully knock down the fire from the rear.  Crews entered the interior of the large building and checked for extensions.
Ladder companies handled the venting of the structure.
A Fire Investigator was called out to the scene to determine the cause but at the time of this post, there was none known.
Resources included: (Zone1)  Bellevue Fire's  E101, E102, E104, Air1, B1, L7, L3,  MSO5; Mercer Island E191.  (Zone 3) Renton Fire E315.
It was unknown if the structure is habitable or if the American Red Cross was called for displacement of the fire victims.
(c) 2020 NW Fire Blog – Updated 5/3/2020 1:15 PDT