HOG FIRE
Update 1 – Newly Reported
Incident Summary
A wildfire is burning off of Hog Flat Reservoir and Hwy 144, west of Susanville in Lasen County and nearby to the GOLD FIRE, another large fire incident that the CAL FIRE LMU are handling.  Started 7/18/2020 at 1530 PDT. Cause is unknown, under investigation.
Current Status
170 structures threatened; none have been damaged or destroyed
Evacuations and road closures in effect
High winds, hail and other stormy weather is over the fire line (2139 PDT)
Fire is approximately now 5 miles from the town of Susanville
Size/Containment
9,000 acres. 7% containment due to better mapping
12,188 acres. (7/20/2020)
Resources – Personnel
Strike Teams – 3646 Charlie, 9250 Charlie, 3630 Charlie, 9231 Charlie, 2025 Charlie (Crockett Carquinez FD E278), 2870 Charlie (Alameda County FD, Fremont FD, Oakland FD, CAL OES)
Crews – CRW LNU Crew 14, CRW AEU Crew 27, LNF Heart Lake, T2 C-27, C-28, C-30, C-33, C-34.
Water Tenders – PVT E110, E250, E252, E255, E57, E259, E112
Engines – LMF E36, 62, 88, 381
Dozers – PVT E25, E31, E105, HUU 1240, PVT E93, E106.
IHC – CRW SRF-NRA IHC Smith River, Beckworth IHC, Diamond Mountain IHC
Totals: 147 engines, 31 water tenders, 21 hand crews, 33 dozers, 1,087 total personnel.
Photo Credit | Crockett Carquinez FD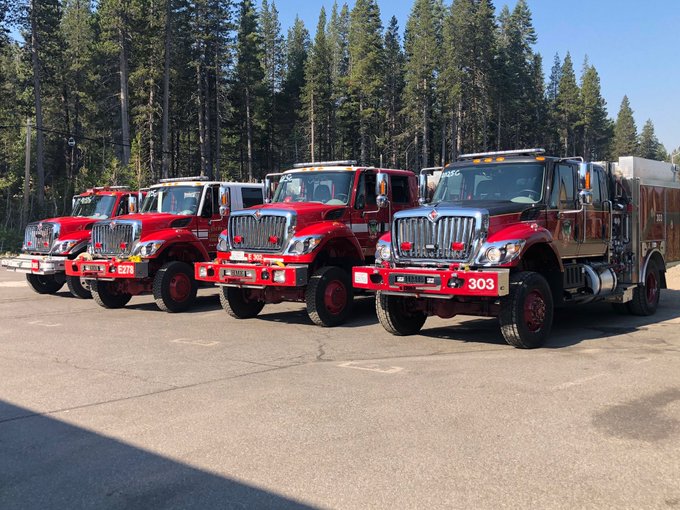 Incident Cooperators 
Lassen National Forest
CAL FIRE
CHP
Lassen County Sheriff Office
Cal TRANS
CAL Smoke Blog
Crockett Carquinez FD
Alameda County FD
CAL OES
STL Trainee
Fremont FD
Oakland FD
NWS Reno
Butte County AQMD
CA State Association of Counties
Photo Credit | Almeda County FD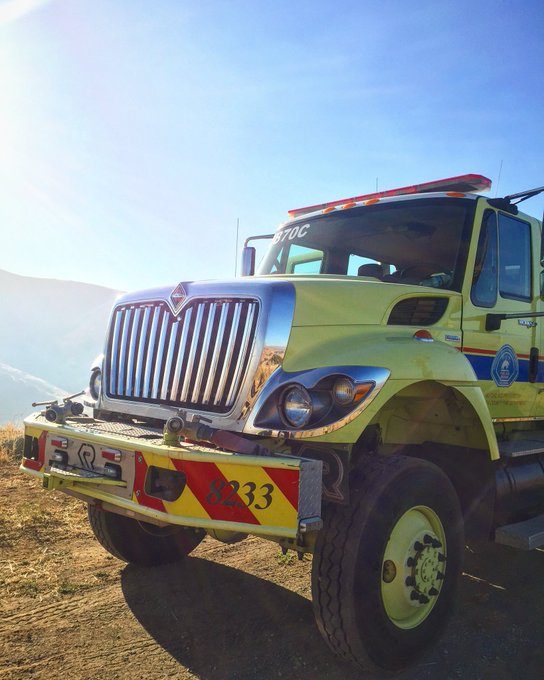 Fire Behavior
Burning in heavy timber and slash with brush along with clear cut plots that have moderate to heavy slash.
Active fire with spotting.
Evacuation Orders
Lake Forest Estates
Riverbench Road
Britt Lane
Thumper Hill Road
Ridge Top Road
North and South of Hwy 36 from A1 to Willard Creek Road
From A1 to Willard Creek Road
Shelters
Lassen Community College. 530.250.9088.
Animal Shelters/Boarding
At VCA Animal Hospitals, we care. When families are displaced, our caregivers ensure pets have a safe, loving and healthy home — until they can go home again. We are now offering FREE BOARDING in response to the [fire] in Northern California
Divisions
I – Mix of brush/timber fire fuels with slash. Spotting has been an issue in Divisions Charlie and Echo.
V – Spotting has been issue in Division John
IX – Has largest variation of topography. Spotting has been issues for Division Foxtrot and Qubec.
Safety
Fire Managers are taking steps to include:
COVID-19 precautions
Weakend trees impacted by fire activity
Everyone gets a briefing
Applying RED FLAG WARNING alerts and notifications
Driving defensively, be prepared for anything unexpected
Weather Reports
Flood Advisory in effect until 9:00 PM PDT for central Lassen County including the Hog Fire burn area, as well as parts of CA 36 and CA 44. Seek shelter from this storm, and remember to never drive across flooded roads! – NWS Reno (1800PDT)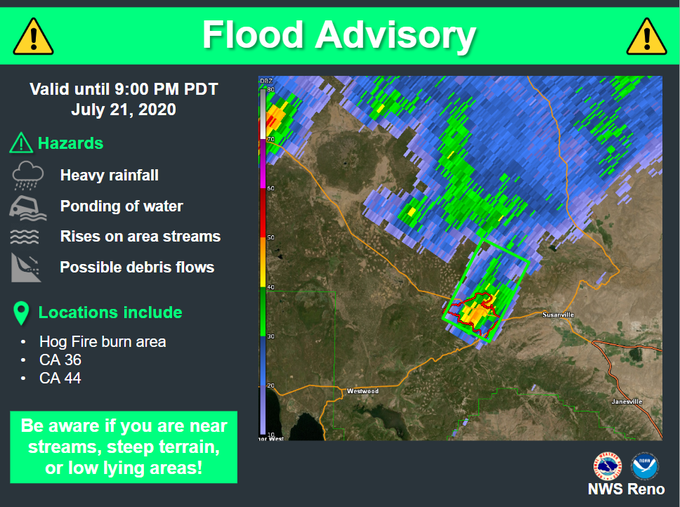 RED FLAG WARNING issued for 1300-2100 PT.
Weather Forecasted:  Scattered showers and thunderstorms after 1300. Hybrid mix of wet/dry storms, some could be strong.
Upslope 3-7 mp becoming west 4-8 mph after 1300 with gusty and erratic winds with outflows of 40-50 mph possible in the afternoon.
Max temps 86-91*F with minimum RH of 15-185.
Firenado is spotted
Fire is making its own weather
Fire Images
Photo Credits | PG&E / alertwildfire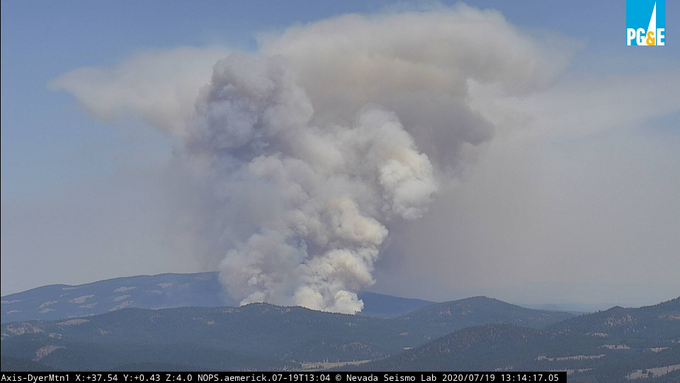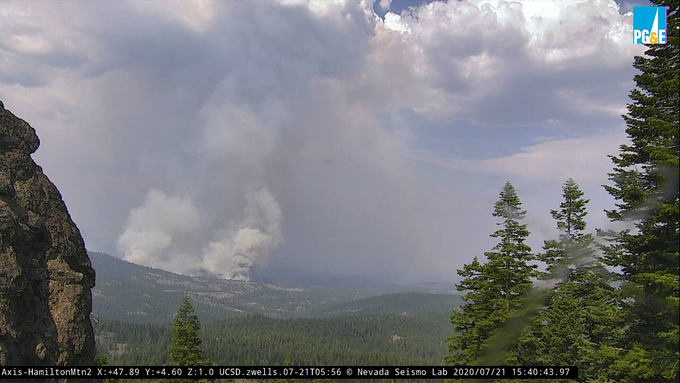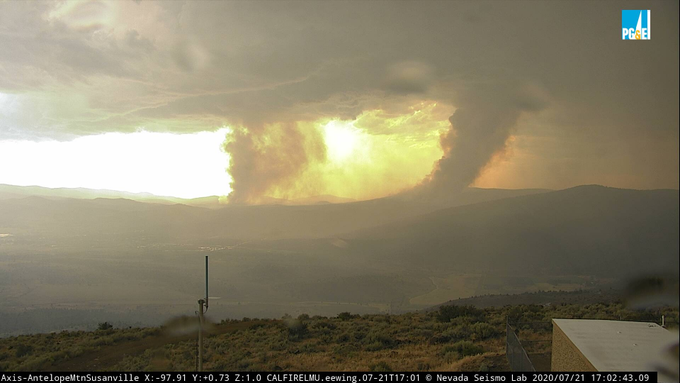 Mapping
Photo Credit | CAL FIRE Lassen-Modoc Unit
Social Media
@nwfireblog – Twitter/Facebook – NW Fire Blog – Instagram
Hashtags
#CAwildfires #FireSeason2020 #HogFire
(c) 2020 NW Fire Blog – Updated 7/21/2020 2300 PDT