RENTON, Washington
Firefighters from Renton, Puget Sound Fire, Skyway, Tukwila and Medics from King County Medic One were dispatched to a commercial fire on Wednesday, November 25, 2020, at 1144 hours PT.
The fire incident occurred at the Red Lion Hotel located at 1 South Grady Way in Renton, Washington. This hotel along with its counterparts in Seatac and Bellevue are being fully rented out by King County, as homeless shelters to help stop the spread of COVID-19.
All occupants were evacuated safely and no one injuries were reported, but those who were on the 5th and 6th floors were endangered by the fire.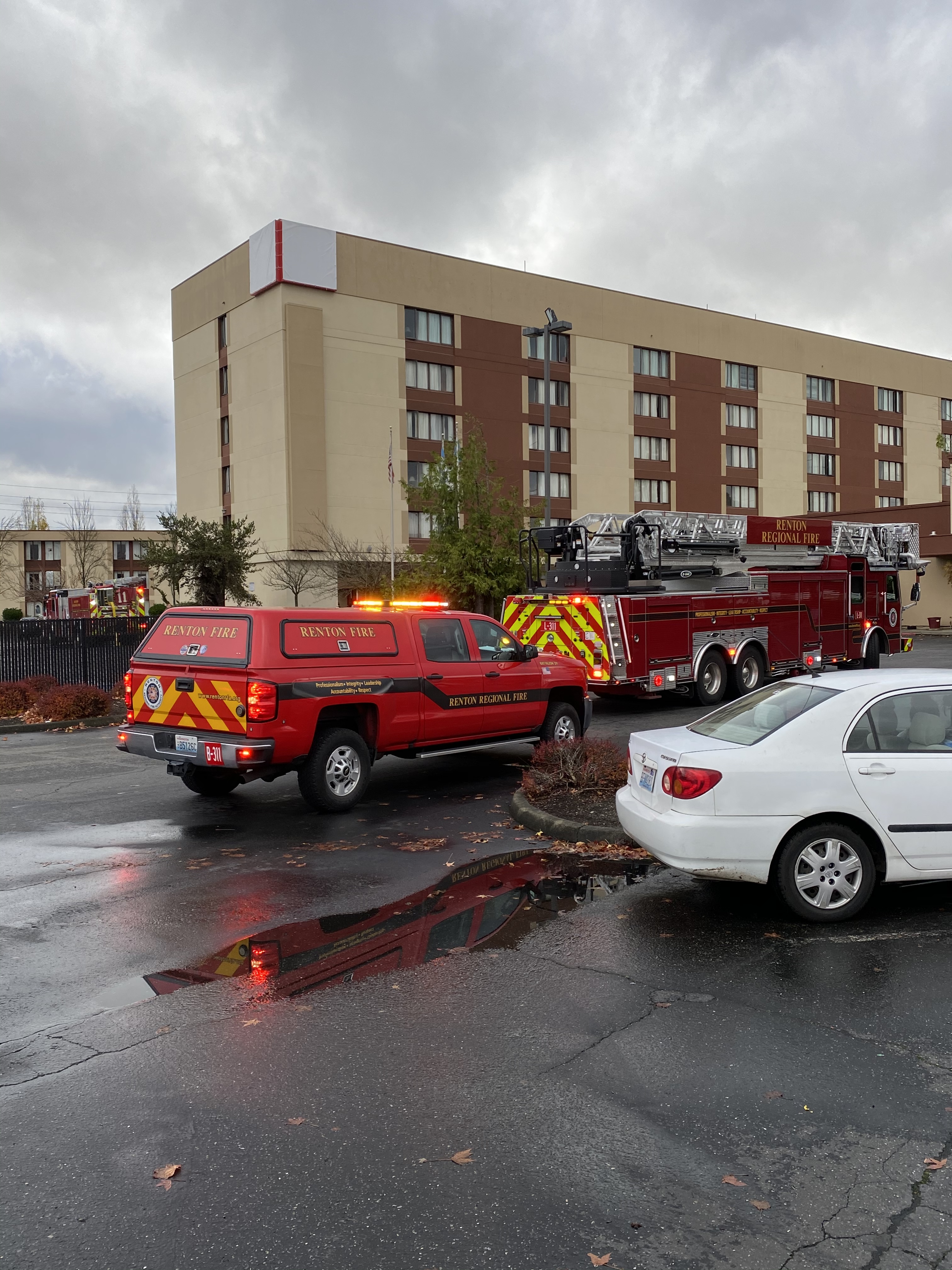 The hotel provides housing as a temporary site which is located in Bellevue, SeaTac, and Renton which provide beds for nearly 400 people who are in homeless situations. Individuals are able to come and go as they please as they are not considered under isolation or quarantine.
Renton Police were dispatched to the hotel on Wednesday around 1145 hours to assist with evacuations due to a fire reported on the 6th floor of the commercial structure. Renton PD found some of the residents to have physical and mental disabilities making the evacuation process somewhat challenging.
Investigators were told the suspect had been living at the facility for about three weeks, got angry with hotel staff and told them, 'I am going to burn this place down'. He locked himself in his hotel room while a locksmith was prompted to respond to the unit to try to unlock it. As the locksmith and staff approached the 6th floor, they were met by heavy smoke and were unable to put the fire out.
The suspect left the room and was eventually arrested by Police. He was booked into the King County jail.
Due to the attempt at defunding of Police Departments in Seattle and King County, we could not find any information leading us to believe Social workers were deployed to the scene to try to de-escalate the situation before Police were called in.
Cause of the fire is arson. A couch was lit on fire by the suspect. Media outlets have been reporting there have been 277 fire and medic calls to this facility April with no relief in sight for EMS and Law Enforcement impacting the local area.
No injuries to firefighters, Police Officers or citizens were reported.
(c) 2020 NW Fire Blog – 11/26/2020 2200 PT