TACOMA, WASHINGTON | 1-30-2021 1850 hours PT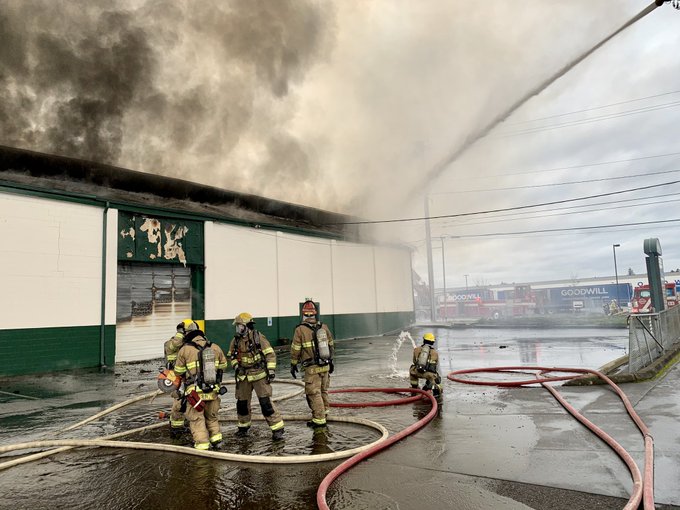 INCIDENT SUMMARY
Tacoma Firefighters were dispatched to a commercial structure fire in the 3100 block of South Street around 1250 hours PT on Saturday, January 30th, where heavy smoke huge flames were reported upon arrival by fire due units. Crews immediately prepared for a fire attack and began pouring water using master streams from various strategic positions around the large sized engulfed commercial structure.
OCCUPANCY
A linen service company is said to occupy the structure.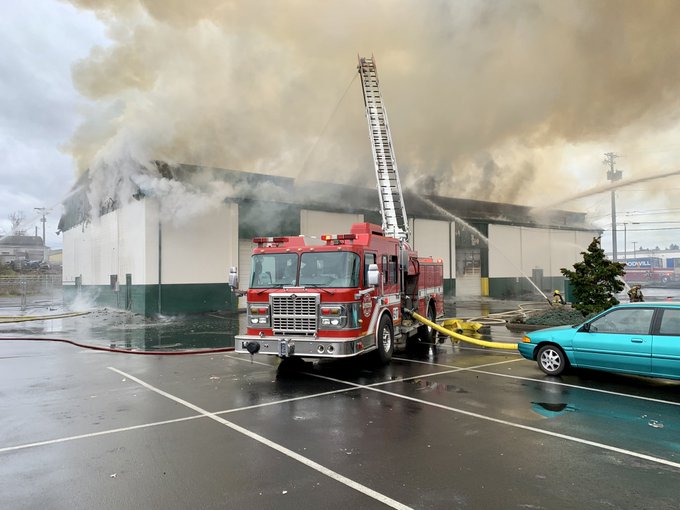 UPGRADED TO A SECOND-ALARM
As crews took a defensive position pouring water over top of the building, heavy fire was observed throughout the structure's roof. Command escalated the fire around 1307 hours to a second-alarm.
Firefighters continued fire under an exterior defensive strategy.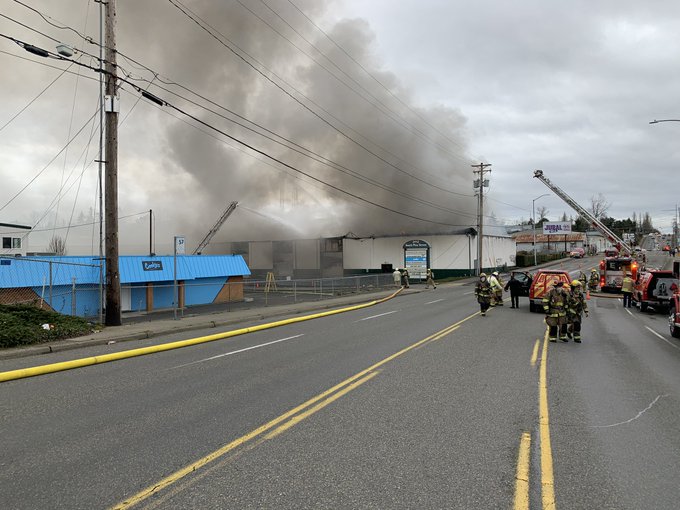 ROOF COLLAPSES
Just before 1400 hours PT, most of the roof had collapsed. Crews, outside of the collapse zone in a safe area – continued to pour water on the stubborn fire.
TRAFFIC ALERTS
Officials and law enforcement closed off roadways, South Pine Streets between South Tacoma Way and Center Streets were said to be still closed. AVOID THE AREA
After 1730 hours PT, three lanes of traffic reopened on South Pine Street.
Remember, pull to the right for emergency vehicles and remember to yield to them as they are considered as priority traffic.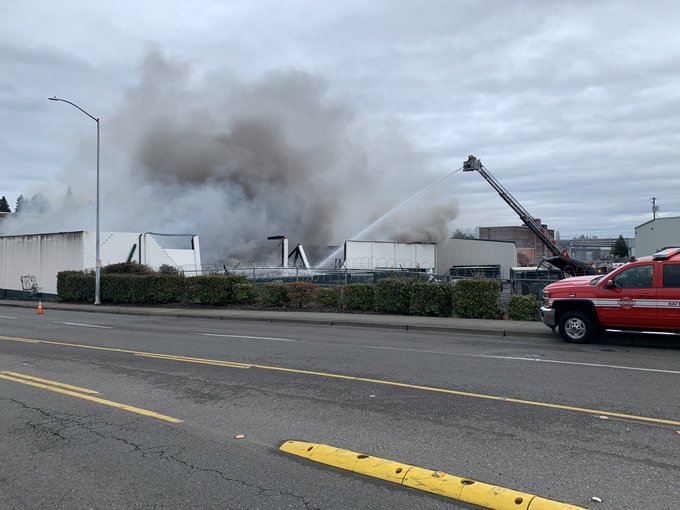 FIRE WATCH
Crews have been able to address the hot spots and several will remain on-scene overnight to watch for any rekindling.
CAUSE OF FIRE
The cause of the fire is unknown and Officials state there will be an investigation beginning on Sunday. They will need to wait to deem the scene is safe for investigators and additional personnel on-scene.
ABOUT THE TACOMA FIRE DEPARTMENT
Tacoma Fire Department was established in 1880, in the City of Tacoma legally incorporated in 1884, the small town of 1,000 residents has grown to approximately to just over 200,000 to a whopping 213,500 in today's world.
TFD has 16 fire stations, 391 commissioned and 48.5 non-commissioned personnel, 16 engine companies, four Ladder Companies, five medic companies, three Battalion Chiefs, one Safety Officer, 1 Technical Rescue Unit (cross-staffed), one HAZMAT (cross-staffed) and two Fire Boats (cross-staffed).
The Department services its residents and commercial businesses within 72-square miles within the City limits and contracted areas, plus 44 miles of shoreline and 25-square miles of saltwater. It's city has Interstates 5, 705, along with SR16 and 509.
The Fire Chief is Toryono Green.
For more information on this great Fire Department, you can visit their website here –> http://tinyurl.com/n9ogbmp
(c) 2021 NW Fire Blog