BRADLEY, CALIFORNIA — A wildfire named the SARGENTS FIRE is located near San Ardo along Sargent Creek off of Sargents Road in Monterey County.
The Sargents Fire first began showing up on the Alert Wildfire cameras just after 1525 hours PT on Sunday, May 30, 2021 and appeared to be exploding into a full blown firestorm.
SIZE UP — 801 acres. 15% contained.
FIRE OPS — Just after 1500 hours, a smoke column was showing and the CAL FIRE BC began requesting a large contingency of personnel and assets to respond to his location, in addition to what he already had on-scene.
INCIDENT/FIRE TIMELINE — Here is a play-by-play for today's operations on Day 1.
1518 PT — 2 add'l air tankers are requested, to the 2 already on-scene. A full high dispatch requested.
1533 PT — AA504 overhead reporting 2 separate fires 1/4 mile apart, 5 acres & 15 acres in brush w/ moderate ROS on both, no structure threat, potential for 150 acres.
1726 PT — Very active fire behavior.
1746 PT — Air Attack 504, T-91 ,T-74, T-80, T-102, Copter 903, Siller Helicopter Skycrane N9125M, 250 acres. 0% contained.
1806 PT — Residents in nearby San Luis Obispo County report smelling smoke in the air from this wildfire.
1814 PT — A504 reporting fire at 500 acres. Potential for spread for 2,000 acres. 4 S-2 tankers and 2 copters requested for Monday 0800 operations.
1821 PT — IC requesting for tomorrow: 6 strike teams of type 3 engines (30 engines), 2 handcrew strike teams (4 crews), 4 dozers & 4 water tenders.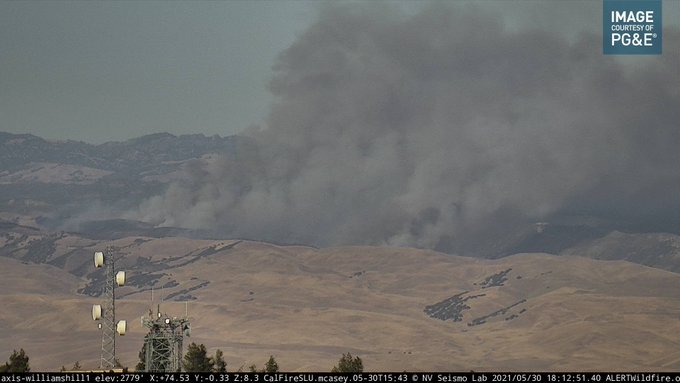 1824 PT — 250 acres. 10% contained. (CAL Fire website and Twitter).
FIRE WEATHER — Current report as of 1920 hours PT. 58*F Temps, Sunny skies with 0% precip, Winds at 9 mph and humidity up to 69%.
(c) 2021 NW Fire Blog – Updated 5/30/2021 1920 PT