Sunday Update – September 12, 2021
# # #
COMMUNITY INFORMATION MEETING – VIRTUAL
Monday, September 13, 2021 @ 1900 hours PT (7pm)
https://www.facebook.com/SchneiderSpringsFire
# # #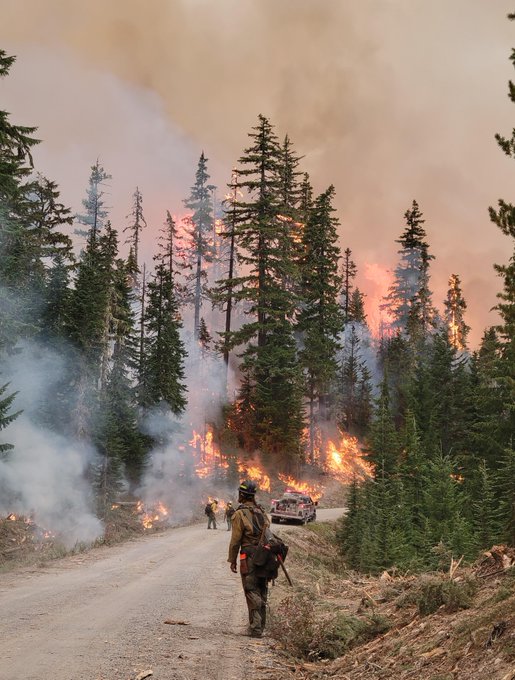 Incident Summary
The SCHNEIDER SPRINGS FIRE is burning about 20 miles northwest of Naches and 10 miles west of Nile, Washington in the northern Cascade Mountain Range.
The fire was sparked by lighting that passed over the area on August 3, 2021, which ignited short grass, timber and brush on August 4, 2021, around 1230 hours PT.
The fire has burned 102,407 acres and reached a 17% containment status.
Current Status
The fire's behavior remains today as moderate with flanking, backing and creeping. Pockets of fire fuels are being burned by surface fire with occasional flare-ups.
Division Alpha – structure protection in effect with some mop-up operations. Firing operations being conducted as needed.
Division Delta – structure protection to continue with one of their fire objectives to complete line construction. They will work to prep the control line and will look towards future operations of going direct when possible.
Division Hotel – main fire objective is to tie in around the Cliffdell down to the river, as their main focus as it is critical to get this completed as soon as possible. They will also continue to monitor and patrol portions of the line.
Division Oscar – crews are working tirelessly to patrol and repair portions of the line, as well as hold and improve the firing operations around Burnt Mountain. Mop-up operations in effect for any new or existing hotspots.
Night Ops – They are working to continue much of the same with providing structure protection and defensive firing as needed. Crews will monitor and hold.
Repair Group – Working in the Bethel Ridge area and will conduct priority repair work as directed.
A rainstorm passed over the area but produced little to no precip over the area.
It continues to threaten several local communities and structures, prompting evacuation orders to remain in effect along with area, road and trails still closed. Some have been reduced down to Level 2 from 3, after rain fell over the fire area.
A Temporary Flight Restriction or TFR is in effect, therefore no drones or other aircraft will be allowed to fly over the fire area. Collisions can occur if drones intrude upon the TFR, putting fire personnel in the air and on the ground in grave danger and it is illegal to do so. Heavy fines and jail time can be give for violations. Questions? Contact the Naches Ranger District at 509-653-1401. Fire Line staffed 0800-1900 daily at 509-653-1468. #NoDronesInFireZones
Resources
Command is under a PNW2 Type 1 IMT Incident Commander (IC) R. Allen with 601 total personnel under their direction, along with 13 crews, 36 engines and eight copters.
A Red Cross shelter was opened on September 9th at 1500 hours PT (3pm) at the Summit View Church of Christ located at 100 N. 72nd Avenue in Yakima, Washington 98801.
On September 8, 2021, the National Interagency Fire Center or NIFC for short, deployed two wildland firefighting hand crews from Quebec, Canada.
Incident Cooperators include: NWS IMET Operations, NIFC, WSP, DOE – Central Region, City of Yakima Government, Yakima County Government (Sheriff's Office, OEM), Yakama Nation, Quebec (CAN) hand crews, Northwest Interagency Coordination Center (NICC), NWS Pendleton (Air Quality reports), Crystal Mountain Resort, NWS Seattle, CK Fire and Rescue (South Puget Sound Strike Team), Zigzag Hotshots, Uinta-Wasatch-Cache National Forest, Jackson Hotshots, Okanogan-Wenatchee National Forest (Oka-Wen NF), NWS Spokane, Oregon Smoke Info, Joseph Elfelt (Mapping), Red Cross NW, National Forest Foundation, Bureau of Land Management (BLM),
Significant Events
This firestorm was deemed a megafire on September 10, 2021, with the fire broke the 100,000+-acre record.
On August 23, 2021, there were 16 active wildfires with the (Schneider Springs Fire) over 67,000; Lick Creek Fire at 80,000+, Cub Creek Fire at 70,000+ and Whitmore Fire over 58,000+ acres.
On August 11, 2021, Social media commented on weather being cooler and wetter helping firefighters contain the wildfire, but it seems that was just a hope.
The cost-to-date for fire suppression and containment efforts have reached $35 Million Dollars of today.
(c) 2021 NW Fire Blog