November 11, 2021 | Published 2155 PT
A brush fire ignited on Thursday, near Middle Ranch on Santa Catalina Island, about one mile southwest of the Black Jack Campground in Los Angeles, California today, prompting a large fire response from the Los Angeles County Fire Department, on this after before 1400 hours.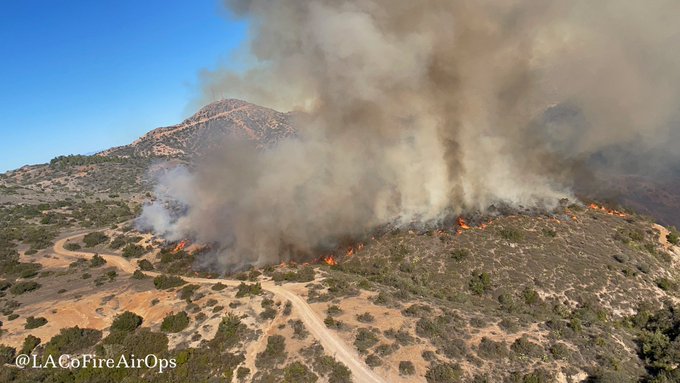 Firefighters arrived on-scene and reported a 10-acre fire in medium brush fuels, with a moderate rate of spread & winds out of the N/NE at 5-10mph. No structures in the area were threatened.
The fire remained on a level-one response throughout the incident. About 125 personnel had stopped the forward progression and are holding the fire to 17 acres and with a 20% containment status, just before 1700 hours.
Crews were in the process of mop-up operations and were expecting to continue operations throughout the night. Firefighting aircraft were released just before 1800 hours PT.
Command Post was reportedly to have been moved to the Catalina Airport.
Resources assigned during this incident were:
AA120
Copters 5, LAC-15, 18, 22
2 Superscoopers 245, 246
T-73
T-93
LAT T-12 (cancelled)
HT-55
BC7
BC14
WT1 (CI Conservancy)
Crew 8-3 with Supt 20
DC2
Air Rescue 5 (SEBLASD)
E6, E2, E83
Beachgoers reported seeing a large smoke column all the way across the water to Newport Beach.
No reports of injuries to firefighters were reported.
No cause was released at the time of this posting.
(c) 2021 NW Fire Blog