Published 12/11/2021 1430 PT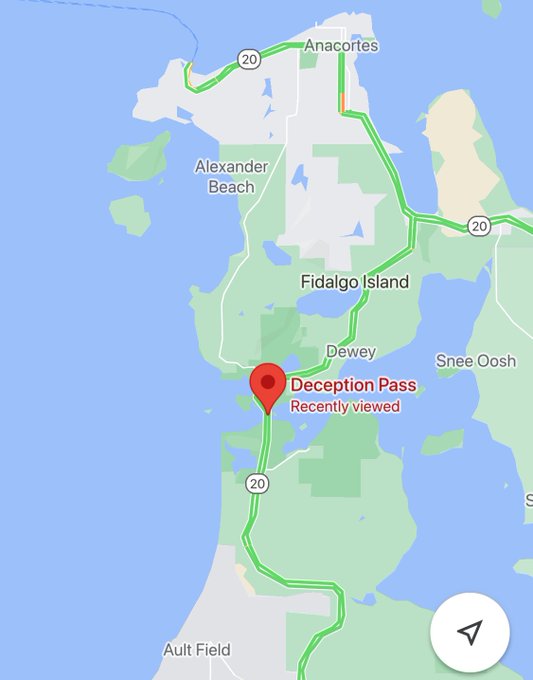 NEAR DECEPTION PASS, WASHINGTON — A large number of kayakers, who were racers with the Deception Pass Challenge on Saturday, December 11, 2021, found themselves capsized and in the water instead of racing to the finish line.
The race route is explained on the website by the race's host, Salmon Bay Paddle, "The Deception Pass Challenge is an epic winter paddling and rowing race through the tidal rapids of Deception Pass!  Race in tidal current around three wilderness islands, under the Deception Pass Bridge twice, through turbulent tidal rapids and over possible standing waves with epic views of the Olympic Peninsula, Lopez Island and distant Victoria BC if weather permits."
This racecourse is about 6.15 miles with counterclockwise around Deception Island two times, through the main Pass to beat the ebb at the Crux on the southeast corner of Pass Island, then around this island two times for an extra prize. Additionally, counterclockwise around Strawberry Island and through Canoe Pass to clockwise around Deception Pass and back to Bowman Bay for the finish at the adjacent dock.
Multiple big prizes are awarded to winners from gift certificates to a $100 donation to Skagit Search and Rescue to other goodies.
The US Coast Guard Pacific Northwest was called out around 0930 hours this morning, to a water rescue call of 15-20 kayakers who had oversized. All kayakers were rescued and were all accounted for.
(c) 2021 NW Fire Blog