Published Thursday, December 30, 2021, 2345 PT
INCIDENT SUMMARY
These are the MARSHALL and MIDDLE FORK FIRES burning in Superior (Boulder County), Colorado which ignited on Thursday, December 30th, after several powerlines came down and made contact with dry grass. The grass fires which have turned into several wildfires have extreme fire behavior, which has wind-driven runs, spotting, and a fast rate of spread.
Note: All times listed in this post are based upon Mountain Time, which is one hour ahead of Northwest (West Coast) time zone, our home territory.
MIDDLE FORK FIRE
The Middle Fork Fire is located on the north side of Boulder, Colorado.
MARSHALL FIRE
The Marshall Fire is located near South Cherryvale Road and Marshall Drive and 7.3 miles WNW of Denver and south of Boulder, Colorado. Lead Fire Agency is the Boulder County Office. Dispatch Center: Fort Collins Interagency Dispatch Center out of Fort Collins, Colorado. Incident #2021-COBLX-000995.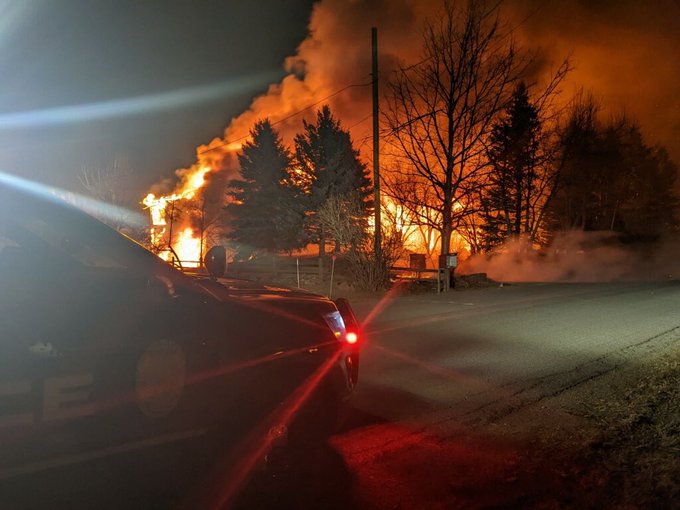 MESSAGING BOARD
2325 MT | MEDIA BRIEFING. Boulder County Sheriff's Office HQ 5600 Flatiron Pkwy at 1000 hours MT. Will be live-streamed on facebook.com/BoulderOEM/ (Source: Boulder County OEM)
2300 MT | Emergency Call Center closed at 2330 MT on Thursday but will reopen on Friday, December 31, 2021, at 0900 MT for Boulder County residents only. Non-county residents are being recommended to call their own counties. Their phone number is 303-413-7730. (Source: Boulder Co OEM)
2248 MT | Smoke Mapping
The Boulder OEM Officials are asking nicely to remember the following important information:
Do not call the Emergency Call Center to check on structure damage and/or loss.
Do not call if you can make any type of donations.
The Center is trying to keep all lines clear for "real" emergencies.
Do not come back into the area if you are evacuated or have homes/property in the evac zone.
If you see fire, evacuate IMMEDIATELY!
2241 MT | The Detention Center is located at 11600 Ridge Pkwy in Broomfield in the mandatory evacuation area. All inmates have been evacuated to another facility and are safe. The Center is closed and staff is not answering phones. (Source: Broomfield PD)
2020 MT | "Don't head towards the fires looking to see them. We are getting reports of clogged roads from onlookers. Also, it's very dangerous. Stay clear of the areas with fires and let our firefighters and first responders do their work." – CO Gov. Polis.
1948 MT | The High Wind Warnings have been canceled. (Source: NWS Boulder)
EVACUATION ORDERS, NOTICES
2252 MT | Meadow View neighborhood is no longer a part of any evacuation order. Firefighting efforts are now focused within Boulder County. (Source: Jeffcom911co)
2244 MT | We have confirmed with Boulder County emergency operations there are no remaining evacuation orders outside of Boulder County. They are working to update their map. All Westy residents are safe to return to their homes. (Source: Broomfield PD)
2155 MT | Residents that have property/homes and have evacuated, you are asked not to return to the area. First Responders are working non-stop to keep everyone safe. They don't know the status of homes in the area. (Source: Boulder Co OEM)
2142 MT | | Mandatory Evacuations ordered by the Boulder OEM for the Meadowview Neighborhood. (Source: CO EMA)
2138 MT | All pre-evacuation orders for the Arvada area to include Highway 93 to Alkire St, from 96th Ave south to 82nd Ave, have been LIFTED for the time being. Please remain prepared should conditions change. There are NO pre-evacuation orders in Arvada at this point. (Source: Arvada PD)
2039 MT | Evacuation orders per Boulder County EOC: Meadow View neighborhood 107th/west of Country Side Dr. evacuate now. Once again this is a mandatory evacuation notice. (Source: Westminster PD)
1734 MT | Boulder Office of Emergency Management has provided an evacuation map. No evacuations have been ordered for Lafayette at this time, but residents west of 287 between Arapahoe and Dillon are encouraged to be prepared should the conditions worsen. (Source: Lafayette PD)
SHELTERS – ANIMALS
2017 MT | Riverdale Animal Shelter is assisting families with displaced pets and large animals due to fire evacuations in the region. For questions or more information, call 303.288.1535 or visit http://riverdaleanimalshelter.org (Source: Adams Co Govt)
1738 MT | Animals are being evacuated to the Jefferson County Fairgrounds as the Boulder County Fairgrounds shelter is FULL. The Jefferson County FG is located at 15200 W. 6th Avenue Road, Golden.
SHELTERS – PEOPLE
2017 MT | The American Red Cross of Colorado has opened an evacuation center ready to accommodate anyone needing information or other assistance due to the wildfires. The evacuation center is located at the YMCA of Northern Colorado, located at 2800 Dagny Way, Lafayette, CO 80026. (Source: CoWyRedCross @COWYRedCross)
1853 MT | North Boulder Rec Center, Longmont Senior Center, and YMCA in Lafayette providing overnight shelter.
INFRASTRUCTURE
2007 MT | The entire City of Louisville is under a Boil Water Notice as of 7 pm December 30th. This is in effect until further notice. Please see details on their Facebook page: https://www.facebook.com/LouisvilleCO (Source: City of Louisville, Colorado Government)
1955 MT | Wildfires have impacted Xcel Energy's natural gas infrastructure supporting Summit County and Grand County. The company is putting in place periodic outages in some counties and asking Summit and Grand County customers to help conserve natural gas. http://spr.ly/6016JNAMY (Source: Xcel Energy Colorado)
1850 MT | Funds have been authorized to help fight wildfires. (Source: FEMA Region 8)
1551 MT | Power outage at the South Boulder Rec Center moved their evac center to the North Boulder Rec Center (NBRC), 3170 Broadway. The East Boulder Community Center is closed. (Source: Boulder Parks Rec).
EVACUEE RESOURCES
1616 MT | Family and loved ones hotline for the Avista Adventist Hospital can be reached at 303-661-1848. (Source: Centura Health)
2102 MT | Pets formerly boarded with the Dog Tag at Marshall Road were evacuated to the Humane Society of Border Valley, 2323 – 55th Street, Boulder, Co 80301. Missing your beloved pet? Check out their website of found pets here -> boulderhumane.org/found-pets/ (Source: Animal rescuers)
FIRE RESPONSE and RESOURCES
1538 MT | 10 units and 20-plus personnel were deployed by the South Metro Fire Rescue agency and to tie in with four units from eastern Arapahoe County which included Byers FD, Bennett-Watkins FD (4 personnel and two wildland fire trucks), Sable Altura FD, and Strasburg Fire Protection District.
HOW TO HELP
Community Foundation of Boulder County has set up the Boulder County Wildfire Fund for people wanting to donate in relation to the #MarshallFire and #MiddleForkFire to respond to immediate and long-term needs as they emerge. https://www.commfound.org/…/Boulder-County-Wildfire-Fund
About Superior, Colorado
The town of Superior was created as a coal mining town, and built on this industry where it was developed in the late 1800s but not incorporated until 1904, where the name "Superior" came from the quality of the coal found in the area, according to the city's website.
Mining was the driving force for this town until the Industrial Mine closed in 1945 and moved out of the area. The area would change into a ranching and farming community. Today, the largest residential community is known as Rock Creek Ranch, which was subdivided in 1987 and continues to grow rapidly with approximately 2,700 single-family homes and 1,800 multi-family homes. The current population is 12,483 residents.
About Louisville, Colorado
The city of Louisville was named after Louis Nawatny, a local landowner. The town started out as a coal mine and was built by coal miners. City Hall has The Miners Memorial statue which is a symbol of the history of the people who built the City. The town was incorporated in June of 1882. The town is host to 1,700 acres of open space, which is about 26% of the City's land area dedicated to parks and public space surrounded by many restaurants, a thriving arts scene. Additionally, it includes 32 miles of trails, which spreads throughout the community, and the Coal Creek Golf Course with panoramic views of water features and of the Flatirons.
About Boulder County, Colorado
This County in Colorado is home to more than 300,00 residents and its county seat is Boulder which incorporated towns and cities: Erie, Jamestown, Lafayette, Longmont, Louisville, Lyons, Nederland, Superior, and Ward.
(c) 2021 NW Fire Blog