Published 1/8/2022 1550 PT
WASHINGTON STATE — Mountain Passes around the State are still struggling with too much of a good thing and crews are working tirelessly to clear all the feet of snow. Here is a recap of what has been happening in the last 24 hours.
BLEWETT PASS
Avalanche Specialists and crews mitigated hazards on the pass recently, when they successfully performed avalanche control operations by using artillery or explosives to trigger a snow slide.
According to their website, Avalanche Explosive Experts used various delivery methods to reach the intended target area(s) to place explosives, which some e of these techniques used would include placing by hand, using cable-pully bomb trams, or with surplus military weapons.
The WSDOT state they also use passive control methods to manage snow slides to include elevated roadways so avalanches pass under them and into basins to halt the avalanche before snow reaches the highway. Additionally, diversion dams and snow berms to keep the snow off the highway are also used as prevention methods.
Another plow from the Davenport area along with crews has also been dispatched to this pass to assist with snow clearing operations. Officials are hoping this Pass will reopen on Sunday but won't have a clear definitive answer until they conduct a reassessment late Sunday morning.
SNOQUALMIE PASS
WSDOT maintenance crews are currently using plows, blowers, and graders to clear snow to ensure hillsides are safe and stable from avalanche hazards. Additionally, they are busy clearing catch basins to enable melting snow and rain to drain properly.
Fact | As of January 7th, the Pass had received 12 inches of snowfall with a total season amount of 286 inches, which has surpassed its 5-year season average to date at 148.2 inches!
WSDOT officials say their Spokane shop's tow plow, the Plowie McPlow Plow has been temporarily moved to this pass to assist with plow operations.
Fact | US 2 Tumwater Canyon, east of the Pass impacts Stevens from opening has had 208 snow slides in the Canyon, which is about 25 slides per mile!
The pass is hopefully on schedule and to be reopened on Sunday but officials won't know until late morning when they do a reassessment of current conditions.
Officials due to the extremely hazardous conditions, Stevens Pass are saying this stretch of roadway is most likely not due to reopen until Tuesday of next week. Crews continue to work and reassess conditions often.
Snoqualmie Pass is located in both King County and Kittitas County and is a mountain pass, in which I-90 through the Cascade Range, and its summit is at the elevation of 3,015 feet. The area is said to have a population of 366 but with it being closed, it could have a higher occupation due to stranged motorists, truckers, and skiers, alike.
STEVENS PASS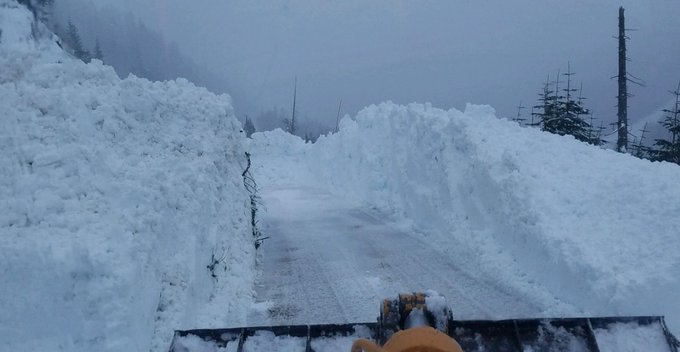 Stevens Pass has had several snow slides with new depths upwardly to 30-35 feet in some places.
Fact | The WSDOT stated some blower cuts were 16 feet deep!
One lane has been opened to allow crews to access avalanche control and clearing of snow. Due to high stacks of snow, Officials are looking at possibly using a helicopter on Monday to help mitigate hazards that have built up.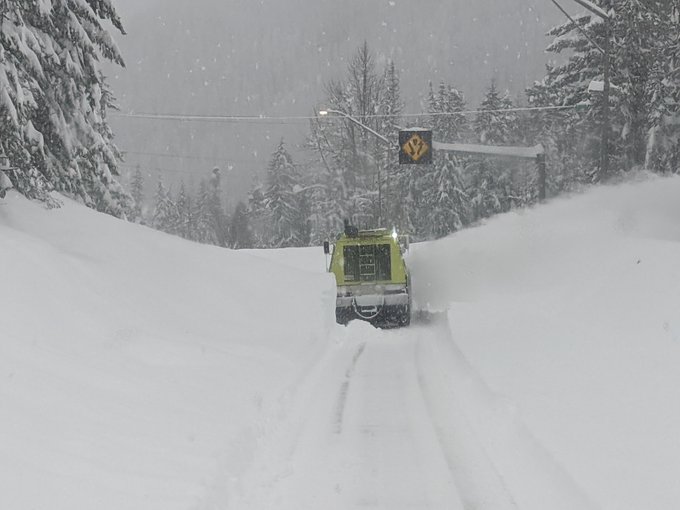 Power is currently out (as of 1500 hours) and hard-working crews worked their magic to dig out one of their generators.
Fact | Stevens Pass was named after John Frank Stevens, the first non-indigenous person to discover the area.
Due to special permission and approval by safety officials, a Chelan County PUD worker was allowed in the impact to start making repairs but crew members are said to be communicating by radio for a while. This is one way of dealing with the snow incidents all over the state and they are well-prepared.
Stevens Pass is a mountain pass that carries motorists on Highway 2 through the Cascade Mountains at the border of King and Chelan Counties. The max elevation is 5,845 feet.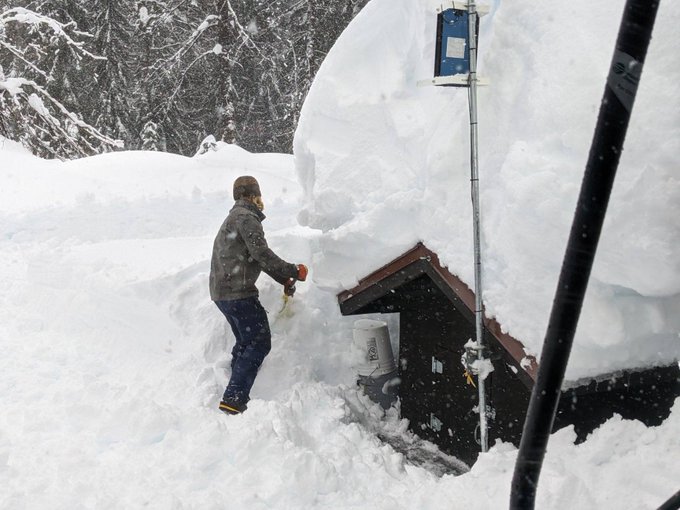 WHITE PASS
Another Pass is closed not from avalanche threats but due to heavy loads of snow and debris, as well as trees, rocks, and other debris which has fallen onto the roadway.
Fact | White Pass is about 12 miles southeast of Mt. Rainier National Park at the summit, a national scenic byway.
Crews have been busy trying to clear roadways as quickly as possible but Officials say even though an excavator has been brought in to assist, this Pass is due to not be opened until Monday of next week. Another Sunday update will be released after an assessment has been completed.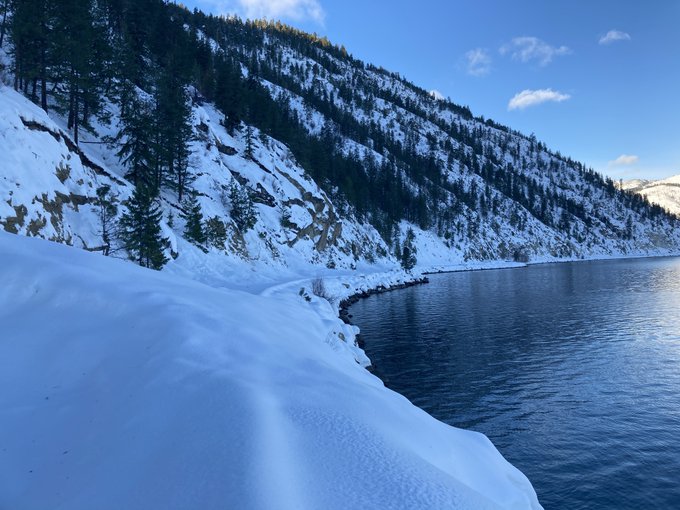 At this time of this update released, crews were able to gain access to a now stabilized roadway on SR971 near Chelan which was considered unstable and has 10-plus feet of now. With so much snow, an ETA to reopen this road to drivers is unknown.
White Pass is also known a the Dead Horse Trail with an elevation of 4,500 feet, is a mountain pass in the Cascade Range of Washington, southeast of Mount Rainier and north of Goat Rocks. The Pass is on Highway 12 which if you head over the pass, will connect you with Yakima County on the east side with Lewis County. The Pass is also home to the White Pass Ski Area, which is located approximately 53 miles west of Yakima and 54 miles east of Morton.
Photo Credits | All photos in this post are not ours and we do not lay claim to them. Photo Credits: WSDOT, WSDOT-Snoqualmie Pass, Stevens Pass, and Blewett Pass.
(c) 2022 NW Fire Blog