REDDING, Calif. – Four fires are burning in Shasta County called the #CreekFire.
Here is the timeline based upon all sources of information given regarding this fire incident.
June 26, 2018 – Tuesday
1952 |  Fire is burning on Clear Creek Road x American Road. Happy Valley/IGO, CA. Started on June 24, 2018 around 1246 hours.  1475 acres. 65% containment. 11 structures destroyed which include 4 homes and 7 minor structures. Cause is under investigation. 1 reported injury.
22 fire crews, 57 engines, 14 water tenders, 72 overhead personnel, 11 bulldozers and total 654 personnel.
Personnel have been challenged by steep and difficult terrain when working to access certain areas on the fire line.  They however, are starting to make progress on increasing and strengthening containment lines around the fire perimeter and mopping us, as well as mitigating hazard trees.
Evacuations lifted for Panther Rd, Dale Ln, Tobacco Rd, Pine Meadows Pl, Diana Way, Clover Ln, Wilbur Ln, Cloverview Rd, Sunshine Ridge Rd, Pebblewood Ln, Hilo Ln, Ronnie Ln and Cobblestone Ln.
Incident Cooperators:  Shasta Co FD, Redding FD, Happy Valley FD, Old Shasta FD, US Forest Service, American Red Cross, Shasta Co SO, CHP, PG&E and Shasta Co Dept. of Public Works.
1827 | Fire is now at 1,475 acres with a 65 % containment status.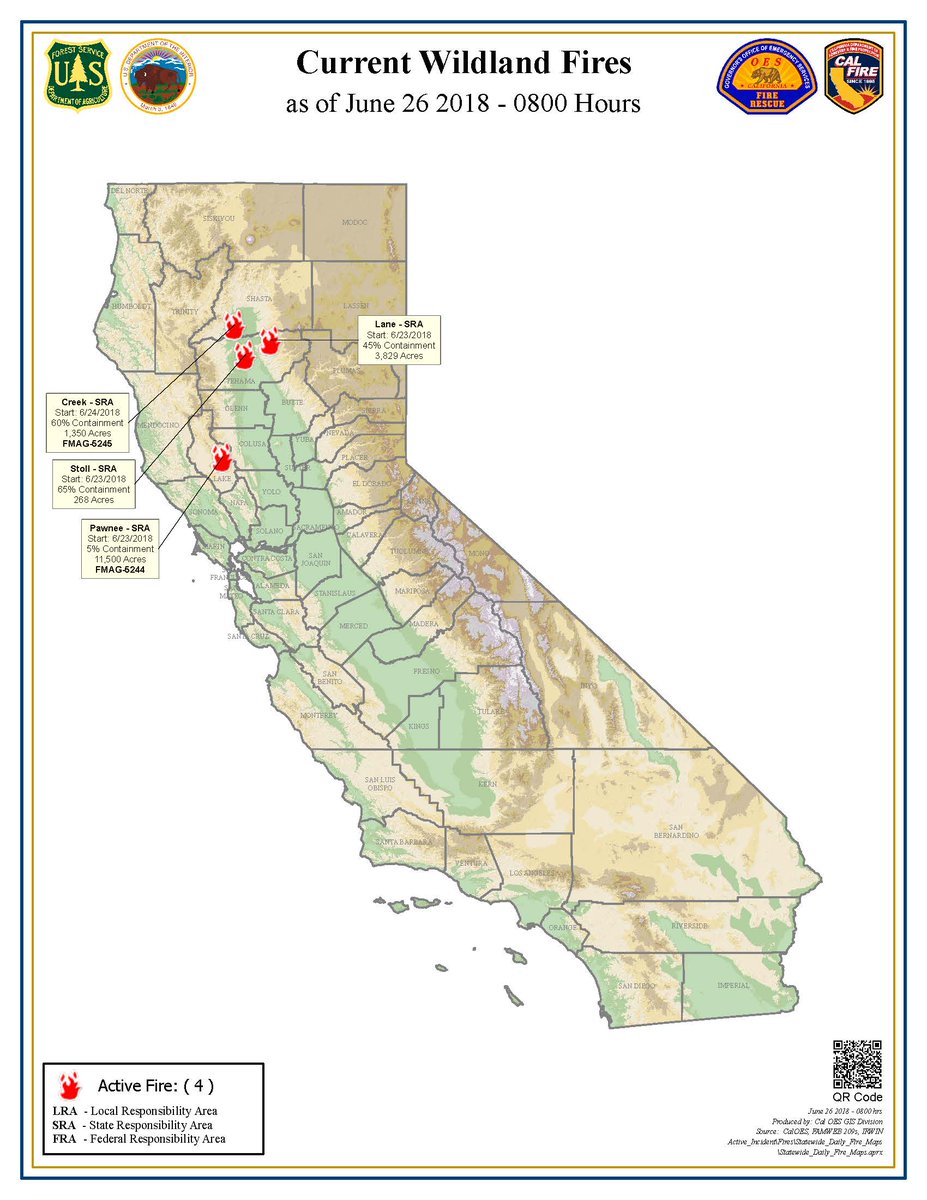 1006 | 1,350 acres. 60% containment. 4 structures destroyed. 1 reported injury. Cause under investigation.  617 personnel.  75 engines, 12 water tenders, 22 fire crews, 1 helicopter, 63 overhead personnel, 14 bulldozers, and no air tankers.
0653 | Fire is at 1,350 acres. 60% containment.
June 25, 2018 – Monday
1952 | Fire has consumed 1,350 acres. 50% contained. 0 structures damaged. 4 structures destroyed. 1 reported injury. 75 engines, 12 water tenders, 22 crews, 1 helicopter. 63 overhead personnel. 14 dozers. 0 air tankers. 17 total personnel.
1823 | Shasta County SO lifts evacuation orders.  The photo below gives the full listed as released by the SO's office.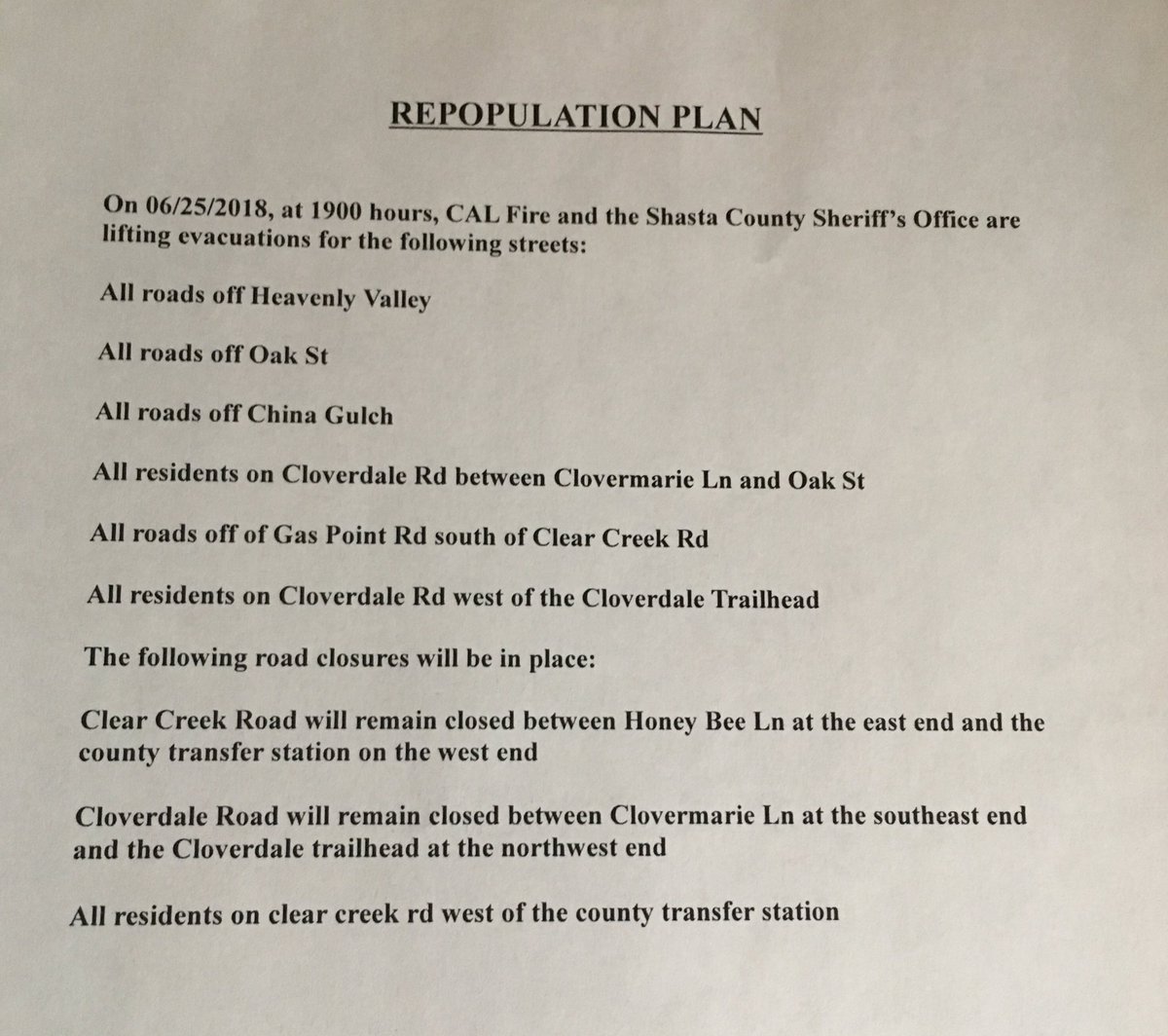 1213 | The Sheriff's Offices lifts evacuations for Placer Road. This road at Platina is open. Gas Point at Placer Rd and Cloverdale at Placer and Clear Creek at Placer are still closed.
0713 | 1,300 acres. 30% contained.
June 24, 2018 – Sunday
1949 | Fire is 1,000 acres. 20% containment status. Evacuations in effect.
1819 | Location is Clear Creek Road x Highway 273 in Happy Valley/Igo. 1,000 acres. 20% contained.
1804 | NEW! Evacuations for the east side of Placer Road; Cloverdale Road to Placer; Placer to Clear Creek Road.
1802 | Type I and III Strike Teams from Sacramento region requested for immediate need to assist.
1724 | Anderson Fire's E246 and C46 are on-scene. Chief 46 is China Structure Group.
1359 | CAL FIRE Firefighters are on-scene of multiple fires totaling 100 acres, off of Clear Creek Road and American Road, west of Redding.  Shasta County.
1351 | Creek Fire is 100 acres. 0% containment. 4 separate fires burning at a critical ROS, long-range spotting. Structures, power lines under threat.
1335 | Shasta-Trinity NF sends 1 strike team and 5 fire engines to assist CAL FIRE.
Shasta County Sheriff Office:  Several fires were started today on June 24, 2018, that are considered suspicious in nature. We are asking for the public's assistance in locating a gold or tan 1990's model Chrysler type minivan. Any information regarding the vehicle please call the Cal Fire information line @ 225-2510 or SHASCOM at 245-6540.
1320 | CAL FIRE fire crews respond to a NEW rash of multiple fires along Clear Creek Road x Highway 273.  The largest fire is 100 acres in size.  Road closures are in effect.
#CREEKFIRE HISTORICAL FIRE TIMELINE
Another fire started just days before the current four wildfires burning in a separate area. Here is the timeline for that wildfire under this same hashtag.  NOTE: These are two separate fires in two different Counties.
June 21, 2018
2104 |   2.8 acres. 60% contained. Extremely steep terrain and heavy brush.  Fire appeared larger than it was. Crews were due to mop up for the  next 2 hours.
1859 | Correct address is 10000 block of Crystal Springs. Fire is still approx 20 acres. Making good progress.
1835 | Brush fire at 4900 block of Huasna Townsite. Approx 20 acres in the grass.
1831 | in SLO, NE of Santa Maria near Coyote Springs Road. 10-15 acres with a potential of 30. 1 air tanker and air attack on the fire, refueling out of Santa Maria.
(c) 2018 NW Fire Blog – Updated 2100 hours PDT