FIRE SUMMARY:  A fire broke out in the Steep Hollow drainage, West of Alta in Nevada County on 7/25/15. A person-of-interest is wanted by police but the exact cause is unknown and still under investigation.
COMMAND:  CAL FIRE Nevada-Yuba-Placer Unit.
EVACUATIONS:  Mandatory: You Bet, Red Dog, Chalk Bluff, Northeastern portion of Cascade Shores.   Advisory:  N side of I-80 from Gold Run to Alta in Placer County.
SHELTER: 
For Humans:  Nevada Union High School,11671 Ridge Road,Grass Valley, CA.
For Large Animals:  Nevada County Fairgrounds.
ROAD CLOSURE:  Red Dog Rd between Greenhorn Creek & You Bet Road.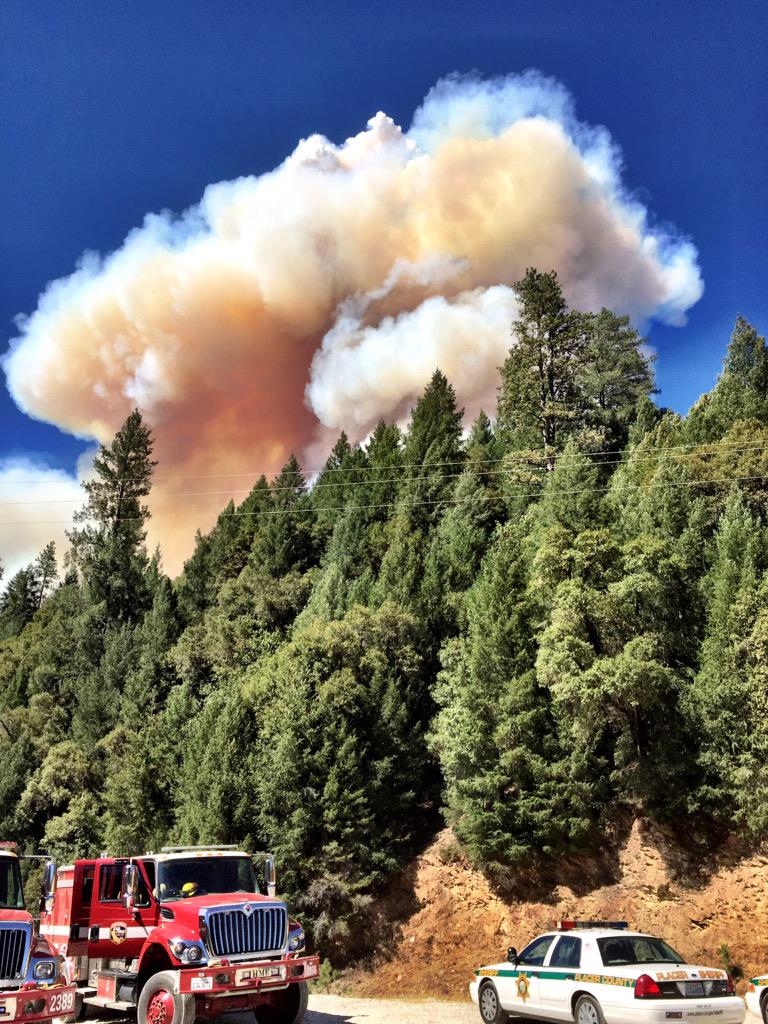 #FireImage Courtesy of Placer County Sheriff
[Unknown Deputy took this great image on the Left]
PERSON-OF-INTEREST SOUGHT:  Fire Investigators have not determined if this is a human-caused fire but they are looking for a Person-Of-Interest.
Police are looking for a lifted white Jeep Wrangler 4×4, no Top or front doors.  Black roll bar. Last seen in the area of Gold Run & Dutch Flat around 1430 hours PDT.  Call Nevada or Placer County Sheriff Deputies with information.
RESOURCES:  As of 2100 Hours PDT, there were 600 firefighters with the aid of 55 Engines, 9 Air Tankers, 9 Helicopters and 13 Crews.
MAPS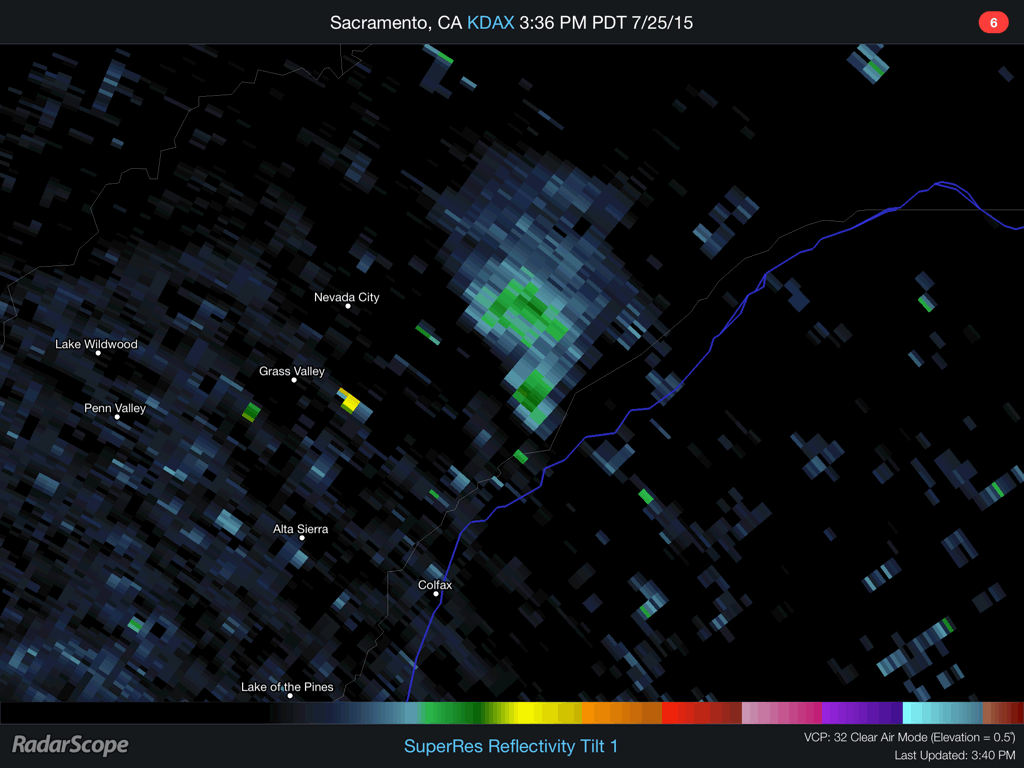 #FireImage Courtesy of NWS Sacramento
FIRE STATUS:   The fire is burning rapidly in a northern direction in the Steep Hollow Drainage.The fire is spotting ahead of itself 1/2 mile. Access to fire is very challenging, but hundreds of firefighters are actively battling the fire in the air and on the ground.  It is burning along the Steep Hollow Creek area. Containment:  0%.
SOCIAL MEDIA:
CALFire Tweets:
"In the Steep Hollow drainage, West of Alta Co. Now, 4,000 acres. [around 1900 PDT]

"In the Steep Hollow drainage west of Alta (Nevada County) is now 3,000 acres." [around 1800 PDT]

"In the Steep Hollow drainage W of Alta (Nevada Co) is now 1500 acres. Mandatory evacs in place." [1615 PDT]

"Off of Lowell Hill Rd and Chicago Park Powerhouse Rd, Alta (Placer County) is now 450 acres." [1615 PDT]

"Firefighters are battling a 100 acre fire off of Lowell Hill Road and Chicago Park Powerhouse Road, Alta (Placer County)" [1515 PDT]
via Social Media:
"During the event of large active fires, the best actions to take are to stay informed, stay calm and be prepared." – WAIMT1 Facebook

"As optimus prime would say fight on and roll out till fire is out." @Demetrius Prime

"Text WFF to 41444 to support FF!" #BlueCreekFire#CutcaFire#WillowFire#LowellFire#hatchfire#NorthBoulder2#AKFire#WraggFire#KyburzFire – @wffoundation

"Evacuation orders for #LowellFire are in effect for residents SOUTH of Banner Quaker Hill Road inc.Gas Canyon, Sailor Flat, Pasquale". – @NevCoOES [Nevada County Office Emergency Services]

"@CosumnesFire sending three engines as part of two separate regional strike teams from Sac County to the #LowellFire Placer County." – @FireTracker2

"Just passed a BLM fire truck headed up 80 towards the fire." @TonyPeric

"CHP traffic advisory lists I-80 exits 139-145 (both directions) and the Hwy 20 Lowell Hill Rd exit as closed due to fire." @MattF_NorCal [2200PDT]
We Thank All Firefighters, Crews, Dispatchers, Pilots, Support, Staff, Police Officers and those who are out there helping protect homes, lives and livestock.  You are Unsung Heroes!
[c] 2015 The NW Fire Blog