Updated 10:15 PM PDT
INCIDENT SUMMARY
Date/Time Started: 
The Moose Creek Fire was reported @ 2:10 AM on October 15th by a passing motorist.
Location:
The Moose Creek Fire is burning near the Moose Creek Campground.
About 12 miles North of Palmer and 5 miles South of Sutton, Alaska.
Fire Fuels:
Fire fuels are burning in cured grass and hardwoods.
Cause: 
The cause is unknown and under investigation, but media is now reporting this is a human-caused fire with an escaped debris pile fire.
Current Fire Conditions:
Fire crews are facing the harsh sub-freezing cold weather and even more colder temps from extreme windy conditions.
On Saturday, Fire managers used burn out operations to reinforce the containment line on the north flank with most of the fire on that side being fully contained.
On Sunday, fire crews are focusing most of their fire suppression efforts on the western perimeter which appears to be the most active portion of the fire.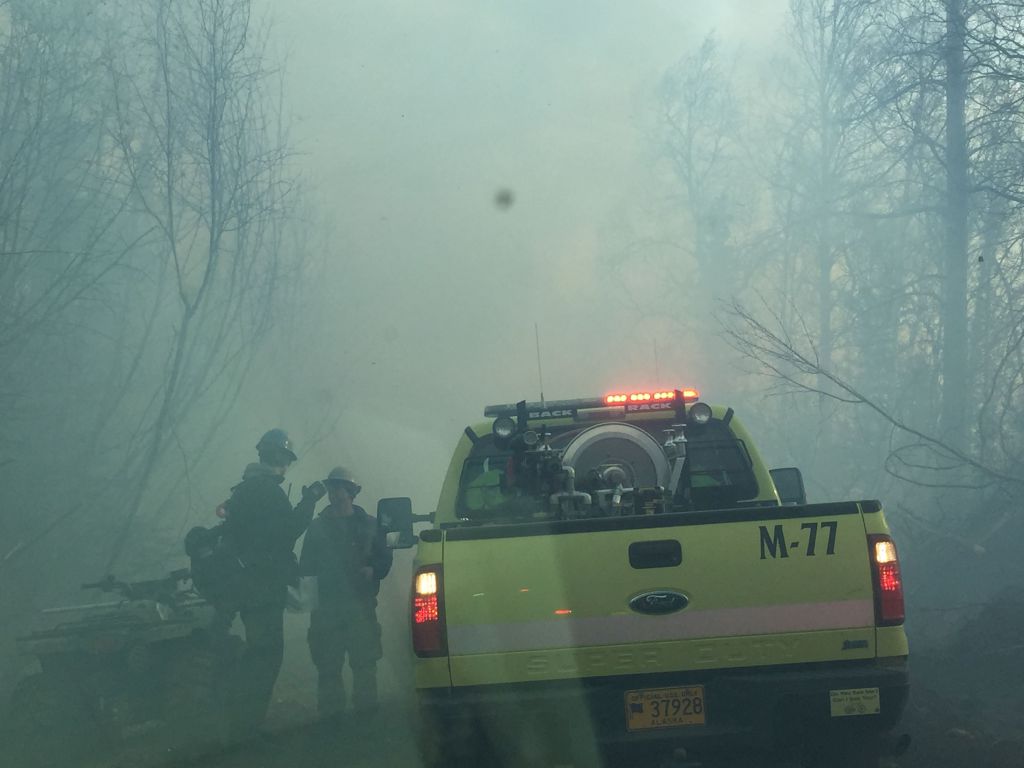 Size Up:
At the time of fire being reported, it was at 10 acres.
Today, it is at 300 acres with a 25% containment status.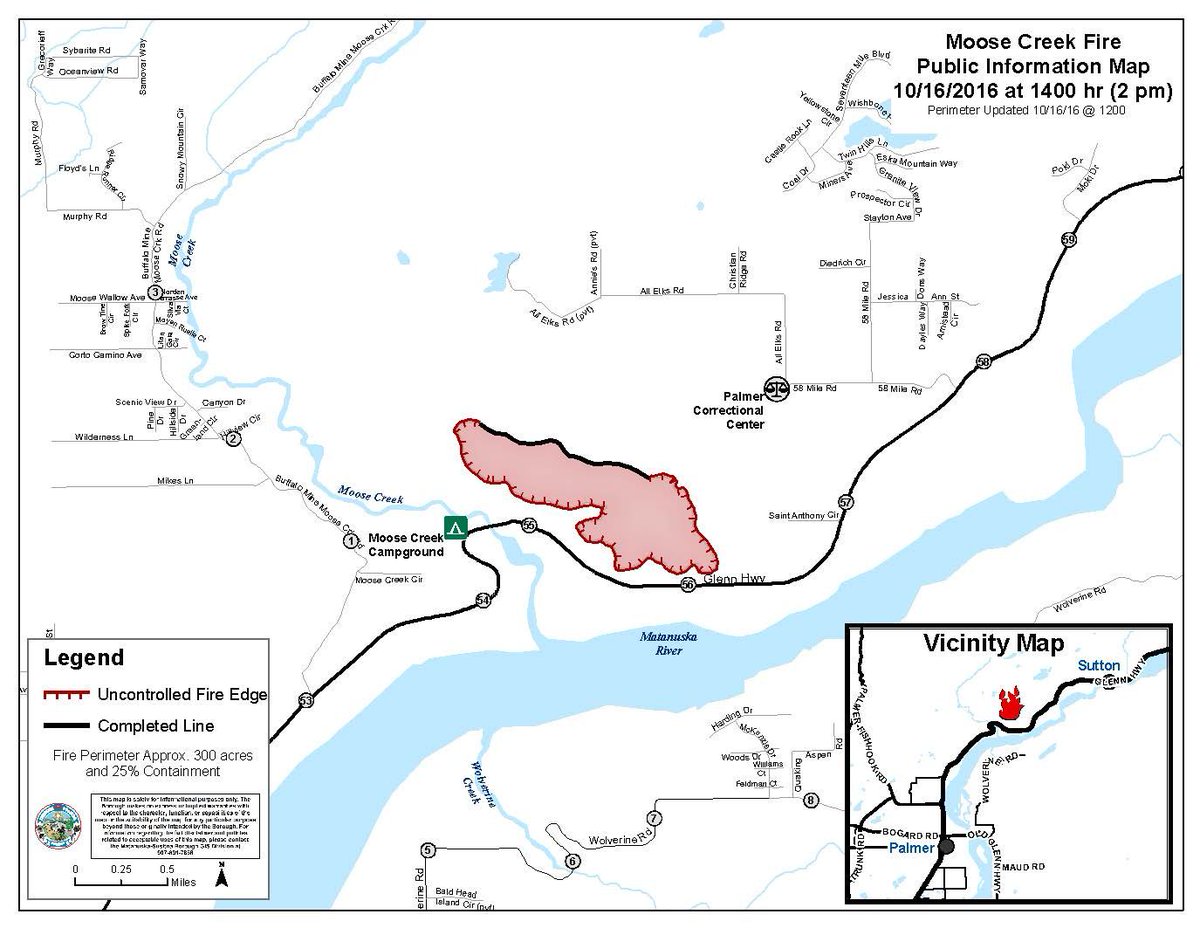 PERSONNEL
Staffing: 
This Fire comes late into the Wildfire Season and most firefighters with most of them already laid off.
Fire Managers forced to scramble to find  Staffing.
About 50  Firefighters  are assigned from BLM Alaska Fire Service, National Park Service, U.S. Fish and Wildlife Service and U.S. Forest Service.
Air Resources: 
2 Helicopters are assisting ground fire crews and dropping water over the fire, but at times the winds were too fierce for flying.
SOCIAL MEDIA
NW Fire Blog:
We are using the following hashtags for this article:  #MooseCreekFire  #AkWILDFIRE
From the Fireground:
"Winds wreaking havoc for firefighters in Matanuska Valley." – AK Forestry (10/16/2016)
Evacuations:
"Palmer Correctional Center inmates evacuated." – Media (10/16/2016)
The People Have Spoken:
"Late-season fire burning near Sutton – Surface fuels burn." (10/16/2016).
"Wildfire season keeps getting longer.." (10/15/2016)
 "It was pretty hazy out here today." (10/15/2016)
 "Helicopters pulling water out of Elks Lake." (10/15/2016)
News Media:
"The weather combo of cold & wind at the #MooseCreekFire is BRUTAL." (10/16/2016)
"Alaska Div. Forestry says #MooseCreekFire is human caused–started as an escaped debris fire." (10/16/2016)
"Forestry says the wind is too strong for helicopters to assist." (10/16/2016)"
(c) 2016 The #NWFireBlog