NEAR HUSUM, WASHINGTON STATE
Incident Summary |  A wildfire broke out on WA DNR lands and on private properties.
Fire crews were dispatched on Friday, July 7th @ 2250 hours PDT.
Cause | Unknown and under investigation.
Location | The fire is located off of Highway 141 and 5 miles North of Husum, Washington State.
Command |  Transfer of command from IMT 2 back to the local
unit will occur today.
Resources | 521 personnel.  22 crews. 18 engines. 2 dozers. 8 water tenders. 2 skidders.
Fire Fuels | Medium logging slash, brush and tall grass.
Current Conditions |   Timber and brush. Minimal fire behavior with backing,
smoldering and creeping. 337 acres. 83% contained.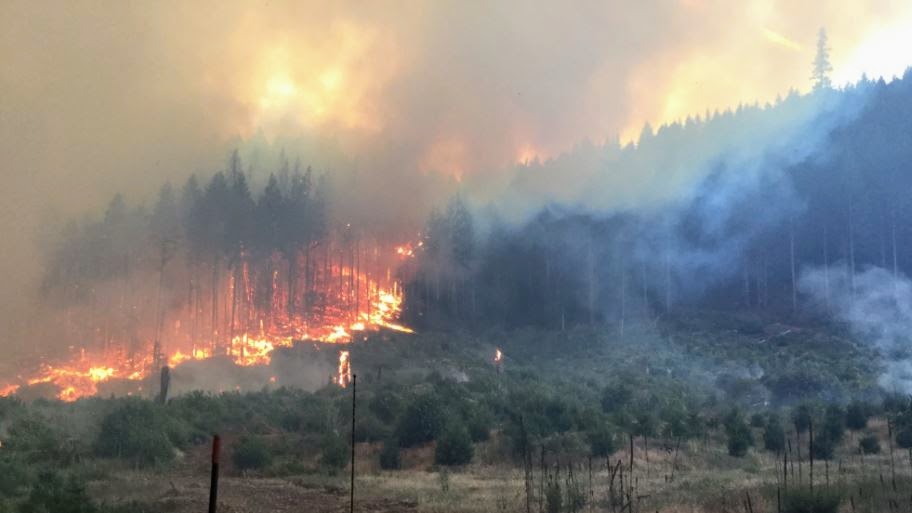 Evacuation Alert! |  Level 1 evacuation notice for homeowners North of Meyers Road and South of Pine Flats Road will be rescinded effective Monday, July 16, 2017 morning, as announced by the Klickitat County Sheriff's Office.
Traffic Alert! | SR 141 is open without restrictions.  Watch out for fire apparatus still operating in the area.
Burn Ban Alert |  An outdoor burn ban remains in effect for Klickitat County from July 1 through September 30, 2017.
Cost-To-Date | $3,500,000
Social Media | We are using the following hashtags for this incident #DryCreekFire #WaDNR #WAwildfires2017
Fire Image | Credit: WaDNR
(c) 2017 The NW Fire Blog – 7/16/2017 @ 1040 Hours PDT