Snohomish County  Fire District #7 Firefighters were dispatched to a large outbuilding/barn fire in the 25100 block of Cromwell Road in Monroe, Washington State this evening around  2130 hours PDT.
Photo Credit | SCFD7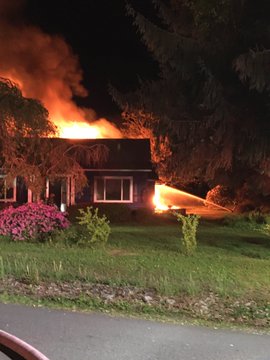 Dispatch reported there were multiple callers and several explosions heard.
All occupants of the structures had self-extricated themselves.
First due units arrived, reporting a fully engulfed charlie side.  The Battalion Chief reported this was a defensive fire.
Immediately, Command requested a FIU investigator and an additional Medic unit  respond to the scene.
With the fire raging as it was, it unfortunately extended to the main house.
Fire was out at 1039 hours PDT.
There were no reports of injuries to firefighters or other occupants.
(c) 2020 NW Fire Blog – Updated 5/9/2020 – 2310 PDT