INCIDENT SUMMARY
Firefighters were dispatched to a Balcony fire located in the 2100 block of 8th Avenue North in Seattle, Washington on Saturday evening arond 2131 hours PDT.
COMMAND
Battlion 2 established "8 Avenue" command at 2145 hours.
RESOURCES
Resources dispatched to the fire included the following listed units:
Aid 2, Medic 1, Medic 44 (Supervisor)
Air10 (Air unit)
Battalions 2, 4
Deputy 1, Safety 2, Staff 10
Engines 2, 5, 10, 20, 25
Ladders 4, 6, 10
Marshal 5 (FIU)
REHAB 1 (Firefighter REHAB unit)
SIZE UP
The 5-floor residential apartment building, about 200 x 100 in diameter had a fully engulfed 5th floor balcony on the alpha side with flames visible.
Photo Credit | Seattle Fire Department PIO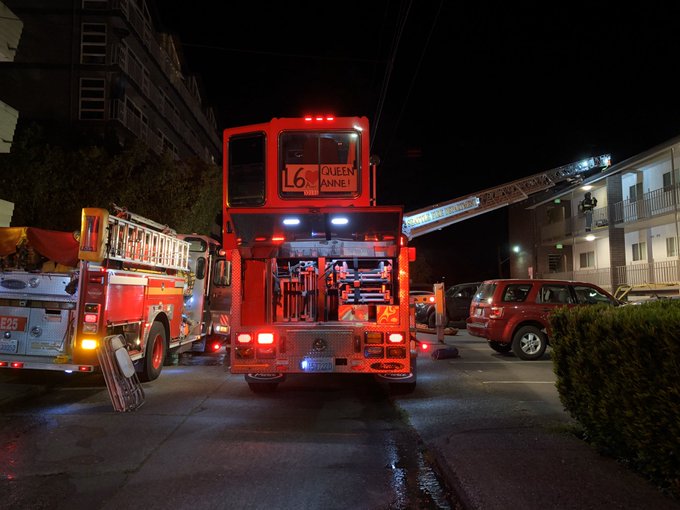 360*
Engine 2 was first to arrive on-scene of the 5-story building and reported nothing visible.
Battalion 2 assumed command and established "8 Ave Comand" .  A 360* of the building was immediately conducted and fire was discovered on a 5th floor balcony and extending
FIRE OPERATIONS
A sampling of tonight's fire activities during this incident does not include all who were in attendance.
Medical Unit | Medic 10 and  Engine 9 responded to the scene for the fire victim and helped transport the patient to the nearby trauma hospital.
Engine 2 | Hydrant operations.
Ladder 6 | Roof operations.
Ladder 10 | Aerial operations on alpha side.
Engine 10 | Took Line 2. Assisted with overhaul and hittng hotspots.
Engine 25 | Fire Attack.
Div 5 | PPV was set-up on Division 5 (floor 5).
Fire crews quickly egressed on the fire from the moment they located the fire to knocking it down at 2158 hours and digging out hotspots.
INJURIES
One person from the fire unit was rescued by Firefighters and transported to Harborview Medical Center, where they are currently being treated for unknown injuries.
No firefighter was reported as being hurt during this fire incident.
ABOUT THE FIRE BUILDING
The Fire building, is a 50-unit 5-story building constructed in 1966 that is a wood-frame approximately 200 x 100 in diameter.  All units have been recently remodeled per its website.
It's main entrance is "street level" with two floors above and two floors below.
These are the Martinque Apartments, located in the Central Queen Anne district with views of bustling Lake Union and our beautiful Cascades.
CAUSE
The cause of this fire is curerntly unknown.
  (c) 2020 NW Fire Blog – Updated 5/9/2020 – 2250 PDT