California is battling wildfires across the State and because there are so many of them, we are grouping them together in a single post.  This is also to avoid from overwhelming you with hundreds of posts at a time.
Thank you for following our Blog and California Fire News!
# # #
CALIFORNIA FIRE
California St. x Springwood Street, Contra Costa County
Brush fire. Started 7/6/2020.  CAL FIRE Santa Clara Unit.  Burning in the wildlands between I-80, Hwy 4 and Cummings Skyway and heading towards Crockett.  Fire was said to be headed towards Oil storage tanks in the area, calling for an immediate order for 2 strike teams, 2 copters and 4 air tankers. (1525PT).  Later the fire was elevated to a three-alarm brush fire.  At 2158 PT, the fire was estimated to be at 230 acres. Fresh crews will arrive on Tuesday, July 7th to replace those on the fireline.  Extensive mopping will occur.  Hot spots will be addressed overnight.
Photo Credit | CAL FIRE SCU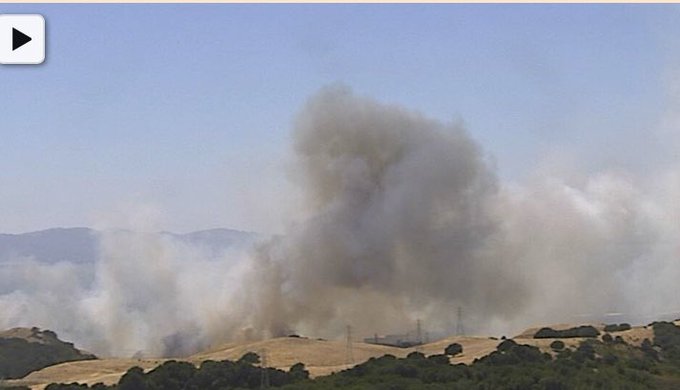 Resources included:  Con Fire, Rodeo-Hercules FD and CAL FIRE SCU.  Fire has destroyed 150 acres and has a 50% containment status.  Forward progression has been stopped.
Fire Fact | PG&E pleads guilty to 84 counts of Manslaughter tied to the Deadliest Wildfires in California History – Media
CREWS FIRE 
3 miles NE of Gilroy, Santa Clara County
Started 7/5/2020.  Reported after 1400 PT.  CAL FIRE Santa Clara Unit. Crews Road x Oak Spring Circle. North of Gilroy.
The 14 freeway was shutdown in both directions as the fire crossed over the freeway on Sunday afternoon. Evacuations were in progress yesterday for hundreds of residents, their pets and livestock.   5,400 acres. 20% contained.
Fire Fact | In 2019, the CA Governor stated while the State increases fire prevention investments, the Federal Government has made significant cuts to fire prevention programs. – Governor's Office
FLAT FIRE
Near Cedar Flats on 299W, East of Burnt Ranch 
Started 6/30/2020 1500 PT. Shasta-Trinity National Forest. Cause unknown and under investigation.  3 Type1 Hotshot crews, 3 Type-3 Engines, 1 Tactical Water Tender, 2 Type-2 Helicopters, 1 Type-1 Helicopter, Mountain Medics and 2 Line Safety Officers.  65 acres. 50% contained.
Fire Fact | The 2020 fire season is said to be the driest February in 150 years which is causing droughts, wildfires and means there will be no superbloom this year. – Media
KINGS FIRE
King Canyon Rd x Dunlap Rd, Fresno County
Fire started 7/5/2020 and firefighters were immeidately dispatched.  Arriving just before 1900 hours, units reported the fire at 67 acres. They have successfully gained a 65% containment status.  Located  East of Squaw Valley.  CAL FIRE Fresno Kings Unit.
Fire Fact | In 2018, the deadliest fire on record was the Camp Fire that burned 153,336 acres, destroyed 18,804 structures and killed 85 people. The cause was due to powerlines. – CAL FIRE
LAKE FIRE
13000 blk of Soda Lake Rd, Santa Margarita, SLO County
Started 7/4/2020. CAL FIRE San Luis Obispo Unit.  Unknown cause.  Moderate fire behavior. Structures threatened.  0 resources on incident.  $10,000 cost-to-date expenses. 1 structure and 1 vehicle destroyed. 2nd Alarm. Fire was contained to 588 acres and fully contained on 7/5/2020.
Photo Credit | SLO City Fire
Fire Fact | In 2020, PG&E was hit with a $1.9-Billion penalty over California wildfires but residents who lost loved ones and their properties, feel they have lost way more than this Utility company could ever repay them. – Media
LATUNA FIRE
In the Hills of the 210 Freeway, NE of San Fernando Valley
Photo Credit | LAFD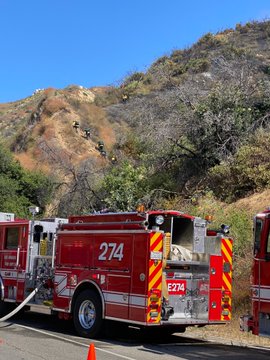 LAFD, LA County FD and Angeles National Forest firefighters were on-scene of a wildfire in the 8300 block of West La Tuna Canyon Road in the Shadow HIlls area of Los Angeles. The brush fire was burning approximately .5 miles from the 210 freeway.
Two LA County FD engines and several camp crews were able to stop forward progression one-hour as mutual aid to the city of Los Angeles FD.  LACoFD Copters 18 and 17 and LAFD Copters 3 and 4 were also assisting from the air.
No injuries or damages were reported.  No evacuation orders were initiated.  LA County Fire Ops were also assigned to help with air support.
All resources were released around 1624 hours PT.
Photo Credit | LAFD Fire Ops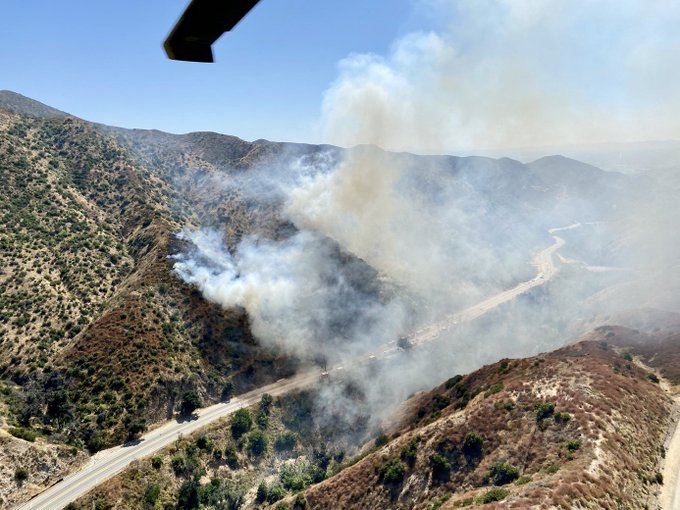 MOUNTAIN MEADOW FIRE
Mtn Meadows Dr. x Cedar Creek Crt., Solano County
Fire started 7/6/2020. Firefighters were on-scene just after 1800 hours PT, located SW of Fairfield. Unified Command CALF FIRE Lake Napa Unit, Cordelia Fire Protection District, Fairfield City Fire Department. 50 acres burned. 0% contained.  Evacuations were in progress.
Fire Fact | On July 4, 2020, firefighters responded to 50-plus fires including wildfires that were human-caused by fireworks. There were so many they could only provide one engine responses.- Contra Costa FD
PATTERSON FIRE
Patterson Pass Rd, Tracy in San Joaquin County
CAL FIRE SCU firefighters were on-cene of a vegetation fire in the Tracy area around 1635 PT today. The forward progression has been stopped and crews were able to hold it to  150 acres. It has been 100% contained.
Photo Credit | CAL FIRE SCU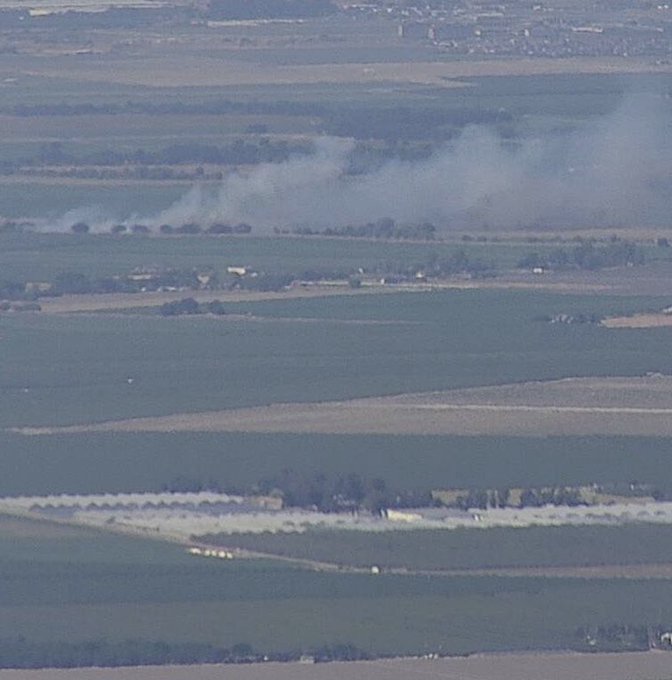 Fire Fact | Sky lanterns may be beautiful and all, they can easily spark a wildfire. These are to be never launched on public lands. – NIFC
QUICKSILVER FIRE
Quicksilver County Park, San Jose (Santa Clara County)
Brush fire.  Fire reported 1658 7/6/2020. CAL FIRE SCU Firefighters were at the park along with San Jose Firefighters.  Fire was 1 acre.  CAL FIRE engines, dozers and aircraft were on-scene.
Fire Fact | In 2018, there were approximately 12.91-Billion dollars in losses, the largest in the State of California since 2001. – NFPA
RODEO FIRE
900 block of California Street
Brush fire. Possible multiple smaller fires in the same area per CHP.
Photo Credit | CAL FIRE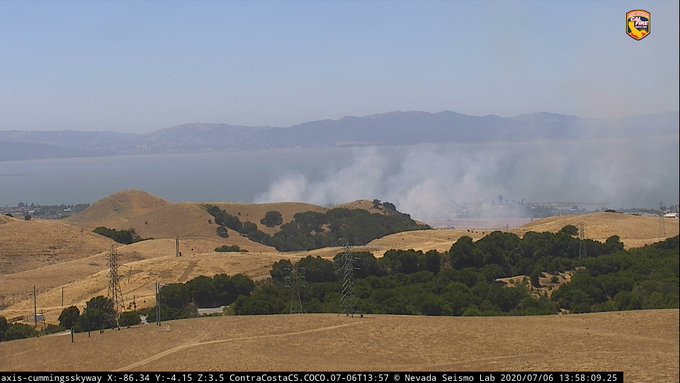 Fire Fact | There have been 3,562 total fires for 23,640 total acres from the period of January 1 through July 5, 2020, up from 2019's 2,041 total fires and a total of 18,564 acres. – CAL FIRE
SOLEDAD FIRE
Soledad Canyon Road 14 Freeway, Los Angeles County
Photo Credit | Angeles NF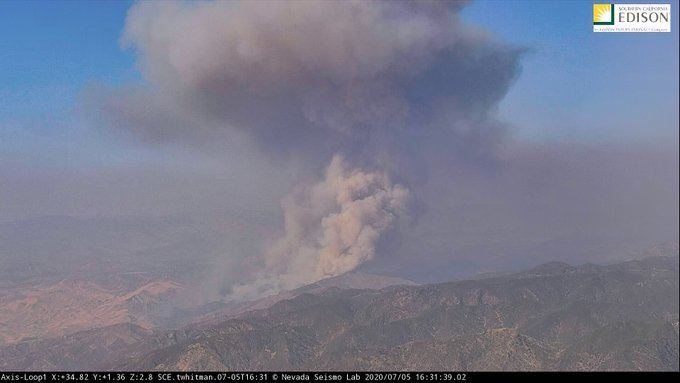 Started 7/5/2020 at 1528 hours PT on July 5, 2020.  2 miles south of Agua Dulce.  Brush, chaparral and short grass. Fire was driven by 20-30 mph winds and warm weather conditions.   Firefighters put out hotspots before winds and high heat returned today. Fire threatenting containment lines.
Photo Credit | Angeles NF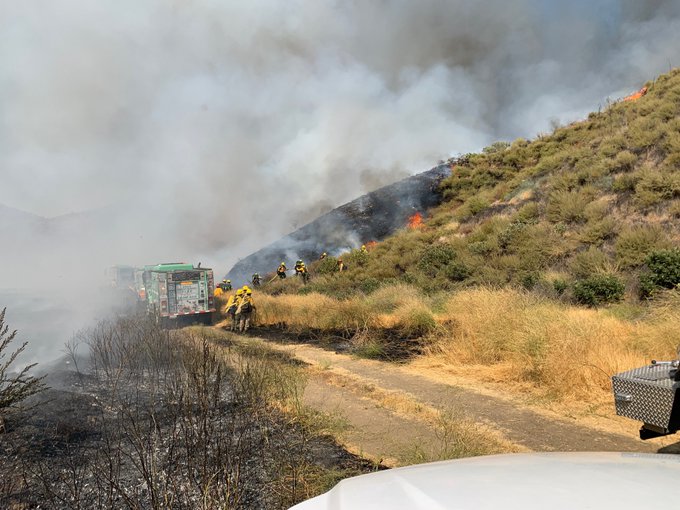 Unified Command LA Co FD and Angeles NF.  25 engines, 9 hand crews, 2 water tenders, 4 helicopters, 517 total personnel.
Photo Credit | Caltrans District 7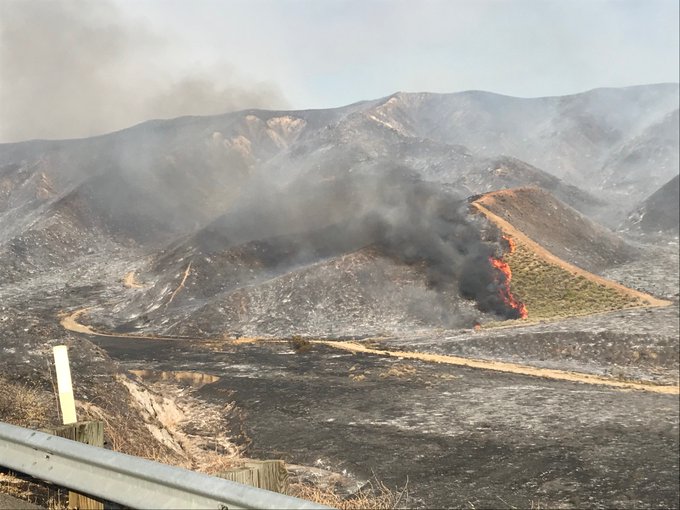 Incident Cooperators also included the CA Highway Patrol, LA Co Sheriff's Department, Bureau of Land Management, CalTrans District 7, Red Cross. SoCal AirOps, LASD Palmdale Station, SVC Sheriff, Santa Clarita City.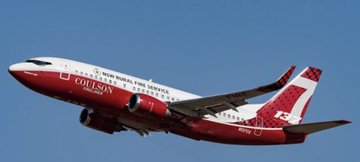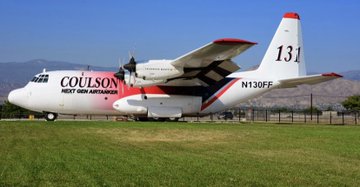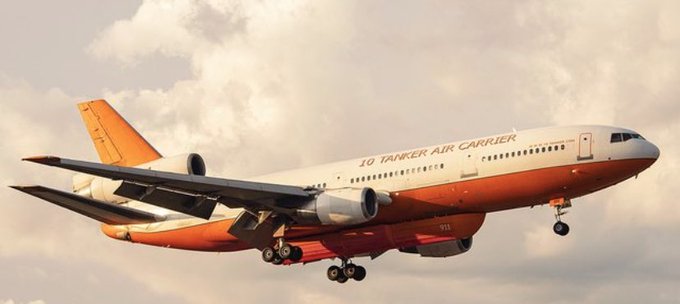 Photo Credit | So Cal Air Ops
(left) Photos of aircraft assigned on the incident.
Fire behavior slowed overnight but during the day, it has increased as extreme fire behavior with running, uphill runs and wind-driven runs.
It is currently 1,498 acres with a 48% containment status.  4,795 structures threatened. 0 structures destroyed or damaged.  0 injuries reported.
9 homes with approximately 40 residents are under current evacuations.  A temporary shelter located at Victory Outreach, 37419 25th Street E, Palmdale, CA 93550. Clients/small animals can relocate on temporary basis. Red Cross will make an assessment on indivdual's needs.
Photo Credit | Angeles NF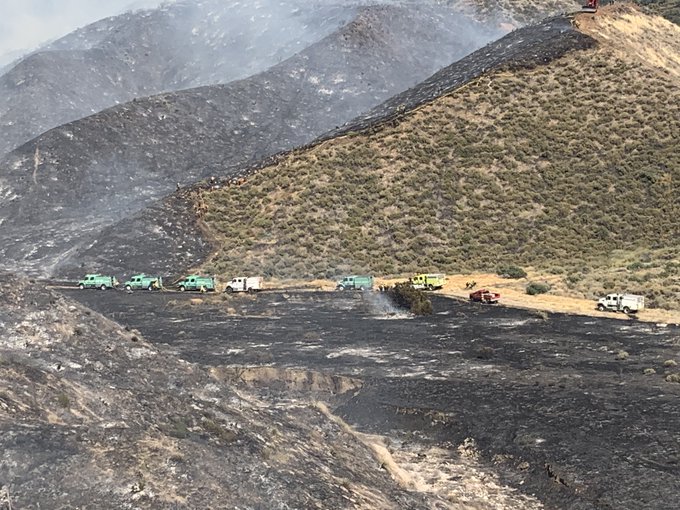 $1 Million Cost-to-Date in fire suppression and containment efforts.
(c) 2020 NW Fire Blog – Updated 7/6/2020 2230 PT