Update 1 – July 6, 2020 – Monday
A wildfire is burning in the Saddle Mountains, on Road E just east of Mattawa in Grant County, Washington State.  The fire is burning in unpopulated mountains and is being battled by air resources.
There is a Temporary Flight Restriction or TFR in effect.  No drones should be in the fire zone. PLEASE AVOID THE AREA.
Map Credit | Grant County Sheriff's Office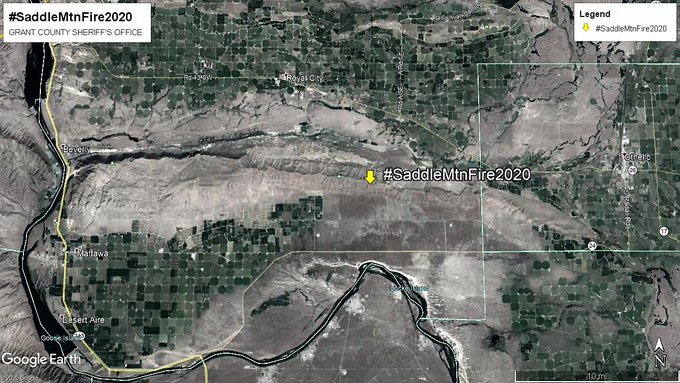 Fire units and equipments were dispatched today at  1311 PT which include:  BATT-32 CHIEF-601 CREW-22 CREW-52 DIV-601 E-4304 E-4401 E-4409 E-561 E-6696 E-841 E-842 E-863 PATROL-604 SE-JONES S SE-POLLACK SE-SEWELL SE-TSUBOTA.  Units represent  Grant County Fire Districts 5 (sent 3 tenders and Dozer5) and 8, Royal Slope, Hanford and Franklin County Fire Departments.
The SE WA Type 3 IMT assumed command at 1900 hours PT.
Additional Fire resources assigned:  Grant County Sheriff Office.  SE WA Type 3 IMT Team 2(Fire Managers), WA EMD, WA Fire Marshal.
A resource order was dispatched through the Puget Sound Interagency Communications Center at 1530 PT to respond to Highway 24 at milemarker 62.
The fire has scorched 4,000 acres of grass and brush with a rapid rate of spread.  The containment status is unknown at the time of this post. Acreage per WA DNR's CAD system.
Photo Credit | Vicki Holt
This wildfire is being called the SADDLEMTNFIRE2020. #SaddleMountainFire2020 #SaddleMtnFire2020
This fire name has been used many times over.  Fire history using this name include:
4/28/2020 | #SaddleMontainFire | Phoenix, Arizona.  3-4 acres. Forward progress has been stopped, mop-up operations in progress. – BLM AZ Fire
7/24/2019 | #SaddleMountainFire | 34 miles ENE of Yakima, near Mattawa, Washington. 350 acres. – Wildfire Bot
9/4/2018-9/7/2018  | #SaddleMountainFire | Grays Harbor County, WA. 67 acres. Helicopters and crews on-scene. The fire was quickly lined and fully contained on 9/7/2018.. – WA DNR
Photo Credit  | WA DNR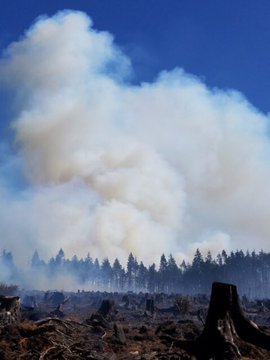 8/02/2018 | #SaddleMountainFire | SE of Othello, Washington State.  5 engines, 1 helicopter are dispatched. Fire at 1,000 acres. – WA DNR
(c) 2020 NW Fire Blog – Updated 7/6/2020 2330 PT