HURRICANE HANNA
Update 1 | 7/25/2020 | 1715 PT, 1915 CDT
Hurricane Hanna, the strongest hurricane to make landfall in Texas since Claudette in 2003 has made landfall on Padre Island and mainland Texas in Kennedy County around 1815 CDT.
Texas Governor Abbott declares a State of Disaster for 32 counties.  It has been assessed as just shy of a CAT 2 status.
Photo | Galveston  Island HIstoric Pleasure Pier
Various pier and areas are reporting surf heights of 10-15 feet.  This includes St. Joe's Island, Horace Caldwell Pier, Fish Pash, North Padre Seawell and the list goes on.  Water temps are 86-88*F with regular air temps at 80*F.
Photo Credit | NWS Storm Prediction Center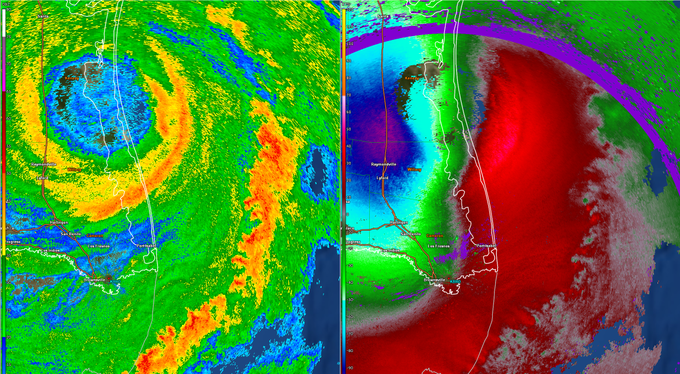 RESOURCES
NOAA NWS National Hurricane Center. World Central Kitchens' Chefs for America have their Brownsville location available and reaady to deploy if needs should arise. NWS Corpus Christi.  Texas Governor Abbott.
THROUGH THE EYES OF SOCIAL MEDIA
"Waves lapping up against the Corpus Christi Bay Art Museum in Downtown. I am flabbergasted." Weather Spotter.
"Really quited down. Grazing the eye of the hurricane. The wild howling almost stopped altogether." – Hurricane Chaser.
"Storm surges at Whitecap Beach, water has passed the dunes and will soon threaten Hwy-361." – NWS Corpus Christi (7/25/2020 0633 CDT)
Photo Footage | City of Galvenston's Galveston Beach Surf Cam
"Traffic flowing on freeways in Raymondville, just off of Hwy 177 while power lines are sparking and electricity is out in the area. " – Relief Organization.
"The Selena Memorial Statue is still standing strongin DT Corpus Christi despite the sea wall and T-head surrounding it is being flooded." – News Reporter.
"What used to be the McGee Beach in DT Corpus Christi, is now overtaken by a storm surge." – News Reporter.
"The North Beach in Corpus Christi appears to be decimated by winds, storm surges and high wave action." – Weather Reporter.
(c) 2020 NW Fire Blog