A 3rd alarm brush fire broke out at 54 Vine Street in Vacaville (Solano County), California on Saturday, October 17, 2020. Vacaville Fire personnel and equipment were immediately on-scene just before 1747 PT.
It was reported as a 1.5 acre fire moving uphill and to the north. Fire behavior was very active with a fast rate of spread and spotting. Structures were indicated as threatened.
PC: Alert Wildfire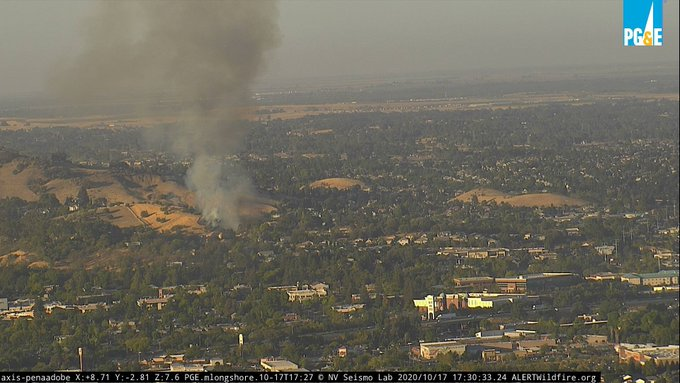 Resources included one Copter (14) and 2 air tankers, with multiple dozers and water tenders. An unknown of Vacaville and mutual firefighters were deployed on this fire.
Forward spread was stopped at 5 acres and containment was achieved. Both airtankers on hold were released along with air attack (1811 PT).
No further retardant drops were needed, as the head and shoulders of the fire had been moved out into the grass. some resources were working on the heel but everything looked good.
However, there are a lot of hot spots within the fire perimeter and extensive overhaul would be needed.
Multiple fire companies remain along with Dozer 14-45 will continue to work at this incident.
No injuries to firefighters or civilians were reported.
The cause of this fire is unknown at the time of this post.
(c) 2020 NW Fire Blog