We are starting to post situation reports on the extreme winter weather happening all across the State of Texas. We will also post separate reports for other impacted states.
This is for the State of Texas.
UPDATE 1 | FRIDAY | FEBRUARY 19, 2021
HARRIS COUNTY | The Harris County Precinct 4 team is distributing non-potable water to county residents in need from noon to 5 p.m. at the Barbara Bush Library (6817 Cypresswood Dr, Spring, TX 77379). Supplies are limited to 10 gallons per person, and recipients must bring their own appropriate container (milk jugs, ice chests, etc.). (Facebook – Spring Fire Department – 2/19/2021)
AMARILLO | WEATHER FORECAST | Sunny and warmer early this upcoming week and then a cold front will move through the Texas and Oklahoma Panhandles by Wednesday morning. Wednesday will be breezy and cooler and then increasing cloudiness expected Wednesday night into Friday morning with skies becoming cloudy or mostly cloudy. There will be a slight chance for snow Thursday and then a slight chance for a rain and snow mix or light snow Friday morning. Clearing skies expected by Friday afternoon.
CITY OF BALLINGER | Message from Brian Frieda, Ballinger City Manager: The City of Ballinger is currently experiencing low water pressure issues. Today the city shut down 23 houses that had major issues. The city is asking that citizens help conserve water by only using it for the necessities. Currently, there is not a boiled water advisory in effect. As the ground and pipes thaw, the city is finding leaks. If you notice a vacant house, or an empty house, with water coming from it, please notify the city to call at(325) 365-3511. If you notice a leak after hours, contact Frieda on his cell phone: 325-242-5811. If you are unable to reach him, contact dispatch 325-365-2121. (Facebook – Ballinger FD – 2/19/2021)
CITY OF CORINTH | ONCOR (ELECTRICITY)
All hands on deck for 24/7 until all issues are resolved. Spreadsheets this morning and afternoon. Working to restore outages caused by storm damages. Reported around 300 this morning and rose to 700 with an outage in Corinth. Expect some outages as it warms up. (Facebook – City of Corinth Government – 2/19/2021)
CITY OF DENTON
City of DentonContinue to be under a boil water notice. Saw improvements and have begun testing. Hope to lift notice in the next 24 hours. (Facebook – City of Corinth Government – 2/19/2021)
CITY OF EARLY
There are no issues providing water to its customers and we do not anticipate there to be any issue in continuing to provide reliable water service. The water is completely safe to drink and use as normal. The City of Early water customers are NOT under a boil water advisory. Our public works department is working hard to stay on top of repairs to broken water mains so your water can keep flowing through this crisis. (Facebook – City of Early – 2/17/2021)
CITY OF HOUSTON
BARC | This cold weather is affecting everyone. BARC continues to respond to emergency calls and ensure its animals are cared for and remain safe. Due to conditions caused by the cold weather, BARC is closed to the public and is asking its partners to hold any animals they rescue until the current situation passes. We are all in this together- making sure our four-legged friends also make it through these challenging times.
BOIL WATER NOTICE
( Twitter – TX HHSC – 2/19/2021)
HOUSTON FD | has been responding to many Carbon Monoxide calls and reminds all anytime related to generators: HFD has responded to numerous calls related to carbon monoxide. DO NOT heat your home using a stove, oven, or grill. Only use generators outside. Always back your vehicle completely out of the garage before idling. (Facebook Page – Houston FD – 2/17/2021) and Houston Fire Department is assisting with water distribution. (Facebook – Houston FD – 2/19/2021)
CITY OF LAKE JACKSON
BROKEN PIPES | Broken pipes or water mains in your neighborhood? Please call 3-1-1 so Houston Public Workscan isolate the leak. It is essential we work together to conserve water during the #BoilWaterNotice. Please be patient if you experience longer than usual wait time. A report can also be submitted via the 3-1-1 website: https://www.houstontx.gov/311/ or the app: Houston311
EMERGENCY ALERTS | Sign up for Alerts via AlertHouston readyhoustontx.gov or Emergency Alerts – City of Houston Emergency Operations Center
CITY OF LUFKIN
BOIL WATER NOTICE | The City of Lufkin has issued a boil water notice due to decreased pressure in the water distribution system. Water for drinking, cooking, and ice making should be boiled and cooled prior to use for drinking water or human consumption purposes. The water should be brought to a vigorous rolling boil and then boiled for two minutes. We will notify customers when it is no longer necessary to boil the water. (Facebook – City of Lufkin, Texas – 2/19/2021)
III CORPS AND FORT HOOD
WARMING CENTER | The Warming Center at the Community Event Center on Fort Hood will be closed at 6:00am tomorrow, 20FEB. More than 50 military and civilian families spent time at peak; dozens of Soldiers warmed up too. Visits have dwindled as more off-post homes get electricity.
WATER FILING STATION |
Water Filling Station. Killeen will open a water filling station for residents without water service. It will be located at 805 W. Jasper. All water received must be BOILED. Bring own container and amounts may be limited Saturday and Sunday, 20/21 Feb 10 am-6pm
MWR FACILITIES-PROGRAMS | closed until Monday February 21 out of an abundance of safety and concern.
HARVEY GYM | Open for Active Duty from 0800-1400 hours Saturday an Sunday. Limited capacity in the effect.
CLEAR CREEK-WARRIOR WAY COMMISSARIES | Open Saturday, normal operating hours. Out of milk but expected delivery on Sunday. 2 cases of water limit.
EXCHANGE EXPRESS | All locations are out of fuel with Exceptions of the Clear Creek and Comanche Express locations. More fuel supposed to have been delivered Friday.
WATER USE | CONTINUE TO CONSERVE. Fort Hood is NOT under "BOIL WATER" notice (including off-post villages). Fort Hood is experiencing major stress on our water supply. To avoid potential widespread and lengthy water outage, our goal is to reduce our water use by 40% until we get through this unprecedented situation. Here's what you can do to help urn off dripping faucets when the temperature reaches 30-degrees F. Only resume dripping when the temperature drops below 30-degrees.Drip faucets into containers, especially pots in case boil water notices are needed. Avoid using washing machines and dishwashers; appliances use a significant amount of water. Store 1-gallon of water per person per day for hygiene purposes.
UNIVERSITY OF TEXAS | CLOSURES | UT campus will remain closed through at least Wednesday at 8 am. Classes will also be canceled with a few exceptions: utex.as/3dpp8O6 Like many of your residences, our campus facilities have been impacted by the weather and they are unlikely to be ready immediately for full operations after the thaw. We expect it will not be business-as-usual for a while and we will need to gradually restore both our physical space and campus operations, along with our research and learning plans. Website – emergency.utexas.edu (Facebook – Univ of Texas – 2/19/2021)
STATEWIDE
BREASTFEEDING MOMS | Patients displaced by the ice storm that need breastfeeding assistance can call the Lactation Support Hotline at 855-550-6667. This is a free service to all TX moms with latch, position, pumping, and more. (Twitter – TX HHSC – 2/19/2021)
CARBON MONOXIDE | Learn about the real dangers of carbon monoxide especially during extreme weather and how to protect yourself and those around you. Health Officials Alert Public to Carbon Monoxide Dangers (texas.gov) (Facebook – TX health and Human Services – 2/16/2021)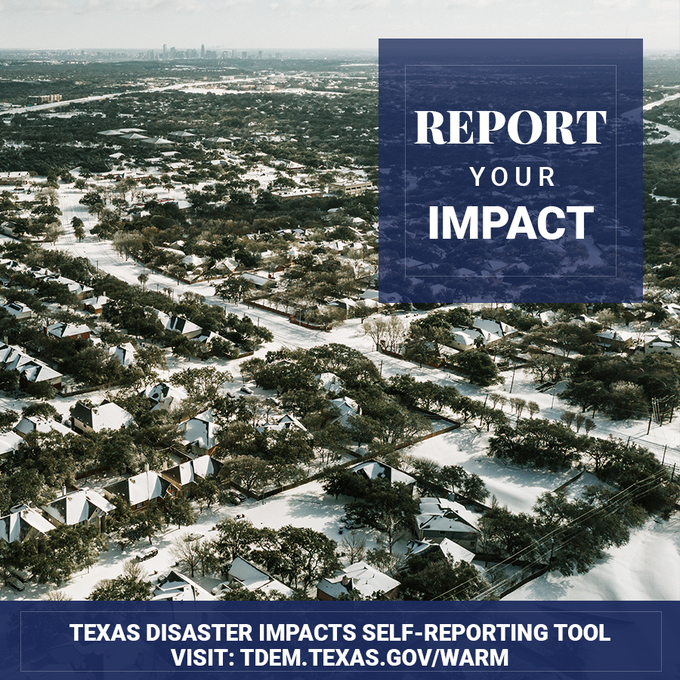 DAMAGE ASSESSMENT DATA | The Texas Division of Emergency Management is is working to collect damage assessment data from the public, so that they can identify the scale of the disaster and help officials assess the total statewide damages. Go to arcg.is/uOrOb or to tdem.texas.gov/warm (Twitter – TXDEM – posted 2/18/2021)
DISABILITIES | Thank you CrowdSource Rescue for your continued assistance throughout this Storm. If you are in need of bottled water and lack a way to get it, go to crowdsourcerescue.org/freeze to register for assistance. If you DO NOT have internet access you may dial 311 for help. (Facebook – The Mayor's Office for People with Disabilities – 2/19/2021)
DONATIONS | Best way to help those in this State is providing funding or cash donations through a relief organization as the most efficient way. Best practices on their website: bit..ly/37qks6R (Twitter – Indiana Homeland Security – 2/17/2021)
INSURANCE TIPS | Insurance tips, protect yourself against fraud and what to do if you have damage done to your residence or structures. Insurance tips following winter storms (texas.gov) (Website – TX Department of Insurance – 2/19/2021)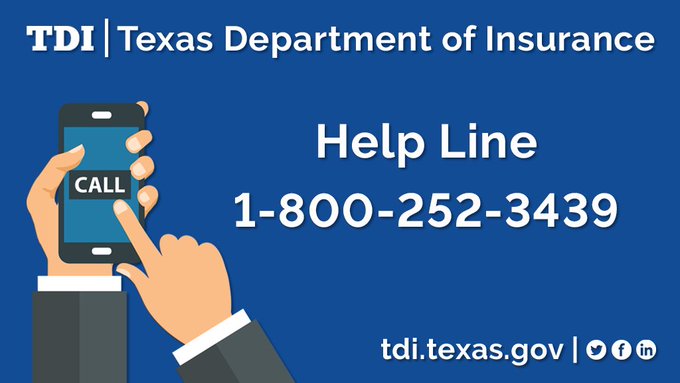 RESOURCES | National Guard Members have helped bring 650+ Texans and their pets to safe locations and deliver 3,000+ cases of water, blankets, and other supplies to those in need. They are also helping with welfare checks and assisting in local warming stations. (Twitter – TX DEM – 2/19/2021).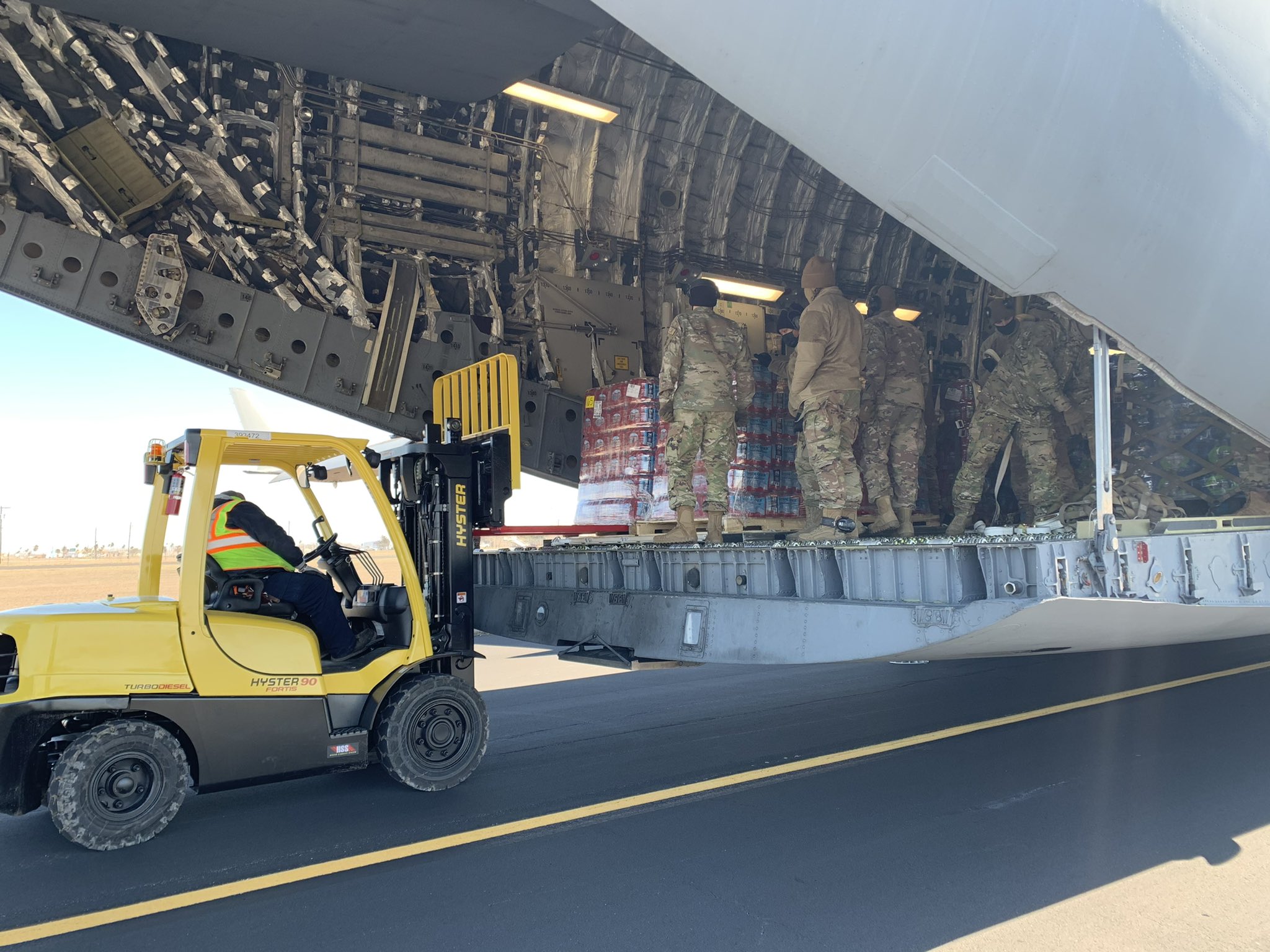 NATURAL GAS DELIVERIES | The RRC continues its response to the winter storm and prioritize natural gas deliveries for human needs. Commissioners extended an emergency order this evening: http://ow.ly/XNJF50DDgfk (Twitter – RR Commission of TX – 2/17/2021)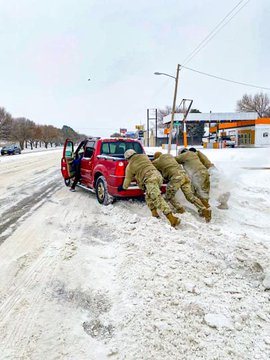 INFRASTRUCTURE | Outage map for the State of Texas. Storm Safety Resource Page (texas.gov) (Public Utility Commission of Texas, Storm Resources – Website – 2/19/2021)
PRICE GOUGING | Texans who have encountered price gouging or other disaster scams are strongly encouraged to call their consumer Protection Hotline. 1-800-621-0508 or file an online complaint to txoag.force.com/CPDCOnlineForm (Twitter – Attorney General Ken Paxton – posted 2/16/2021)
EMERGENCY ALERTS | Texans can dial 2-1-1, Options 6 local community resources on health care, utilities, food housing and more. Website: Winter Weather Resources | Office of the Texas Governor | Greg Abbott (Twitter – Texas HHSC – Pinned 2/19/2021)
ROAD CONDITIONS | Contact by phone #1-800-452-9292. Website – https://drivetexas.org. (Twitter – TXDOT – 2/19/2021)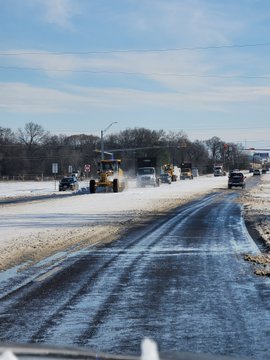 ROADSIDE ASSISTANCE/STRANDED DRIVERS | TX DPS | Call 800-525-5555 if you or a loved one is stranded on the roads. (Twitter – TX DPS – 2/15/2021)
FEDERAL | SCAM ALERTS | FEMA | Please beware of posts on social media encouraging you to call an 800 number for hotel compensation from @fema. The best information on legitimate sources of help in your area will come from local officials & @TDEM. (Twitter – TX DEM – 2/18/2021 / FEMA 2/18/2021)
INFRASTRUCTURE-DISTRIBUTION | The State is working around the clock to address four immediate winter priorities: 1) restore power, 2) Support local officials to restore water, 3) Ensure access to food and resources, 4) Get refineries back online. (Twitter – Gov Greg Abbott – 2/19/2021)
WARMING STATIONS | | To find the nearest warming station, go to this site for more information. Warming Centers – TDEM (texas.gov) (Twitter – Texas Government – 2/16/2021)
(c) 2021 NW Fire Blog – Updated 2/19/2021 09:11pm