MARCH 31, 2021 | WEDNESDAY
FDNY firefighters were dispatched to a factory fire located at 60 Davidson Street on Staten Island in New York today and Command quickly upgraded it from a 2nd alarm to more recently a 5th alarm. This calls in more manpower and fire assets.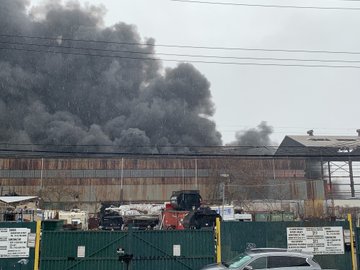 Here is the timeline on the fire alarms called for this incident.
5th Alarm – 1225 hours PT
4th Alarm – 1204 hours PT
3rd Alarm – 1147 hours PT
2nd Alarm – 1142 hours PT
Police are said to be rerouting traffic and crowd control.
No injuries have been reported.
No preliminary information has been released about the possible cause.
ABOUT THE FIRE BUILDING
The fire building is a 100,000 square foot industrial warehouse with a high vacancy property. The ownership is currently under contract. It is located on 6.33 acres lot in which the building was originally constructed in 1930. It is assessed currently at $2.5 Million dollars.
The building is located in the Mariner's Harbor neighborhood.
(c) 2021 NW Fire Blog