MARCH 31, 2021 | WEDNESDAY
Incident Summary
A massive fire broke out in the 1200 block of North Rose Avenue, in the area of Alameda Street and East Rosecrans Avenue on Wednesday, March 31, 2021 around 1645 hours PT.
Command quickly named the incident "ALAMEDA COMMAND".
Command struck a 4th Alarm around 1744 hours as fire spread across the yard and to an unknown number of exposure structures. Several explosions were viewed on Social Media.
Size Up
The fire building was reported as a 200 x 400 feet on the interior and a storage yard with a heavy fire load of wooden pallets.
Evacuations
Police were evacuating residents from their homes as embers floated in the air above their residences. It was said that those living downwind from the pallet fire were the ones who were told to their homes.
Displaced Residents
Just after 1900 hours, the Los Angeles County Sheriff Department Deputies were transporting all residents displaced by the fire to Lot F at the Compton College, located at 1111 East Artesia Boulevard. This is where those who need Red Cross assistance will be able to access those services.
Shelter(s)
Those who need shelter have been told by the LASD office that you can go to the Caldwell Street Elementary School located at 2300 West Caldwell Street in Compton.
Incident Cooperators
According to the LA County Fire Department PIO, there are about 30 fire units from multiple area agencies. According to Social Media, here are the ones that have posted that they are either en route or on-scene to the fire ground.
Compton Fire Department
Long Beach FD (1811 PT)
Los Angeles County FD's E31, 41, 57, 105, 116, 148, 164, 165, Q31, T164, BC20 and AC2 (1745 PT)
Los Angeles Sheriff Department
American Red Cross
Damage Assessment
There have been three homes lost to the pallet fire and one damaged.
Injuries
With this being a serious fire, there have not been any reports of injuries to civilians or to firefighters.
Updates
Firefighters are still on-scene of the pallet fire and will be throughout the night and possibly days as they work contain the fire and eventually put out the hot spots. (2030 hours PT)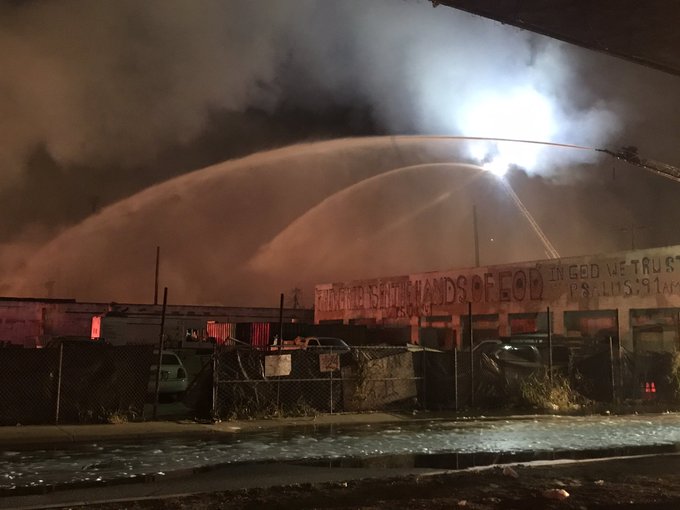 FIRE HISTORY IN NEARBY AREAS
People have pointed out similarities to other fires that have broken out recently, with this being the second major pallet fire in a month. Some are asking what is going on.
Based upon information posted online and other verified sources, this is what we found out. We are not pointing a finger at an arsonist but some are questioning this possible motive.
Disclaimer: We fact-check all information to the best of our abilities. Information may change as it is updated by verified sources from the time we post to this site. – ED.
South Bahama Avenue
3/29/2021 0225 PT. Structure Fire. Units dispatched BC7, E116, E159, E43CMP, E95, Q116, S116.
South Broadway
3/21/2021 2306 PT. Commercial Fire. On West 138th Street
South Susana Road
3/30/2021 1944 PT. Commercial Fire. Near the International Paper Compton Container plant.
South Santa Fe Avenue
3/29/2021 1704 PT. Outside Fire.
3/28/2021 2222 PT. Garbage/Refuge Fire. E105 dispatched.
3/28/2021 0941 PT. Garbage/Refuge fire. E105 dispatched.
2/26/2021 0430 PT. Commercial Fire. Near Santa Fe and Banning Avenues. 25-year old family pallet business is a total loss. Fire spread to nearby yard full of buses. Sparked transformer explosions. Nearby apartments evacuated. 1 firefighter injured. This was the H&H Pallets business. 3 alarms.
East Las Hermanas Street
3/24/2021 1458 PT. Outside Fire. E105 dispatched.
3/23/2021 1219 PT. Outside Fire. BC7, E10, E105, E116, E11LOB, Q116, S116.
East Rosecrans Avenue and 710 Freeway
3/26/2021 0142 PT. Outside Fire. E31 dispatched.
3/25/2021 0541 PT. Outside fire. E31 dispatched.
East Slauson Avenue and South Eastern
3/31/2021 1900 PT. Commercial Fire. In Commerce, California.
(c) 2021 NW Fire Blog
.