APRIL 5 (MONDAY) | UPDATE 1
Brush is ablaze in Los Angeles County on the Angeles National Forest that is currently a wind-driven fire, but aerial firefighting resources are starting to knock it down. Due to winds, low RH and high temps, fire resources will be challenged by many obstacles but are working towards a 100% suppression and containment objective.
Incident Summary
Wildfire
Reported 4/5/2021 1618 hours PT
Springs Fire incident designation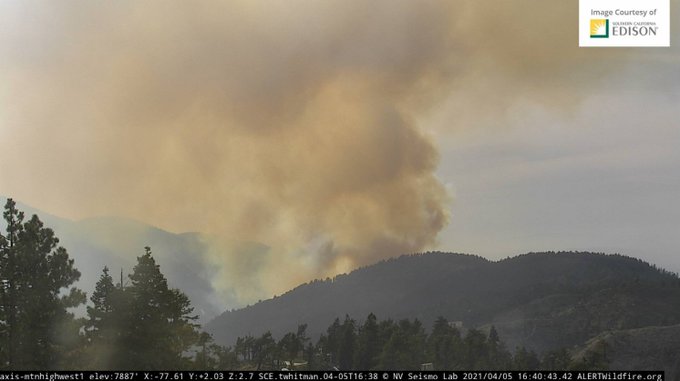 Location
East of Paradise Springs and South of Big Pines Highway
West of Phelan (Los Angeles County), California
Command
Angeles National Forest
Los Angeles County FD
Resources
Angeles National Forest – 1-C-1 AC-7 AC-8 BC-21 CHF-1 DIV-1 DIV-3 DOZ-10 ED-11 ED-17 ENG-10 ENG-19 ENG-310 ENG-315 ENG-333 ENG-37 ENG-532 PAT-15 PAT-32 PVBC-13 WT-10 via Angeles ECC
Los Angeles County FD – E24 E37 E80 E108 E129 BC11
CAL FIRE (Mutual Aid
Air Operations include:
Structure Protection – Strike Team 1111A
2 Strike Teams designated 'Valermo" and "Mountain".
Fire Status
60 acres. 0% containment status
2nd Alarm Brush Fire
Near the 2020 Bobcat burn scar
South side of fire – expected to burn into the snow
East side of fire – due to crest the ridge, backing down towards structures; through heavy (thick) brush.
Active fire behavior with backing, potential for long-range spotting.
Copter 18 has picked up a spot fire outside of the main fire
Main fire is holding between the retardant lines
Air Ops to lose light soon, IC asking for 4 copters for Tuesday, 4/6/2021.
Current Weather Report
For Los Angeles County area (as of 1845 hours PT)
62*F Temps
Sunny
0% Precip
Winds are at 10 mph
RH is 58%
(c) 2021 NW Fire Blog- Updated 1900 hours PT