UPDATE 1 – MAY 12, 2021 – 1830 PT
INCIDENT SUMMARY
A new wildfire broke out on Wednesday off of Highway 138 and 248th Street in the Pinon Hills.
This is a 3rd alarm brush fire that is burning along the 350+ acre Oasis Fire burn scar from August 2011.
SIZE-UP
The Los Angeles County fire has burned about 180 acres that has a zero percent containment status. Fire behavior is very active, wind-driven with a potential for a dangerous rate of spread.
EVACUATIONS ARE IN EFFECT
Below are the areas that under evacuations. The Search and Rescue Posse units are assisting with animal evacuations.
Highway 138
Highway 138 South to Pine View Road
Buchanan Road
East of
Jubilee Road (San Bernardino)
Soledad Road
West of
North of
South of
RED CROSS SHELTER
Serrano High School. 9292 Sheep Creek Road, Phelan, CA
ANIMAL EVACUATION SHELTER
LA County Animal Care at the AV Fairgrounds. (Livestock)
Palmdale Animal care Center. (Small pets)
CLOSURES
Road closure at Highway 138, west of Oasis Road and east of 263rd.
FIRE RESPONSE
Angeles National Forest with LA County Sheriff Office and CHP Southern. ANF assisting LA County FD and CAL FIRE.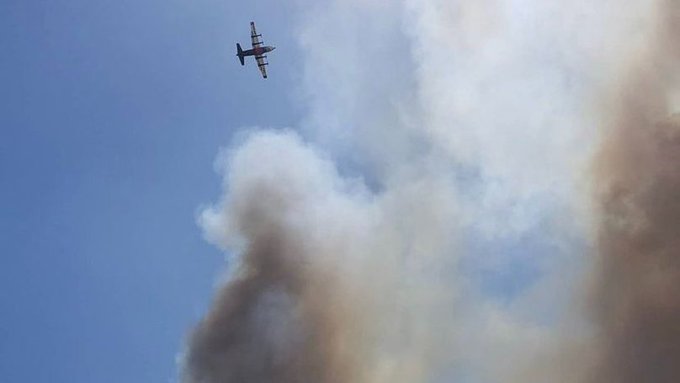 Currently, 300 firefighters from air-to-ground are actively engaging this fire and working towards complete fire suppression and full containment.
INCIDENT COOPERATORS
CAL FIRE, SB County Fire, Angeles National Forest, San Bernardino National Forest, LA County Sheriff Office, SB County Sheriff and CHP – Victorville, Mojave Desert Air Quality Management District, NWS Los Angeles, Caltrans District 8
SOCIAL MEDIA
Hashtags being used by Social Media are #PineFire
Residents in the area are reporting the fire is approximately 3/4 miles and south of 138, possibly being threatened by fire is the Desert Mountain Veterinary.
(c) 2021 NW Fire Blog