SIT REP 1 — JUNE 10, 2021 — 2100 PT
Incident Summary
A new wildfire has reportedly ignited on Thursday evening around 2054 hours PT, located south of I-70 between Silverthorne and Eisenhower Tunnel.
The cause is unknown.
Current Status
Firefighters will continue fighting the fire and will move into a night operational time period. The fire is estimated to be around 15-20 acres.
Wind gusts up to 15 mph are pushing the fire into heavy fire fuels of dead-standing lodgepole pine and spruce.
Fire behavior is active with occasional torching.
There are no reports of structures being threatened; no evacuations are in effect.
Resources
About 30 local and federal firefighters are on-scene that represent the USFS, Summit Fire & EMS and the Red, White and Blue Fire Department.
Summit County SO is conducting the traffic closure.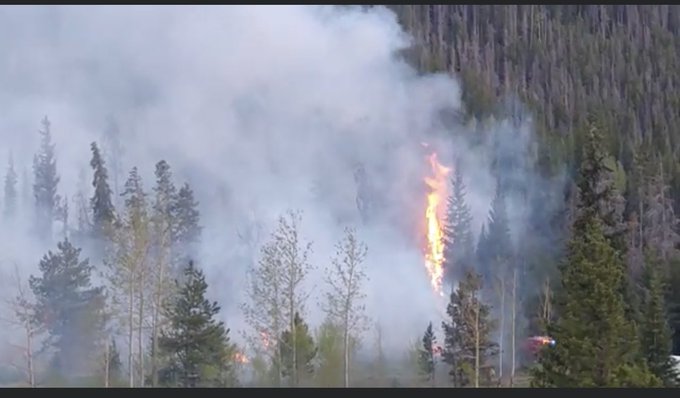 Traffic Reports
The Summit County Sheriff's Office has closed I-170 at Silverthorne and diverting traffic around Loveland Pass.
The Summit Fire and EMS Department states, the road will be opened as conditions allow. They are concerned for firefighter safety and for drivers that may be impacted by this incident.
(c) 2021 NW Fire Blog