MEDFORD, OREGON
A new wildfire has ignited near I-5 at milepost 31 in Medford, which was reported just before 1600 hours had been escalated to a three-alarm brush fire by the local Fire Department. State resources began mobilizing just before 1700 hours PT.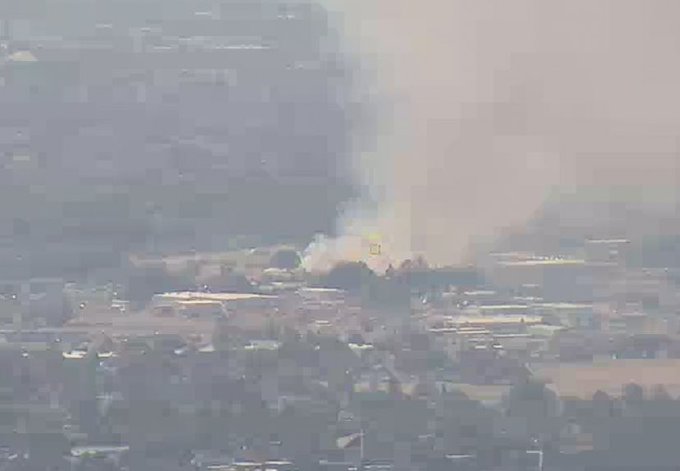 Credit: ODF SW OR District
Closed > Roads > Biddle, Hilton, Table Rock Road.
Evacuations > Mandatory > Urban Campground, Withams
Incident Cooperators > Medford PD, Medford FD, ODF, Jackson Co FD3, Ashland Fire Task Force, Rogue Valley 1 Strike Team, Mercy Air, CAL Fire (4 units), Grants Pass Fire & Rescue, Illinois Valley Fire District, Applegate Valley Fire District and Rural Metro.
Medford Police are evacuating both homes and businesses in the area.
Here is the timeline according to various sources via Social Media:
1554 PT | 3 MFD units are dispatched to a brush fire behind Camping World in the Bear Creek Greenway area.
1558 PT | Grass fire near the back of Cascade HS. Multiple callers reporting black smoke in the area.
1603 PT | OSP arrived on-scene. MFD to use deck gun to try to access fire from I-5 northbound.
1604 PT | Fire upgraded to a 3rd alarm.
1608 PT | Fire spreads to three acres with a zero containment. Winds are picking up.
1614 PT | Structure protection is in effect to save the Camping World structure.
1635 PT | Rogue Valley 1 activated, calling all off-duty personnel back to the station for a future deployment.
1636 PT | Winds are picking up.
The fire was brought under control with no injuries reported. Lots of mop-up and other suppression efforts are being conduct to make sure fire does not escape containment lines.
Damages were reported to campers at Camping World, as well as an old plant on Biddle.
An unknown number of acreage and containment status is known at this time.
(c) 2021 NW Fire Blog