Thank you for visiting our Blog about wildfires in the State of California. This is a combined list of fires in a single post, as there are so many burning out-of-control.
You can also find more wildfires in the Northwest and around the Nation here on our Blog and on our Official Social Media Channels – @nwfireblog (Twitter/Facebook) and on Instagram.
Tips to nwfireblog@yahoo.com.
# # #
Fire Fact | 20 new wildfires ignited in Northern California in the last 24 hours. None of these fires were reported as new large incidents. – NIFC
# # #
1. Dixie Fire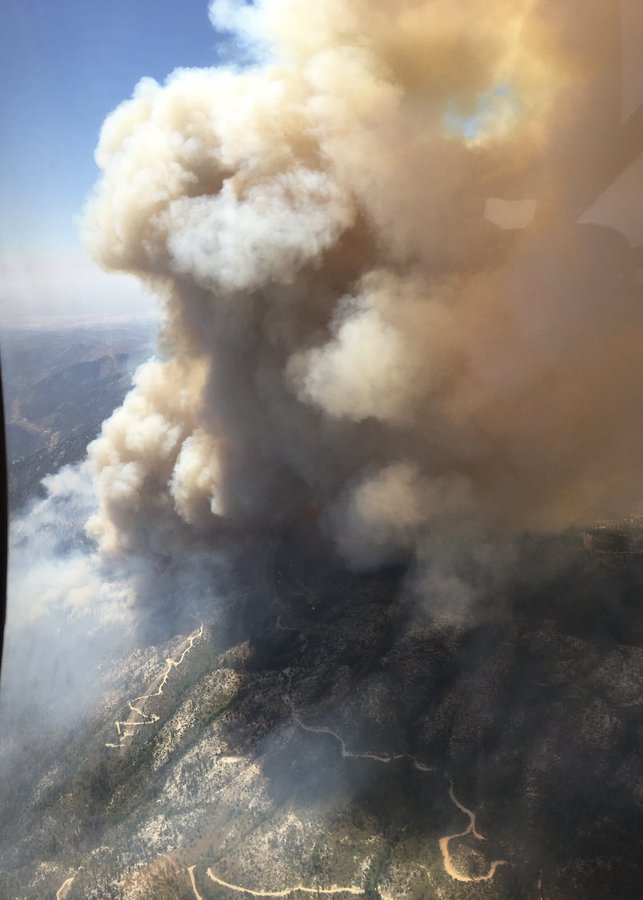 The DIXIE FIRE is located above the Cresta Dam in Feather Canyon and 15 miles NE of Paradise in Butte County, California. The fire started from an unknown cause on July 14, 2021, around 0729 hours PT.
Fire management is in Unified Command with CAL FIRE – Butte Unit/Butte County FD and the Lassen National Forest (USFS).
A total of 1,669 personnel are assigned from two different Agencies, along with 56 crews, 85 engines, 17 dozers, 17 water tenders and 17 helicopters.
It has burned over 15,074 acres of timber and chaparral. Fire is 15% contained. Behavior remains as active with long-range spotting and short crown runs.
Incident Cooperators include: Plumas NF, Lassen NF, Butte Co SO, Plumas Co SO, CHP, PG&E, Union Pacific RR.
Evacuations > Orders > Plumas County
High Lakes, Rec area east of the Butte/Plumas county line, east to the Rock Creek Dam; both sides of Hwy 70 in the areas of Rock Creek, Storrie and Tobin.
Evacuations > Warnings > Plumas County
East of the Rock Creek Dam to Caribou; Both sides of Hwy 70 for Belden and Caribou communities.
Assistance Available > Residents > 530-283-6300.
Assistance Available > Animals > 530-283-3673 or 6300. Also, for large animals/livestock.
Closed > Roads > Camp Creek Road.
There has been one injury reported.
Significant Events
Fighting fire from rail tank cars and fire pumps by using assets from Union Pacific RR to protect railway infrastructure and help with suppression efforts. (thinking outside of the box)
Cost-to-Date: $2.8 Million
# # #
Fire Fact | 17 new fires were reported by Fire Officials, which broke out in Southern California in the last 24 hours. None of these were considered to be new large incidents.
# # #
2. Fork Fire
The FORK FIRE started on July 17, 2021, in the area of Lowery Road and south Fork Drive in Tehama County, California. This incident is not to be the same as the Fork Fire that broke out on June 28th from lightning in the Yosemite National Park. These are two separate incidents and the YNP was only 12 acres and has been fully contained as of July 15, 2021.
There has been 43 acres burned and crews have reached an 80% containment status. The cause is unknown and under investigation by fire investigators. This is a CAL FIRE incident.
3. Beckwourth Complex
The BECKWOURTH COMPLEX is located three miles NE of Beckwourth, California, which includes two fires in the Plumas National Forest. There has been 105,348 acres of timber, brush and closed timber litter have been consumed. Behavior remains as active with flanking, single-tree and isolated torching. About 73% containment has been reached.
Management is being transferred from a Type 1 IMT (CA Team 4) to CA Team 5, also a Type 1 IMT. There are 2,044 total personnel along with 46 crews, 137 engines and nine copters assigned.
Evacuations > Plumas County: https://public.coderedweb.com/CNE/en-US/6EB9E0DB3133
> Lassen County: https://public.coderedweb.com/CNE/en-US/B69B31DD99B6?isMobile=false
Closures > Road > in effect.
64 structures have been lost.
Cost-to-Date have reached: $38.4 Million.
4. Salt Fire
The SALT FIRE is located three miles S of Lakehead, California, in the Shasta-Trinity National Forest. Fire behavior has been reduced to minimal with smoldering. There has been 12,600 acres of chaparral, timber and short grass burned. The fire is now at a 95% containment status.
Assigned to this incident, there are 185 total personnel that include three crews, 10 engines and one copter.
43 structures have been destroyed.
A new start ignited out on the fire on Friday from machinery but crews were able to stop it from spreading and put it out fast.
Cost-to-date fire suppression and containment expenses have reached a whopping $19 Million Dollars.
5. Lava Fire
Burning four miles east of Weed, California, is the LAVA FIRE in the Shasta-Trinity National. Fire has destroyed 26,316 acres of timber and brush and 23 structures. Crews have successfully knocked down most of the fire and reaching a 77% containment status. Fire behavior remains as minimal with smoldering and isolated torching.
Approximately, 52 total personnel remain committed on this incident, along with five engines.
Cost-to-Date: $34.5 Million.
6. River Fire
The RIVER FIRE is located about eight miles N of Raymond (Mariposa), off of Oak Grove and Oak Grove School Roads and about 10 miles S/E of Mariposa, California, that is being managed by a CAL FIRE, Type 1 Team CAL FIRE Team 6. This incident broke out on July 11, 2021, around 1410 hours, is located on CAL FIRE's owned/managed lands.
Evacuations > Mariposa County > All orders, warnings, road closures have been lifted.
Evacuations > Madera County > Same as Mariposa County.
About 9,656 acres of tall grass, brush and hardwood slash have been scorched. It is now at a 75% containment status with its observed behavior at a minimal level with smoldering activities.
There are still 652 total personnel along with nine crews, 62 engines, five dozers, 14 water tenders and four copters.
12 structures have been lost; 2 damaged.
CTD: $13.1 Million
7. Dexter Fire
The Inyo National Forest is the venue where the DEXTER FIRE is burning, which is about 15 miles NE of Mammoth Lakes, California. About 2,592 acres of timber and brush have been destroyed. A 40% containment status has been reached.
Approximately, 382 total personnel are assigned along with five crews, 27 engines and four copters.
There have been no loss of structures reported.
CTD: $3.3 Million.
8. Tamarack Fire
The TAMARACK FIRE ignited from lightning on July 4, 2021, in the Mokelumne Wilderness but a tactical management decision was made to not put out the potential until fire activity increased 11 days later. It is located about six miles S of Markleeville (Alpine County), California on the Carson Ranger District.
This fire incident is of special interest due to its backstory and the backlash Fire Officials are receiving, due to initial decisions made.
The USFS – Humboldt-Toiyabe National Forest released this statement on July 10, 2021:
"The tactical management decision is not to insert fire crews due to safety concerns, however, this is not an unresponsive approach. Smoke might be visible to Pacific Crest Trail hikers but the .25 acre fire is surrounded by granite rocks, a small lake and sparse fuels. Fire poses no threat to the public, infrastructure or resource values."
The Forest Service escalates their Fire Preparedness level on July 15, 2021 to a "5", which is the highest level and due to multiple wildfires, extreme fire behaviors and adverse weather conditions.
Resources were not dispatched to this location, until on July 16, 2021, due to increased fire activity, which smoke could be seen from Carson Valley just after 1500 hours. By 1800 hours, firefighters were on-scene and actively engaging in suppression operations with a high volume of fire suppression aircraft consisting of two copters, one VLAT, multiple SEATs, Air attack on-scene.
Two days later after initial attack, the fire has exploded to 6,600 acres with a Type 2 IMT that has arrived on-scene on Sunday. What would start out as a 40-acre fire is now over 6,000 acres. High rates of spreads to the NW, W of Hwy 89 are occurring due to afternoon winds picking up the fire and moving it around in the area. Heavy smoke is expected to impact nearby Carson Valley. (Update as of 7/17/2021).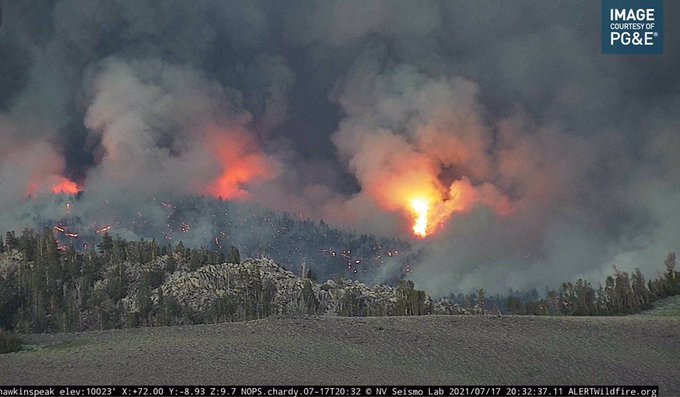 Today, the fire has burned up to 21,000 acres, which has clearly seen its share of extreme fire behavior with a critical rate of spread that continues to be increasing every so quickly. And, those who are watching this fire closely, including residents and those on Social Media are clearly angry in that this could have been stopped much sooner than it has. Residents are starting to have to make scary choices in preparing to leave their homes and structures behind.
There is a zero percent containment status. There are now 517 total personnel assigned to this wildfire incident.
Evacuations > Mandatory > Alpine Village, Woodfords, Grover Hot Springs, Shay Creek, Marklee Village, Markleeville, Carson River Resort, Poor Boy Road, Wolf Creek Campgrounds, Silver Creek Campground, Sierra Pines, Upper/Llower Manzanita, crystal Springs, Diamond Valley Road, Hung-a-lel-ti.
Evacuations > Voluntary > The Mesa
Emergency Notifications > Reverse 911 > https://alpinecountyca.gov/204/Sheriff
Closures > Roads > Hwys 88, 89, 4.
Closures > Trails > Portions of the PCT between CA SR 88 and CA SR 4. USFS Officials release official presser, for those who fail to comply with the closure, can face up to $5,000 in fines or six months jail time.
Significant Events
Fire crosses Hwy 89, heading east crossing N of town and S of Airport Road
Fire can be seen from South Reno and South Lake Tahoe
Incident Cooperators: Sacramento FD OES Strike Team 4804A (Strike Leader Trainee BC Clint Madden), SFD OES 368 SCR, Folsom FD, Cosumners FD, Metro FD
(c) 2021 NW Fire Blog