Sunday, October 24, 2021 | 1630 Hours PT
CALIFORNIA — Across this great west coast State has seen its share of droughts, wildfires and now, storms sending large amount of rain-into-debris-flows in hard hit burn scars. This weekend, powerful storms hit various areas of the State prompting warnings, alerts and evacuations all over again.
Some are calling these West Coast storms a bomb cyclone due to the very rapid strengthening and what is known as a perfect textbook of a mid-latitude cyclone. Images seen on satellite show the "bomb cyclone" with a pressure equivalent to a Cat 4 hurricane and driving an extreme atmospheric river into Northern California. (US Storm Watch)
The storms are due to head to Southern California on Monday, October 25th and more of the same is expected to impact these areas.
EL DORADO COUNTY
1404 | County Officials are warning area visitors and residents who may be near the old Caldor Fire burn scar that have them on edge due to this advisory.
FRESNO COUNTY
1407 | Evacuation warnings issued by the Fresno County Sheriff Office to leave the Creek Fire burn scar area. An order was issued for Big Creek Canyon from below Big Creek to the san Joaquin River. (Fresno County Sheriff)
LASSEN COUNTY
0854 | Reports of three-and-a-half feet deep water on U.S. 395 at Constantia. (CHP)
PLUMAS COUNTY
1339 | An extreme landslide brings down massive sized boulders, debris flow and mudslides along Hwy 70 near Tobin. The Highway will be shutdown for a long period of time. There is an unknown ETA when it will reopen. (Storm Chaser)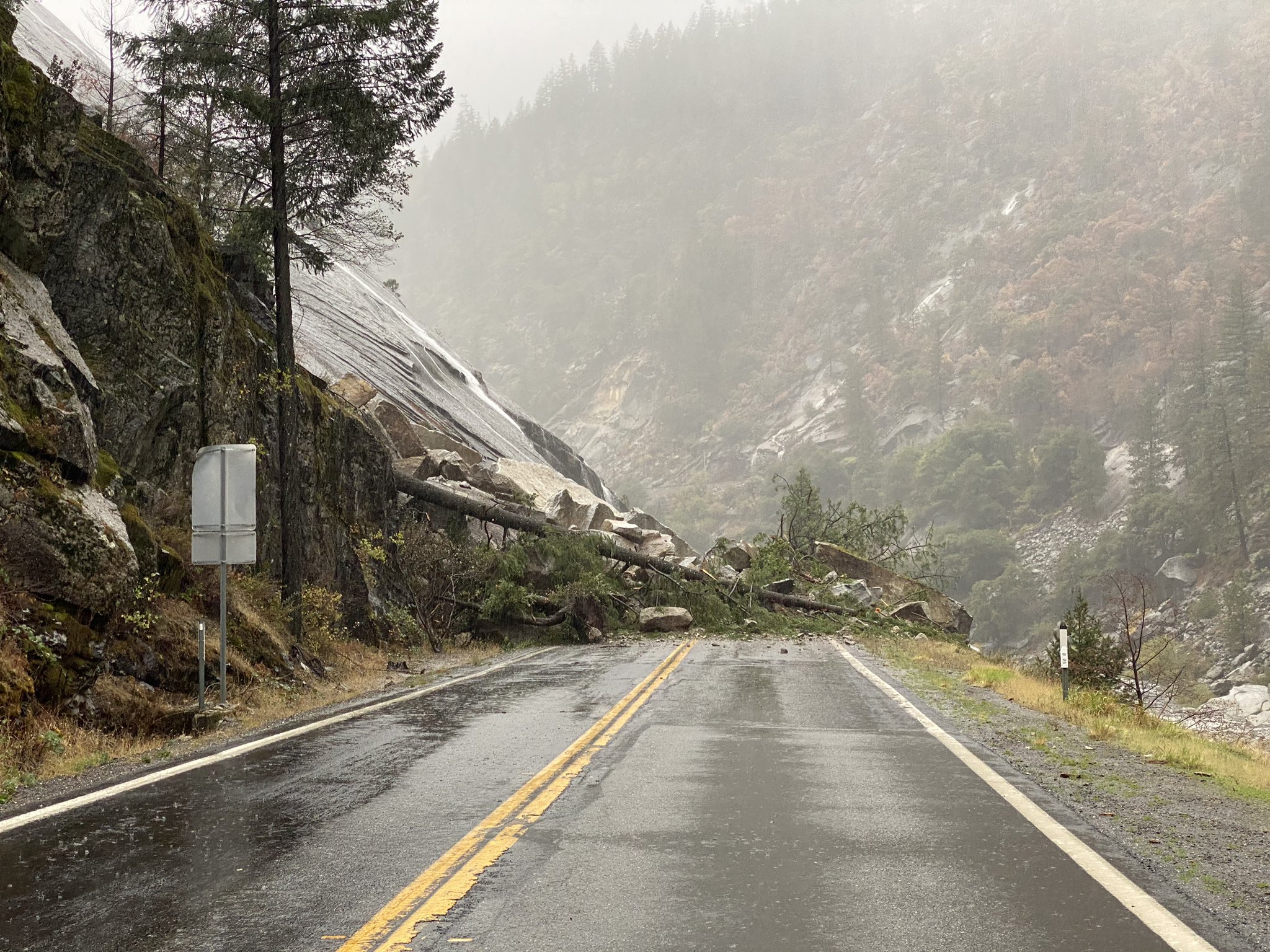 1308 | Due to mudslides and flooding, State Route 70 remains closed from Jarbo Gap to the Greenville Wye. Please avoid the area as crews continue to work to clear the roadway. (Caltrans District 2)
Travel Updates | QuickMap.dot.ca.gov
SAN MATEO COUNTY
1155 | Firefighters are responding to downed trees all over the region. Avoid driving if unnecessary. (CAL FIRE CZU)
0855 | Firefighters f rom CAL FIRE CZU dispatched to a pole fire on Canada Road. Driving conditions are said to be poor and only growing worse.
BAY AREA
The Bay Area consists of nine counties (Alameda, Contra Costa, Marin, Napa, San Francisco, San Mateo, Santa Clara, Solano and Sonoma).
1414 | Today's storm across the SF Bay Area, is, so far, tied as the 3rd strongest since 1950 on the Bay Area Storm Index (BASI). (Weather Forecaster)
1410 | Sleepy Hollow Creek observed near flood stage. (Resident)
1310 | Wind in drought stressed trees are down and around my neighborhood. (Resident)
0001 | The mighty Russian River has lots of storage capacity, especially after a long and dry summer. Nonetheless we are expecting significant rises over the next 1-2 days as rain inundates the basin. (NWS Bay Area)
CHICO
1457 | Chico Creek overflows its banks and is rapidly rushing waters seen by many. (News Media)
DEER PARK
Water running off through the Glass Fire burn scar at Deer Park Road above Foothill School in Deer Park. (Fire Photographer)
NAPA VALLEY
1410 | Mt. Veeder has had a total of surprising 10 inches of rain in the last 24 hours, mostly in the Napa Valley. Fast-moving and high levels of water can be seen in images of a bridge located in the 3100 block of Redwood Road.
RANCHO CORDOVA
1448 | Due to the storm, there is a blockage on International Drive at South White Rock Road. Crews are working hard to clear it. The road is closed to eastbound traffic, and the traffic signal at Mather Field Road is on flash. (Rancho Cordova PD)
1032 | It's shaping up to be a rainy week in Rancho Cordova. To view or report a power outage, call SMUD at 1.888.456.SMUD, or visit http://SMUD.org. To report localized flooding or other non-life-threatening emergencies, call 916.851.8700. Learn more: http://CityofRanchoCordova.org/Storm. (City of Rancho Cordova)
1027 | To report flooding, clogged storm drains, fallen trees in the roadway, traffic signal outages, or other non-life-threatening emergencies during a storm, call 916.851.8700. For life-threatening emergencies, call 911. (Rancho Cordova PD)
1017 | Heavy rains and high winds are forecast throughout the day. RCPD wants to remind our community to drive with care and slow down. If you come across traffic signal lights that have gone out, remember that the intersection becomes a four-way stop. (Rancho Cordova PD)
SACRAMENTO
1407 | A Winter Storm Warning will go into effect at 11pm tonight through Monday night. Travel above 6000ft will be impacted with slippery roads and reduced visibility. Avoid traveling through the mountains if possible. If you must drive, take it slow! (NWS Sacramento)
Satelitte view of Saturday's early morning storm shows heavy rain over much of northern Cal. Officials are stating there is more to come and encouraging those to stay home if you can and if not, to drive with caution.
Debris flows are currently occurring and already causing road closures. If you are near a burn scar, it may be too late to evacuate. Do not attempt to cross a debris flow. Take shelter in the highest floor of your home.
SAN ANSELMO
1602 | Flood alarm going off in the town now. Police are clearing the streets in the downtown area, as well telling businesses they need to close their stores.
SAN FRANCISCO
1355 | The National Weather Service in San Francisco has Issued a Flood warning for portions of the Napa River near St. Helena. (NWS Bay Area).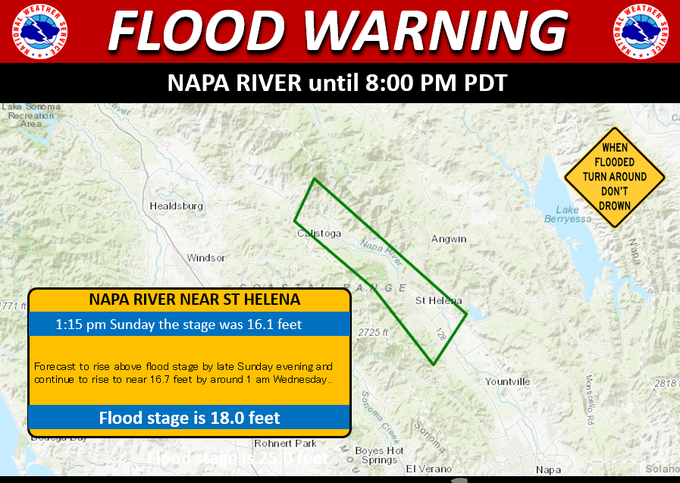 0910 | Heavy rainfall continues throughout San Francisco and the Bay Area region today. We're asking everyone to please stay home, avoid roadways and non-essential travel. (San Francisco DEM)
SAN RAFAEL
Reports an overturned trailer backed up SB traffic on the San Rafael Bridge. High winds shook cars and a semi truck was blown several lanes over. For a quick second or two, their wheels tipped off the ground onto a pick-up truck before coming back down to the roadway. (News Media)
SANTA ROSA
1313 | Water is flooding the area of Tachevach and Neotomas in Santa Rosa. Evacuations were ordered and Officials had started the process of getting residents to safety. (News Media)
SONOMA
1345 | Residents are starting to report flooding in the area, some are starting to evacuate themselves to higher and safer ground. (Social Media user)
1215 | Creek along Adobe Canyon Road has extreme high flows and rushing waters flooding the area. Some homes have already started to be impacted. This is in the 2020 Glass Fire burn scar. AVOID THE AREA. (Social Media User)
ST. HELENA
1153 | Flooding waters take over Napa Valley vineyard. This was seen in the Lodi Lane area. (Fire Photographer)
PUBLIC SERVICE ANNOUNCEMENTS
1400 | Rainfall may be welcome after a long wildfire season, but rainfall in fire affected areas can cause flooding and debris flow. Be careful and take precautions if you live in areas that could possibly be affected. (NIFC)
1216 | Wildfires will have lasting effects on the landscape, and create a heightened risk of Flash Flooding & Debris Flows (especially downhill & downstream of burn scars). Less rainfall is required to produce dangerous conditions. (NWS IMET Operations)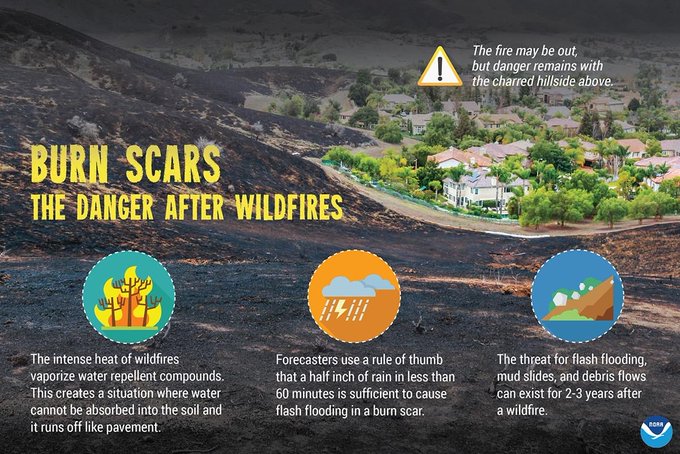 #cawx #atmosphericriver
(c) 2021 NW Fire Blog