UPDATE 2 | November 24, 2021 | 2210 PT
STATUS — City of Riverside Fire Departments reports this evening, that the ARLANZA FIRE that ignited on November 21, 2021, has now jumped its containment line tonight and is burning in mulch. At 1256 PT this afternoon, RFD was handling mop-up operations on the fire with five engines. Santa Ana winds were picking up and increasing smoke and dust. At this time fire remained within the containment lines.
A previous update today at 1141 hours PT by the FD, stating the fire was listed at a 90% containment and expected to reach 100% on Saturday.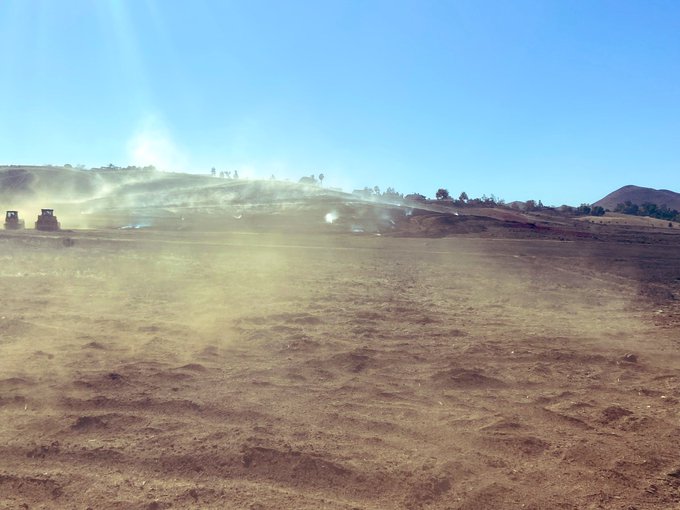 EVACUATIONS — Evacuations were issued on Valley in between Misty Ridge and Mitchell,. The Riverside Police Department was assisting with the orders, as of 1956 hours PT.
Evacuations were
UPDATE 1 | November 21, 2021 | 1335 PT
A three-alarm wildfire has ignited after a traffic collision with entrapment occurred on Sunday, November 21, 2021 around 1142 hours PT.
The location of the fire is on Tyler and Jurupa in Riverside (Los Angeles County), California but is heading towards several housing communities and becoming a life safety issue.
The fire has been named the ARLANZA FIRE.
Scanner traffic began reporting smoke could be seen on wildfire cameras and setting Social Media postings ablaze with fire news. We picked up information about twenty-five minutes into the incident. Here is what we know so far.
INCIDENT UPDATES
1142 | 1st Alarm | Incident start time. 4 acres. Light fuels. Strong winds. Extreme fire behavior with high ROS. Threatening homes. Urgent request for aircraft due to life threats to nearby structures.
Cause: Off-road traffic collision with entrapment into the wildland-urban interface.
IC requests an immediate 2nd alarm.
1144 | 5 Type 3 engines requested by IC.
1150 | 2 dozers from SB County FD requested by IC.
1156 | 10 acres. Bumping against neighborhood.
1159 | 3-alarm now. 10 acres. Caused by TC. Burning towards Arlington Avenue. Resource request in. 3rd alarm now. IC reports: Request for 10 additional brush engines and elevating to a 3rd alarm. CAL FIRE resources en route. Two helicopters were requested. Located near Jurupa Avenue and Tyler Street.
1203 | Dispatched has not filled the 10-Type 3 engine order yet.
1218 | COPTERS 301 and 305 en route.
1222 | Winds reported 20 mph north winds.
1227 | Copter 305 wants at least 1 air tanker started.
1230 | 2 Tankers requested along with Air Attack for immediate structure threats.
1235 | Scanner buffs report fire traffic: "If we don't get the air tankers, we're going to lose structures.
1240 | A map placed on Twitter showing a big portion of homes threatened are near Tyler x Mitchell.
1241 | Our current WEATHER REPORT for Riverside, CA – 78*F degrees with 1% precip, Winds are 14 mph with RH at 13%. Sunny skies.
1248 | Eyewitness account | Heavy smoke can be seen from Rancho Cucamonga and from I-15.
1250 | Dispatch has only filled 5 out 10 Type 3 requests. 2 air tankers en route from Hemet-Ryan Airport.
1307 | SBD base is closed for reloading, T93 diverted back to Heme for reloading.
1308 | Eyewitness account | Drove past a fire in Riverside while on Van Buren Blvd, near the Santa River.
1310 | Lines are holding, no involved structures.
1325 | Intel 12 appears to be overhead fire. T-70 dropping on fire.
(c) 2021 NW Fire Blog