Published Saturday, December 18, 2021, 2145 PT
KING COUNTY, Washington — Firefighters from the Seattle Fire Department were dispatched Saturday evening around 2043 hours PT to a house fire located in the 8600 block of Beacon Avenue South.
Units dispatched to the scene include A83 AIR10 B2 B5 DEP1 E27 E28 E30 E33 E36 L1 L12 M28 M44 MAR5 R1 REHAB1 SAFT2 STAF10.
First due units reported heavy fire on floor two of a two-story, single-family residence wood-frame structure with SOG in effect. Additionally, it was stated there was a roof failure on the fire building and two cars well-involved on the Bravo side and of a possible patient on the Charlie/Delta side.
This was designated the BEACON COMMAND. The ICP was located on the Alpha side in the driveway.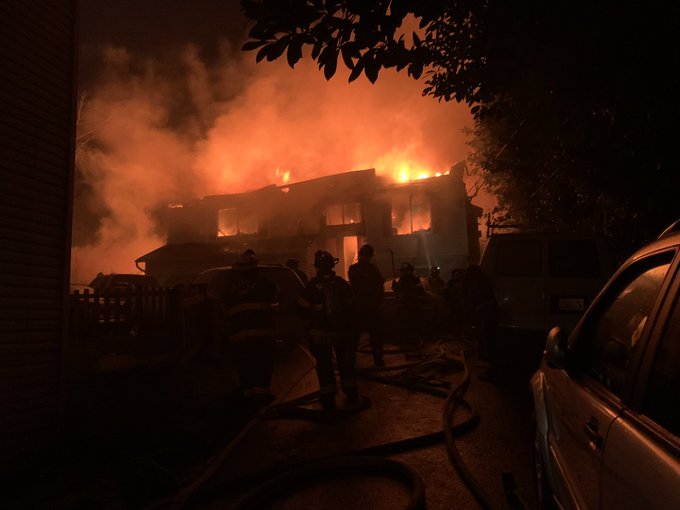 Shortly thereafter, the roof collapsed on floor two and heavy fire was still burning throughout the structure. Two more engines and a Medic unit were requested, which would include Engines 13 and 10 being added to the run. Fire operations transitioned over to defensive tactics.
Primary and secondary searches were completed, with nothing being found. Command broadcasted to all hands working on the fire ground that there was a power line down on the Alpha/Delta corner.
Crews brought the fire under control and knocked it down within 40 minutes of the fire. Just after 2200 hours, Command began releasing most of the resources and a few were still on the fire ground picking up hose lines.
The cause is unknown at this time.
The American Red Cross was called for multiple residents for shelter and other needs, as they have been displaced by the fire.
About the Seattle Fire Department
The City of Seattle Fire Department has 33 fire stations throughout the city, which provides fire protection, EMS services in a 142.5 square mile area that includes 193 miles of waterfront to approximately 713,700 residents, businesses, organizations, and other venues. There are a total of 1,065 employees with 981 uniformed personnel and 84 civilian employees.
To learn more about this Department, visit their website here: — http://www.seattle.gov/fire
(c) 2021 NW Fire Blog