WASHINGTON STATE — Record snowfall has hit many Washington State passes but Snoqualmie Pass seems to be hit the hardest as I-90 is completely shut down, which has travelers and economic shipping coming to a complete halt.
The reason is simple. It is just too hazardous for the traveling public due to avalanches, falling/fallen trees, road debris, and extremely deep and heavy snow.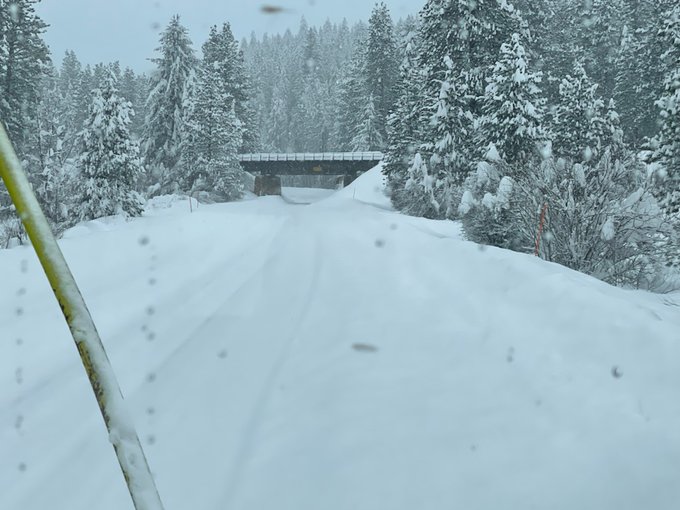 If it is too dangerous for WSDOT crews, it is too dangerous for the traveling public. Those who are stranded up at the pass are recommended they seek lodging from the nearby hotel and other accommodations. It is going to be a looooog wait for the pass the open again. At this time, there is an estimated time of reopening on Sunday but that too has already been delayed, as Saturday was their targeted day.
With snow falling at an alarming rate, it has caused danger for those who are trying to rescue those stuck in the snow, ditches, and other locations. Please be aware of your situational awareness and drive according to conditions. Just because you have 4×4 does not mean you are invincible as some drivers have found themselves or others spun out in the middle of the roadway.
WSDOT crews are working as quickly and safely as possible and ask for your additional patience. They also must be able to work safely as well.
Other passes that are also closed are Stevens, White, and Blewett.
Yesterday, Washington State Patrol was busy enforcing traction requirements, which meant drivers needed to chain up their vehicles and even the big rigs. Those who did not or did want to comply could have possibly received a belated Christmas of a $500.00 ticket that keeps on giving. Don't be THAT guy who gets the ticket.
Before you head out the door in the day or so, check the pass and get your up-to-date weather reports from local weather stations such as the National Weather Service (NWS), NOAA, WSDOT and your local TV stations.
The snow is so beautiful until it is not. Please prepare when also traveling and keep essentials with you, like enough food and water for you, your family, friends, pets, kids, blankets, extra batters, extra phone charger, fire starter, car and emergency kit. Need the full list to be prepared while traveling? Check out the Red Cross.org for ideas what to have on hand if you get stuck in adverse weather.
(c) 2022 NW Fire Blog