United States | News from around the Nation as to what is Trending gleaned from various sources.  Here is your overnight news from Monday, November 6, 2017.
6 FIREFIGHTERS LOSE THEIR JOBS.  6 male ( 5 are white, 1 black ) Firefighters (1 Captain, 1 LT, 4 FFs) were fired after a noose, lewd drawings were found over a black LT's firefighter's family photo and lewd pictures drawn on it.  Police investigated the incident at the fire station while the Miami City manager said in a statement that investigators found sexually explicit and racially offensive conduct by the 6 employees.  A noose was made out of twine and several of the LT's family photos were defaced.  This is the second incident in the Southern portion of Florida. The Union says they are aware of the incident but claim the facts are still unclear as provided by the City.  [Sources: AP, Fire Rescue1, KOMO 4 TV, Social Media]
SUTHERLAND SPRINGS, TEXAS.  The killer was able to obtain guns w/o the USAF providing the #TXShooter's DV history to the FBI as required by Pentagon rules. This enabled him to purchase several weapons that killed 26 people.  At today's (Monday) presser, Police stated there were 4 victims that remained in serious condition while 10 others are in critical condition. One of the children killed, was the Pastor's youngest daughter.   We send our sincere sympathies and so sorry for the loss of Life. God be with you all. [Photo Courtesy:  OC Firefighters]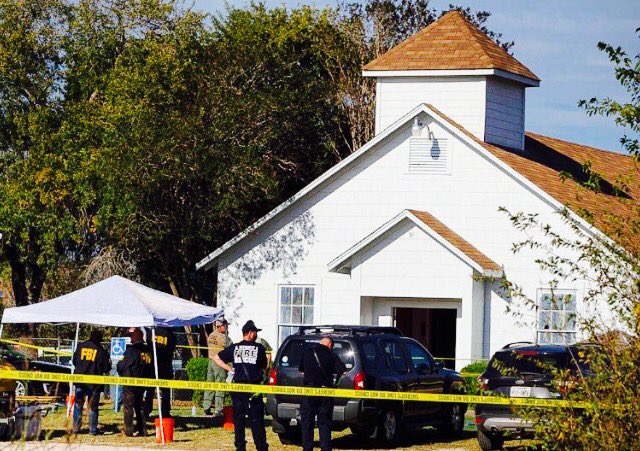 CHURCH FIRE.  A large fire broke out at a church in Van Nuys, California around 1820 hours on Monday evening.  Investigators rule the cause is due to arson.
TEACHING HOW TO "SAVE A LIFE".  The Los Angeles FD (LAFD) wants people to learn life-saving skills by using hands-only CPR and how to use AEDs by placing the devices around public places. This week there will be training for people around the City. [Sources:  LA Police Foundation, KFI AM 640]
4 HEROES RECOGNIZED.  4 San Bernardino County Captain Bob Brockert, Engineer Matt Helmcamp, Firefighters Mike Kordich (he was shot in the arm while rendering CPR to one of the shooting victims) and Dave Arnold were off-duty in Vegas sprang into action helping provide aid to the victims.  They were recognized as Heroes on [Source:  Channel 4 News/NBC Los Angeles] on "The Challenge Hero of the Night: San Bernardino County Fire.
SUICIDES AMONG WILDLAND FIREFIGHTERS are on the rise.  The article talks about how suicides are generally spike after Fire Season is long over.  Check out this article and make sure your guys and gals are getting the most of CISD debriefings.  If there aren't any, why not? They can help save a life! [Source:  The Atlantic.com].
STAGGERING NUMBERS.  Chicago was just named one of the Cities where they are about to surpass 600 homicides in 2017. This is the second time they have been named the deadliest City in America as it occurred the first time in 2003. [Al Boe News, Chicago Tribune]
WEEK LONG FIRE NOW OUT.  A massive plastics fire burned for eight days before it was put out.  The International Import Export warehouse located in Parkersburg, West Virginia kept drums of unknown chemicals stored inside and outside of the building which housed plastics recycling debris.  It is now a 10-acre property of hulking twisted metal and looking more like a war-zone than anything else.  Nearby residents reported their "throats were burning".  It was reported that the smoke in the air was more similar to a wildland fire. [Source: Huffington Post]
(c) 2017 NW Fire Blog