United States | News from around the Nation of what is Trending and information gleaned from various sources.
TEXAS MASSACRE.  Around 1120 am a gunman opened fire upon a church service in progress at the 1st Baptist Church in Sutherland Springs, TX killing 26 people and injuring scores more.  The shooter was approached by a neighbor next to the church and began shooting back at him.  The shooter is said to be deceased from an unknown bullet used by either the killer or the neighbor.  This is said to be the worst mass shooting in all of Texas history.
A FALLEN HERO.  Fallen Hillsboro FD Firefighter Ryan Grimaldi was out on a hunting trip when a tree fell on him.  He passed away from his injuries.  He was well-respected and loved in his community.  His fellow firefighters and Fire Agency brought him home yesterday.  Several hundreds were seen in his procession as they headed to their destination.
HOMELESSNESS GROWING ON WEST COAST.   How is this Public Safety related?  It has to do with Officer and 1st Responder safety when they are responding to aid and fire calls inside the camps.  There have been often too many dangers where Seattle Police have to provide an escort to Firefighters because of the looming problems with some homeless people.  KOMO News put out an article about the homeless population soaring on the West Coast and how cities are struggling to cope.
HIGHRISE FIRE IN THE BRONX, NY.   A fire broke out on the top floors of a multi-dwelling highrise where fire was seen from different angles shooting through the roof. The FDNY responded to the fire burning on the top floors and inside the cockloft that was located at 4769 White Plains Road.  Command called out to their firefighters to use caution as this building had been cited before for doing illegal rennovations on the top floors.  The 3-alarm fire was ruled accidental due to electrical building wires that caught fire.  (Photo Credit:  FDNY)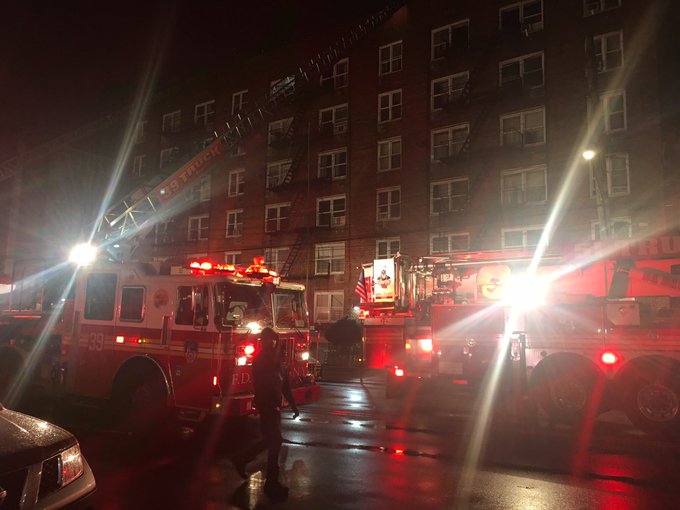 SECOND SHOOTING IN ONE DAY.  Another church shooting occurred on Sunday, November 5 and one that is not being covered as much as the large mass shooting in Texas.  An estranged wife and her boyfriend were leaving the St . Alphonsus Catholic Church in Fremont, California when they were gunned down by her soon-to-be-husband killing them both. They were in the middle of a divorce. He was later found in his vehicle deceased of self-inflicted wounds.
(c) 2017 NW Fire Blog