UPDATE 1 – JANUARY 13, 2020 – MONDAY
On Sunday night around 2000 (8pm) hours EST, a massive fire ripped through a 3-story apartment complex under construction located on Mountain Avenue and East Main in Bound Brook, New Jersey.
When firefighters arrived, they immediately escalated the fire  to a multiple alarm fire.  It would soon be necessary to escalate it even higher, as additional units were being requested to respond.   Mutual aid from various areas within the county and even outside their County would respond to the fire, as well as backfilling stations for local area service calls.  The highest level it reached was a seven-alarm fire.
The fire building, a 3-story apartment complex was said to be fully engulfed upon arriving on-scene.  Other exposures would soon be eaten alive by fire, as resources rushed in to try to save them.  Brush fires would be ignited as embers from burning buildings.  So much focus was on their downtown corridor as debris and fires would erupt.  Later the area would be closed off and open to emergency vehicles only.
Photo Credit | NJSPBA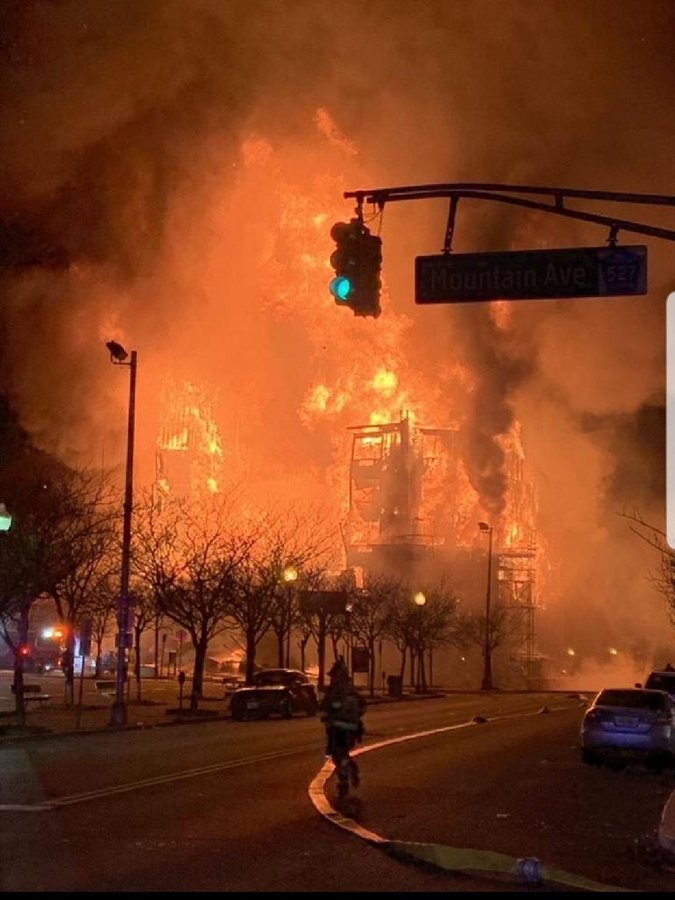 Fire was reported by a civilian that it had jumped across the street to another building with propane tanks in the basement.  There were evacuations of those in the area of Drake and Talmage.  Resources were moving from South of Talmage to east to Drake.  All-in-all, it was reported about 100 people were evacuated and half of the town's residents were without power, which constituted around 3,000 customers.
The Union County Neptune Task Force was called in to do structure protection.  Two additional Task Forces were created within Region 5, Somerset County Task Force 1 that were working out of the command post at the Old Toys-R-Us location and Task Force 2 out of Whole Foods.
At one time, communications on their radio system (6 regions. 6 Ops channels), that their Radio Coordinator responded to reorganize the channels.  It was overloading their system and they worked tirelessly to avoid it from crashing from so much fire traffic.
There were reports of rail cars on fire but were quickly extinguished.  There was no NJ Transit in service but Conrail would place trains back in active motion.  A broadcast over Fire Channels warned firefighters to have their situational awareness on when it comes to trains moving again.
Reports of several homes and multiple buildings, including a second apartment complex across the street on East Main burned to the ground.  A few buildings were reported they collapsed in the area as well.  A collapse zone was established to keep people and firefighters out of the danger zone.
There was one minor injury reported: a firefighter ankle.
There was no preliminary cause released by Somerset County Fire and EMS' Fire Investigator.
Another update will be released today when more information is known.
Thank you to the many firefighters and those who supported them on this difficult and dangerous fire. 
Thank you to our followers for following this story and many others on our Social Media Channels:  @nwfireblog (Twitter & Facebook)  nwfireblog (Instagram)
(c) 2020 NW Fire Blog – Posted 1/13/2020 0840 EST/ 0540 PST