You think that the other Washington's politics are bad.  Try living in our Washington State and dealing with one storm after another and there appears to be another one heading our way.
King County
As of 10pm, the following have been closed:
SE Jones Rd between #18631 and SR 169 (Renton area)
 Valley Hwy S between Ellingson Rd and 3rd Ave SW
428th Ave SE between SE Reinig Rd and SE Ernies Grove Rd (North Bend)
West Snoqualmie Valley Rd NE between NE Novelty Hill Rd and NE 80th St
SE Reinig Rd from City of Snoqualmie limits to 396th Drive SE
316th Ave SE and SE 28th St between SE 24th St and 321st Ave SE
SE 308th ST between SR 202 and SE 31st St
NE 100th ST between W Snoqualmie Valley Rd NE and NE Carnation Farm Rd
NE 124th St between W Snoqualmie Valley Rd NE and SR 203
204th Pl NE between NE 67th St and SR 202
NE Tolt Hill Rd between SR 203 and W Snoqualmie River Rd NE
312th Ave SE between 316th Pl NE and Upper Preton Rd SE
Neal Rd SE at SR 203
SE Lake Holm Rd between 130th Ave SE to Auburn Black Diamond Rd
Issaquah Hobart Rd SE between SE May Valley Rd and Issaquah City limits (SE 96th St)
W Snoqualmie River Rd SE between #1550 and NE Tolt Hill Rd
SE 24th St between 309th Ave SE and 316th Ave SE
SE Issauquah-Fall City Rd between SE Duthie Hill Rd and 274th Ave SE
NE 80th St between W Snoqualmie Valley Rd NE and Ames Lake Carnation Rd NE
Dike Rd between Preston Fall City Rd to end of route
NE 165th between 179th Pl NE and Avondale Rd NE
SE Middle Fork Rd at mile marker 9.6
SE Fish Hatchery Rd between 361st Ave SE and 372nd Ave SE
SR 900 closed from NW Talus Dr to SE May Valley Road (Issaquah)
Carnation
Residents are being advised to stay alert to changing river and weather conditions. Be prepared to respond quickly.  (King County, WA)
Duvall
The City is reporting seeing a lot of traffic coming into their city limits to try to access northbound SR 203 but it is closed and cannot be accessed to reaching Monroe or Snohomish County.  (City of Duvall)
Issaquah
2/6/2020 – 1:00 pm – The Issaquah-Hobart Road at May Valley Road was closed due to a large landslide.  The King County Road crews were out in force with lots of personnel and large equipment trying to remove the rocks and debris blocking the culvert.  Some of the rocks were as large as basketballs! (KC Road Services)
Around the same time, water was running high underneath a bridge prompting multiple calls to Eastside Fire & Rescue personnel including a Rescue team to search an apartment complex for possible trapped residents and pets.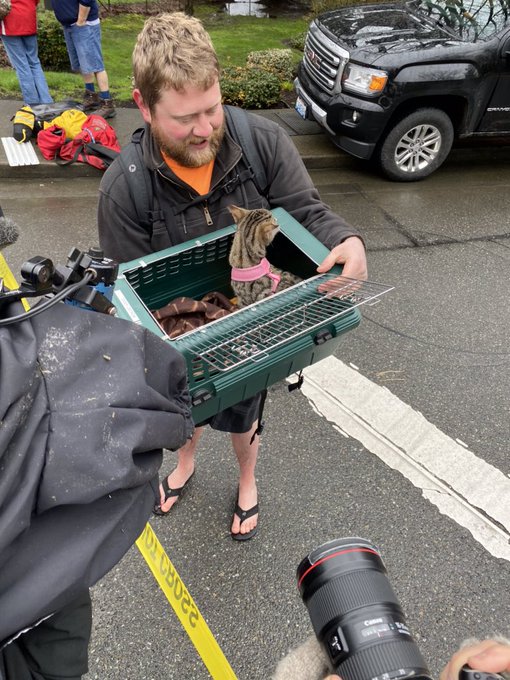 11 residents were safely evacuated including several children and animals.  (Photo credit/source:  Eastside Fire & Rescue)
Renton
Free sandbags are available 24/7 at the King County Roads facility at 20827 SE Auburn-Black Diamond Road, Renton.  There is a 25-bag limit per vehicle.
North Bend
Sand and sandbags were made available at 1:30pm until 5pm on Thursday, February 6th to North Bend residents.  You can pick up these at the Public Works facility on Friday, February 7th from 8am – noon, located at 920 SE Cedar Falls Way, North Bend. Bring your own shovel and truck. They will supply the sand and bags.
"Snoqualmie River is currently at Flood Phase 2, meaning that lowland flooding may occur. Currently, there are no roads closed in North Bend. The Park & Ride lot across from the Pour House is closed due to flooding." (City of North Bend)
Rivers
The following Rivers at various flood stages:
Phase 4: Cedar River
Phase 3: Issaquah Creek, Green River, Tolt River
Phase 2: Snoqualmie River, White River
Resources
Flood Warning Center | 206-296-8200 or 800-945-9263.  https://www.kingcounty.gov/services/environment/water-and-land/flooding/warning-system.aspx  Click on name of river for further information.
Sandbag distribution | https://www.kingcounty.gov/services/environment/water-and-land/flooding/sandbag-distribution.aspx  (King County)
National Flood Insurance Program (FEMA) | 888-379-9531
King Conty Metro Alerts | 206-553-3000
American Red Cross (King/Kitsap Counties) | 206-323-2345
Additional flood related Important Contact Phone Numbers |  https://www.kingcounty.gov/services/environment/water-and-land/flooding/phones.aspx
King County Office of Emergency Management | 206-296-3830
King County Stormwater services | 206-477-4811. After business hours, call 206-477-8100.
King County Solid Waste Division | 206-477-4466 or 800-325-6165.
King County Public Health (Seattle/King County) | 206-296-4600
Additional links, Important phone numbers | https://www.kingcounty.gov/services/environment/water-and-land/flooding/phones.aspx
Updates
More updates will be coming as we are gleaning news, resources and alerts to bring to you throughout the day and evening.
(c) 2020 NW Fire Blog – 2/7/2020 00:50 PST