Washington State | Almost every single person in this State and beyond has been impacted by the COVID19 virus in some shape or form.  I have been  working from home the last few days and like, many others for weeks or until the unforseeable future.  We are all going to get through this.
Even though our last post was near the beginning of March, 2020 – we are again sifting through all of the overwhelming information and bringing current news and resources for those who need it most.
Please bare with us as we catch up and bring you moment-to-moment news throughout the day.
###
SUMMARY
The first case of the 2019 Novel Coronavirus (COVID-19) in the United States was at the LifeCare Assisted Living Center in Kirkland, Washington on January 21, 2020.  This has been deemed ground zero. However, there has now been a widespread throughout the United States overall.
Here in Washington State, where we are located – 39 counties are now reporting in with at least one or more confirmed cases as more and more people are getting tested.
We cannot stress enough, along with everyone else – Social Distancing which has become a new norm for all of us is one that young people are not taking seriously.  The COVID19 does not care who you are, what age you are or where you live in this world.  It is impacting ALL ages, genders, religions, ethinicities, races, etc.  Please listen to all COVID19 messaging, including ours. We depend on you, as you may depend on us.– Ed.
###
WASHINGTON STATE
According to the Washington State Department of Health's website, the following cases have been confirmed in each 39 counties with 1,996 cases.
Benton County | 7 cases. 2 deaths
Chelan County | 3 cases. 0 deaths.
Clallam County | 4 cases. 0 deaths.
Clark County | 10 cases. 3 deaths.
Columbia County | 1 case. 0 deaths.
FACT | About 50% of deaths in Washington State are those over 80-plus years old. 50% are female and 44% are males.
Cowlitz County | 3 cases. 0 deaths.
Franklin County  | 3 cases. 0 deaths.
Grant County | 18 cases. 1 death.
Grays Harbor County | 1 case. 0 deaths.
Island County | 21 cases. 1 death.
Jefferson County | 6 cases. 0 deaths.
King County (epicenter) | 1,040 cases. 75 deaths.
FACT | About 9% of the confirmed COVID19 cases are those aged 20-29 years of age (females) . 
Kitsap County | 18 cases. 0 deaths.
Kittitas County | 4 cases. 0 deaths.
Klickitat County | 4 cases. 0 deaths.
Lewis County | 2 cases.  0 deaths.
Lincoln County | 1 case. 0 deaths.
Mason County | 1 case. 0 deaths.
Pierce County | 107 cases. 1 death.
FACT | About 14% of those aged 30-49 years old have the COVID19 virus.
San Juan County | 1 case. 0 deaths.
Skagit County | 33 cases. 0 deaths.
Snohomish County | 480 cases. 10 deaths.
Spokane County | 20 cases.  0 deaths.
Stevens County | 1 case. 0 deaths.
Thurston County | 11 cases. 0 deaths.
Walla Walla County | 1 case. 0 deaths.
Whatcom County | 14 cases. 2 deaths.
Yakima County | 16 cases. 0 deaths.
###
RESOURCES
Free Sanitizer | The Sandstone Distillery, is making a new product: Sanitizer and they are giving it away to 1st Responders, Hospitals, Doctor offices and the public.  You can visit them at 842 Wright Road SE, Tenino, WA 98589.  They are asking for you to donate glycerin which is a key ingredient in their sanitizer recipe which is from the CDC.
Studded Tires | The date to have your studded tires removed has been changed from March 31st to April 30th. (Source: WSDOT)
Taxes | The filing date has been moved from April 15th to July 15, 2020.
Emergency Declaration | The City of Edmonds Mayor Mike Nelson is expected to issue an emergency order tonight for residents to stay indoors, after the city council voted today to expand his authority during the COVID19 pandemic. (Newsmedia)
Emergency Management Center (Bellevue) | The Faces who work around the clock to help coordinate essential services 24/7/365.   "Thank you from the bottom of our hearts!"
Photo Credit | City of Bellevue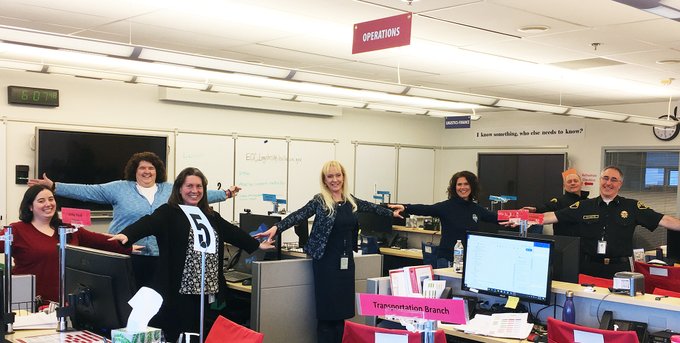 Alert | Tribal
Goes into effect tonight at 2359 hours PST until April 5th 2359 hours PST.  Shelter-in-place.
New Recovery Center | King County joins Harborview Medical Center in opening a new 41 Recovery Center. https://kingcounty.gov/depts/health/news/2020/March/21-covid.aspx?utm_source=dlvr.it&utm_medium=twitter (Source: King County gov)
HOW YOU CAN HELP
Donate Blood | The American Red Cross needs healthy volunteers to donate blood during this health crisis/blood shortage.
Social Distancing | Stay home unless you are an essential employee, like a Police Officer, Firefighter, Highway worker, Food / Grocery Worker, etc. or anyone else who cannot telecommute from home.  People whom are congregating in large groups are causing panic among others and are potentially spreading the virus, as learned about the young people in Florida who defied the quarantine mandate.  Several of them gathered on Florida beaches during Spring Break and now, they have acquired the virus which could have been completely preventable.
(c) 2020 NW Fire Blog | Updated 3/22/2020 @ 2000 hours PST