COMMUNITY NEWS is our newest launched daily post that includes Alerts, Public Service Announcemtns and Community Needs gleaned from those across Social Media channels.
We will be posting these under this new column by each region due to the influx of massive messaging, until all of the needs have been met and/or this is all over and done with.
We ask that you partner with us by sharing this post with others in your network, friends, family, employer and other people who can be helped by this post.  This is how we know to help our West Coast peeps.
Thank you and Be Safe all.
###
NATIONALLY SPEAKING
NEW! | CDC Health Alert
CDC has now issued an Alert on the severe illness associated with using Non-Pharmaceutical chloroquine Phosphate to prevent and treat coronavirus disease.  They are warning those who take this without a prescription and supervision of a healthcare provider, can cause serious health consequences, including being fatal.
2 cases reported to the CDC who ingested this drug, a chemical in it is uded for aquarium usages that is commercially available for purchase at stores and through internet websites. One of the individuals died shortly after the arrival at the hospital. The second patient is critically ill with severe gastrointestinal symptos and cardiac conduction abnormalities.  After the patient recovered, he reported that he saw on TV the usuage of this product to provent COVID19.
The product was in his possession in a powder form inside a 2.2# container labeled "for Ornamental Fish Only".  The CDC is aware of unconfirmed reports of this product being out-of-stock due to an alarmingly increased rate of public demand.
There is currently no approval by the FDA for use of this unprescribed chemical for prevention or treatment of the COVID19 virus.
Details here —-> https://emergency.cdc.gov/han/2020/han00431.asp?deliveryName=USCDC_511-DM24285 (Source:  CDC)
NEW! | National Flood Insurance 
FEMA is granting those who pay flood insurance in the National Flood Insurance Program, an 120-day grace period.  Details here —> https://www.fema.gov/news-release/2020/03/29/fema-extends-grace-period-flood-insurance-renewal-premiums (Source: FEMA)
NEW! | Seniors Day
Walgreens has introduced a new service to keep Seniors Safe, supplied and connected. Every Tuesday is now Seniors Day with all-day discounts and seniors-only shopping from 8 am – 9 am. Pharmacy hours may vary.   Details here:  https://www.walgreens.com/topic/promotion/seniorday.jsp?ext=twad_COV2a (Source: Walgreens)
NEW! | Mental Health/Illness Awareness
The National Alliance on Mental Health/Illness has a free helpline:  NAMI Helpline Monday – Friday, 1000 hours – 1800 hours (10-6) EST. Call 800-950-6264. (Source: NAMI)
HUMANITARIAN GROUPS
Salvation Army
The Salvation Army is looking for monetary donations, in addition to non-perishable items such as: baby food, supplies, hygiene products, cleaning and santizing items, paper products. Check with your local Salvation Army site to learn what's needed.  Details can be viewed on their website:  https://www.salvationarmyusa.org/usn/covid19/.
Have lots of time on your hands and you are busy cleaning out your garage, room(s) or the whole house? It is okay to drop off to your nearest location but the Salvation Army asks that you not dump and run during the pandemic.  (Source:  Salvation Army)
# # #
WASHINGTON STATE
NEW! | Drivers License and ID Cards
Effective March 23, 2020, customers can renew their drivers licenses an ID cards online. Those who require a visit to a driver licensing service office will be served upon appointment only.
Go to dol.wa.gov for information as your first step.  Persons under age 24 and over 70 may renew online for the next 30 days, longer if deemed necessary. They are also suspending the requirement to visit a licensing office every other renewal thereafter.
Most vehicle renewals can also be done online, by mail or over the phone.
See more information here —> https://licensingexpress.wordpress.com/2020/03/20/dol-takes-steps-to-protect-the-health-and-safety-of-customers-and-employees/
NEW!  | Funeral Guidelines
The Governor has issued guidelines on funerals and licensng to funeral homes and cemetaries.
Details here — > https://licensingexpress.wordpress.com/2020/03/28/governor-inslee-issues-additional-guidance-on-funerals/ (Source:  Gov. Jay Inslee's Office)
NEW! | Groceries/Take Out Food Orders
There is misleading information that the virus is spreading through foods in the grocery stores and via drive-thrus at restaurants.  This is FALSE, but it is recommended after going to the grocery store to WASH YOUR HANDS. (Source:  WA DOH)
Photo Credit | WADOH
PPE Arrives in Snohomish County
County receives 9 pallets of PPE and will be distributed shortly. Thanks VPOTUS from sending them from the National Stockpile. (Source: Snohomish County government).
State Call Center
A Washington State Call Center is taking calls regarding COVID19 related questions, information on how it spreads, what to do if you have symptoms.  Call 1-800-525-0127 and press " # ".
OREGON
We are searching for information for you, Oregon!
CALIFORNIA
Free Virtual Health Care Visits
Free Virtual Care visits for those who have mild COVID19 symptoms through Dignity Health.
We're here for you during this challenging time of increased coronavirus cases. One of the best ways to protect yourself and your loved ones is to stay at home. To encourage this social distancing as well as continue to support your health and well-being, we're offering free virtual care visits. If you or a family member have mild COVID-19 symptoms such as low-grade fever, cough, or difficulty breathing, you can speak with a healthcare provider on your phone or device for free. Here are your options for accessing a virtual visit:
Once you register, enter the code COVID19 to waive the fees and proceed to your FREE visit.
Please note, we have been receiving a high volume of requests at this time. We apologize for longer than usual wait times. (Source:  Dignity Health)
Virtual Town Hall Meeting
Coronavirus Virtual Town Hall Meeting. Tuesday, 3/31/2020. 7-8pm Livestreaming via the NorCalPublicMedia.org , TV KRCB Channel 22 and siulcast on La Mejor, KJOR 104.1 FM, in Spanish. Submit your questions prior to the broadcast to viewer@norcalpublicmedia.org  (Source: County of Sonoma)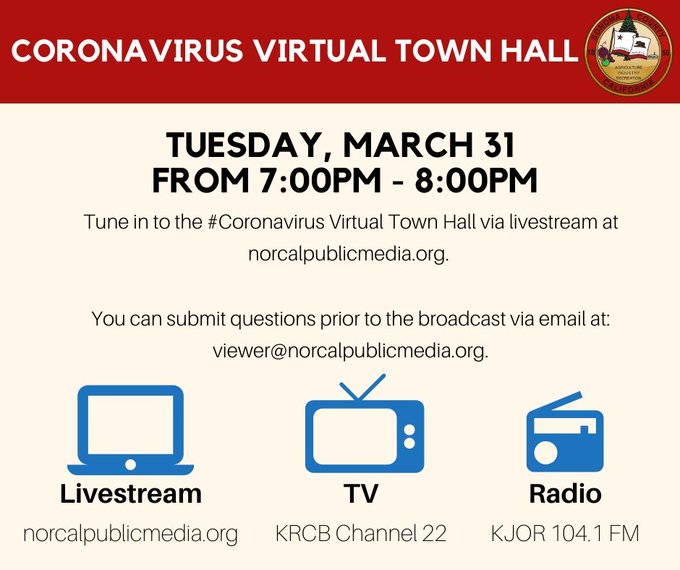 (c) 2020 NW Fire Blog – Updated 3/29/2020 – 2215 hours PST