A house fire is burning in the 1000 block of Algona Blvd in Algona, located southwest of Pacific in Washington State.
Firefighters responded from the Valley Fire Regional Authority and mutual aid from South King Fire early in the evening on Thursday, April 16, 2020.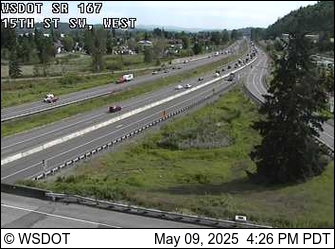 Firefighters were faced with pulling several hoselines all over this structure in a defensive strategy. Structure protection was in place for exposures on sides Alpha, Charlie and Delta.
Several vehicles were checked at the same time primary and secondary searches of the fire and exposure buildings were conducted. Nothing was found.
Medical group includes: MSO1 (Command Officer), Medic6, REHAB 302, 303, 304.
Fire can be seen from SR 167 at MP 13.8: 15th St SW, Westbound on the WSDOT's highway webcam.
Firefighters were still working on dousing the fire at the time of this post.  Most of it had been knocked down but not completely out yet.  They were in the beginning stages of pulling ceilings.
(c) 2020 NW Fire Blog – Updated 4/16/2020 1900 Hours PDT