Firefighters were dispatched to a residential structure fire on Thursday, April 23, 2020, just before noon today.
Light smoke billowed  from the eaves of the home as witnessed by many from the street above.  The home is located down a steep driveway.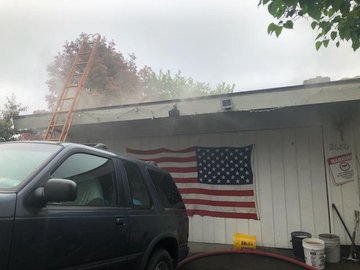 The fire broke out at a home located in the 2600 block 169 Ave Southeast in Bellevue, Washington State.
Engine 102 was first due on-scene  and began immediately fighting fire.
Primary and secondary searches were conducted but no fire vicitms were found.
Firefighters checked the attic for any extensions.
No injuries to firefighters or to civilians were reported.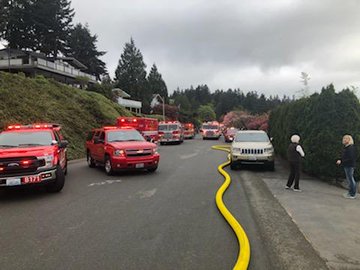 A preliminary cause of the fire was not immediately known at the time of this post.
Photo Images Credit | Bellevue Fire Department
(c) 2020 NW Fire Blog – Updated 4/23/2020 1140 hours PT