The Seattle Fire Alarm Center also known as the FAC began receiving multiple calls from reporting parties of a structure fire prompting Firefighters and equipment to be dispatched. Resources were dispatched on Thursday, December 24th at 1146 PT to the 900 block of NE 50th Street in Seattle's University District.
This is the location of the Seven Gables Theatre, a formerly iconic and very well-loved venue that has been boarded up and closed for several years.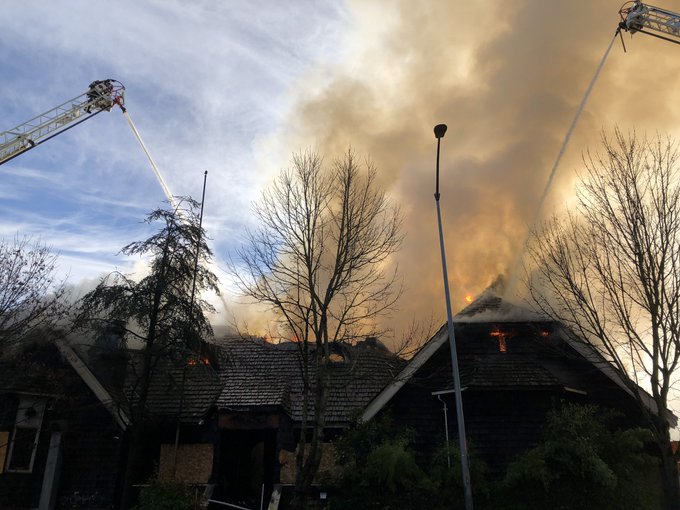 SFD's Engine 31 was the first due on-scene reporting a well-involved fire with flames visible and heavy smoke from the 2nd floor of a commercial structure. Building was deemed to be vacant and no reports of people inside.
More resources arrived on-scene soon after but were forced to go into defensive fire attack operations, where they used various master streams from ladder trucks placed in strategic positions and pouring water over the fire building.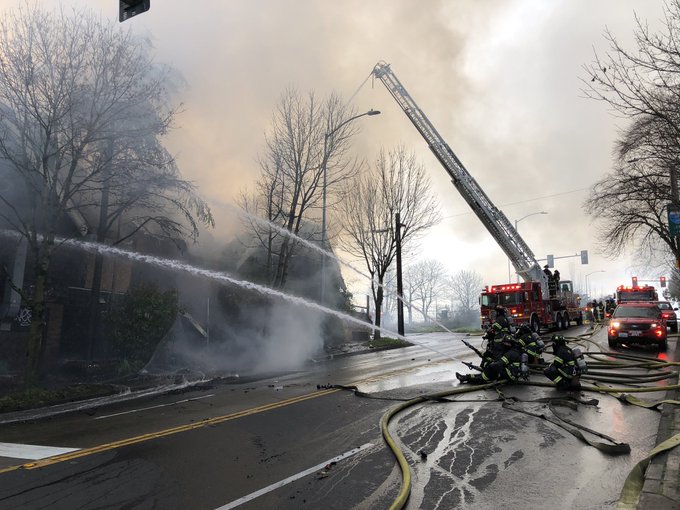 By 1300 hours PT and firefighters still working put out the stubborn fire, Command requested via the FAC to escalate the incident to a 3rd alarm. This would bring out additional resources totalling more than 130 firefighters, 14 fire engines, six ladder trucks and additional support units.
After pouring an extensive amount of water on the fire, twenty minutes later the roof began to collapse prompting resources to be repositioned outside of the collapse zone in a safety zone. At 1402 hours PT, Command asked for a PAR or personnel accountability report to verify all firefighters were accounted for, which they were.
The fire was brought under control at 1410 hours PT with some units were released from the incident and returning back in service. An engine and ladder truck were left in place overnight for fire watch which includes any rekindling.
In the end, no injuries to firefighters or citizens were reported.
No exposure buildings were also said to have no damage or destroyed by this fire.
Dispatched Units were all from the Seattle Fire Department: E31, B6, E38, L9, A25, Air240 and 260, B2, Deputy1, E21, E40, E9, L10, L8, M1, M44, Mar5, Rehab1, Safety2, Staff10, E16, M31, B4, E17, E22, E9, B2, E10, E18, E2, E25, L4, L5, PIO, E13, L3, E8, SQ10, E82 and M17.
There is no cause at this time.
About the Fire Building
The Seven Gables Theatre was built in 1925 that was said to be originally an American Foreign Legion dance hall but would later be converted in 1976 by 7Gables Founder R. Finley into a theatre named The Seven Gables Theatre. At the time, it was said to be built with half-timber to resemble a Swiss chalet featuring a gabled roof and a brown-shingled facade. The main venue was said to have a romantic medieval fresco on the single-screen as it represented a castle and damsel.
The theatre was a very loved iconic local attraction with a one-of-a-kind vintage experience for film enthusiasts and known for showing a great variety of foreign and independent films.
Today, the 9,487 square-foot building is owned by 2929 Productions LLC, based out of Los Angeles, California and recently assessed by the King County Tax Assessor with an assessed value of $2.7 Million up in value from $2.3 Million in 2019.
The building closed in 2017 for refurbishment but has remained vacant for the last several years.
It is located in the heart of the University District on the corner of NE 50th Street and Roosevelt Way NE in Seattle.
This is a developing story. More updates will be provided as information is received.
FOLLOW US on Twitter (@nwfireblog), Facebook (nwfireblog) and on Instagram (nw fire blog)
(c) 2020 NW Fire Blog – Updated 12/25/2020 1230 PT | Originally published 12/24/2020 1525 PT