JACKSONVILLE, Florida
Firefighters were dispatched to a structure fire in the downtown area this evening.
Around 1736 hours ET, Firefighters with Ladder 4 arrived on-scene to a structure fire and reporting a 2-story commercial building with visible fire from the second floor. Additionally, it was reported to dispatch that the building integrity was unstable.
All units responding were considered 1st alarm resources.
Less than ten minutes later, the incident was escalated to a 2nd alarm.
Jacksonville's City Mayor Lenny Curry states this is a vacant building with no reports of injuries to civilians or firefighters. He is asking for prayers for his firefighters.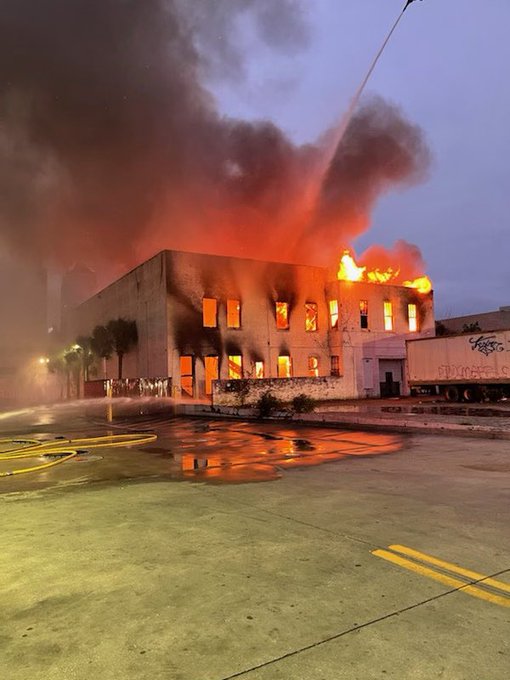 The incident is located in the area of North Main Street and West Union Street in the downtown Jacksonville area.
AVOID THE AREA!
At 1908 hours ET, Fire Command escalated the incident to a 3rd alarm. This will bring in more resources and equipment.
This is a developing story and more updates will be provided.
Note: There are no scanner feeds in the area, so we are updating information via the City of Jacksonville Mayor, Fire and Police Departments, as well as from other verified sources.
ABOUT JACKSONVILLE, FLORIDA
There are 65 Fire Departments in the City, plus two Military FDs (Naval Air Station Mayport FD and USAF 125th Fighter Wing FD). Additionally, there is a Jacksonville Training Division in a separate location.
Three Ambulance services include Ambulance Service Inc., Century Ambulance and Liberty Ambulance Service.
(c) 2021 NW Fire Blog – Updated 1/9/2021 – 1630 PT / 1930 ET