GRAHAM, WASHINGTON STATE
Firefighters from the Graham Fire and Rescue/Fire District #21 agency were dispatched to a garage fire just before 1230 hours PT in their service area and reported a fully engulfed structure.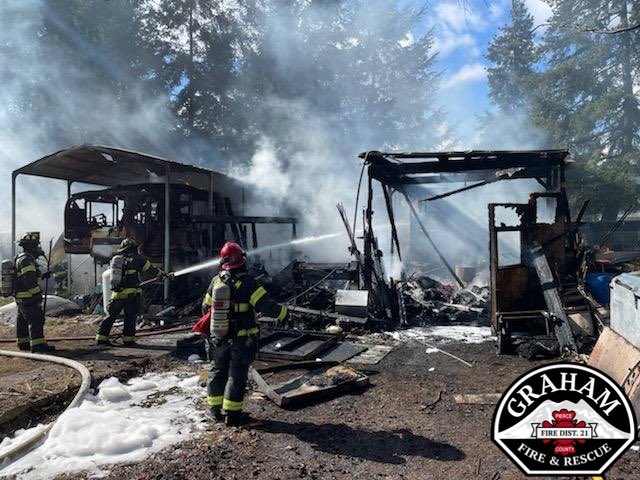 All occupants escaped safely and waited for first responders to arrive on-scene.
Fire resources were strategically put into place during this operational period, saving the home and any exposure structures that may have been nearby.
If not put out quickly, the fire could have easily spread uncontrollably to the nearby home causing more damage and possibly more of a loss to the occupants.
Great egress work, guys and gals!
ABOUT GRAHAM FIRE & RESCUE / FIRE DISTRICT #21
Graham Fire & Rescue covers an approximate 70-square mile area that protects a growing population of almost 67,000 people. Their joint agency was founded in 1962, that formerly operated out of an old bus barn (garage) at the Kapowsin High School has since grown to what it is today.
They have about six stations that are located in Puyallup and Graham.
Station 91 is located at 10012 187th Street East, Puyallup is staffed 24/7 with a 4-person minimum that can sleep up to eight. This station was built in 1986.
Station 92 is located at 14817 Kapowsin Highway East in Graham that is a volunteer station where volunteer firefighters respond from their business or residence. This station which has a two-bay fire apparatus building on site was built in 1972.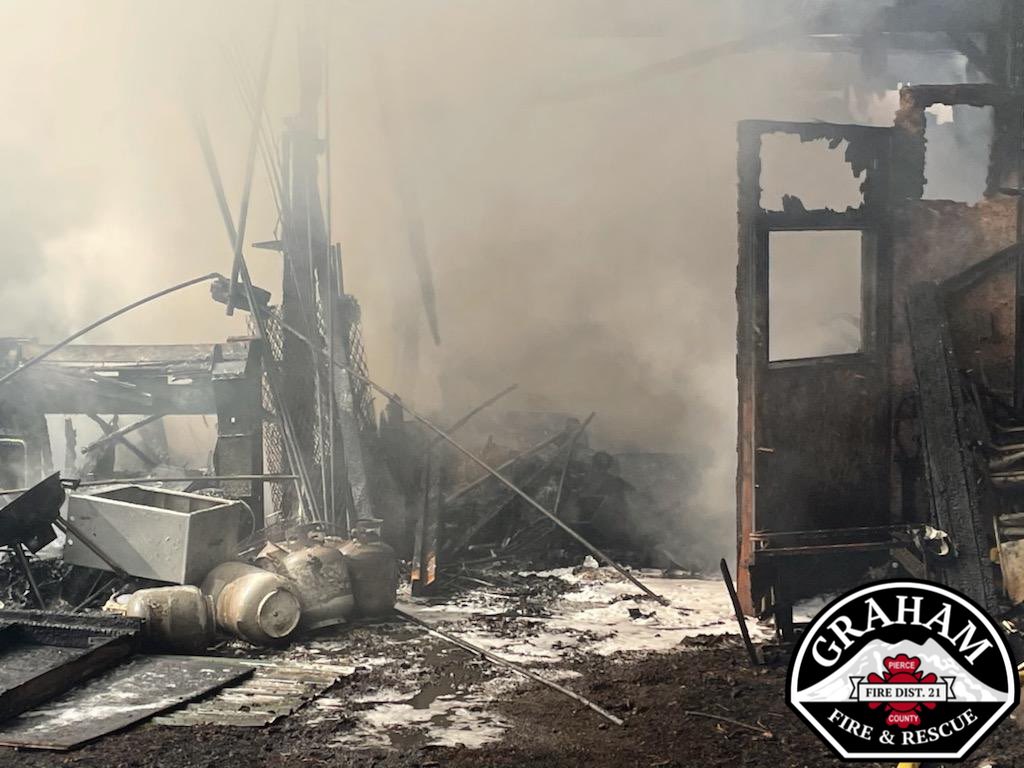 Station 93 is located at 8102 304th Street East in Graham is staffed 24/7 and has a two-person minimum staffing and sleeps up to six personnel. This station was built in 1997.
Station 94 is a working station but it is home to the Fire and Rescue's Headquarters and Administrative offices. It is located at 23014 70th Avenue East in Graham. It is open 24/7 but its Administrative offices are only open between Monday through Friday from 0800 to 1630 hours PT. They have a three-person minimum that sleeps up to eight personnel.
Station 95, also known as Station 21-5 is located at 18725 78th Avenue East in Puyallup is staffed 24/7 and has a four-personnel minimum that sleeps up to six. This was one of two built-in 2010 in the City of Puyallup limits.
Station 96, also known as Station 21-6 is located at 12827 224th Street East in Graham that is also 24/7 fully manned. This station also built-in 2010, is quarters for two minimum personnel that sleeps up to six. Additionally, this location serves as the venue as their centralized logistics, plus an extended bay for their maintenance and repair requirements.
In 2010, the Graham Fire & Rescue agency was able to construct two new stations from funds that their citizens
(c) 2021 NW Fire Blog | 3/26/2021 2000 PT